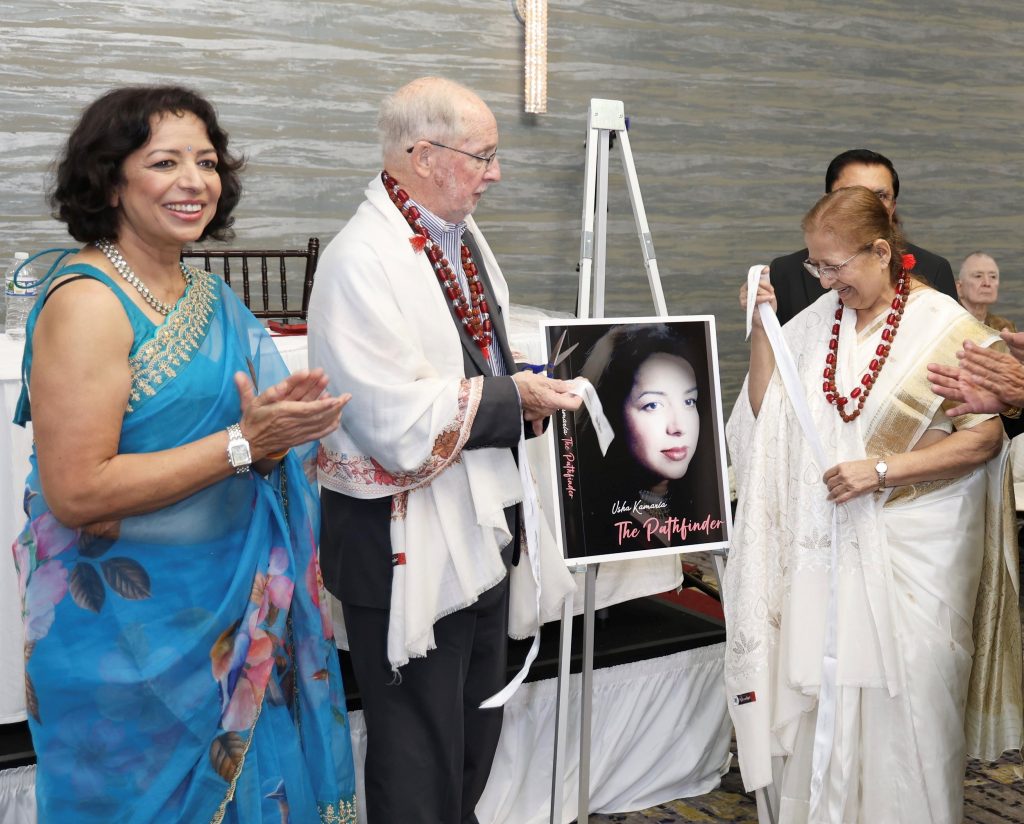 Skokie, IL : Usha Kamaria, a prominent Indian-American community leader, former politician, thrilled to announce the launch of her inspiring book, "The Pathfinder." This momentous occasion was graced by the esteemed presence of India's Fmr. Speaker of the House, Hon. Sumitra Mahajan, and Skokie's long-time Mayor, Hon. George Van Dusen. The book launch event took place on October 7th, 2023, at the Holiday Inn in Skokie, Illinois on Touhy Ave.
"The Pathfinder" is a powerful memoir that chronicles Usha Kamaria's remarkable journey from her roots in India to becoming a respected community activist and a beacon of empowerment for women. Kamaria's narrative resonates with the spirit of resilience, community service, and the pursuit of one's unique path in life. This book is a testament to the her unwavering dedication to uplifting and empowering women and others in her community and beyond.
Usha Kamaria's remarkable life story has inspired countless individuals, and "The Pathfinder" is set to be a beacon of light and inspiration for readers from all walks of life. Her journey as a young immigrant from India to the United States at the age of 19, coupled with her tireless community work and political career, serves as a testament to the values of dedication, perseverance, and the importance of giving back to the community, as well as the American Dream.
The book launch event featured a keynote address by India's Fmr. Speaker of the House, Hon. Sumitra Mahajan, who is known for her dedication to women's empowerment and public service. Hon. Mahajan spoke directly on the power women have to achieve when they set their mind to, as well as Usha Kamaria's long list of accomplishments as a Indian community leader.
Mayor George Van Dusen, a respected figure in Skokie, also shared his insights on the importance of community involvement and leadership, as well as Kamaria's incredible journey starting from the Village of Skokie, and more specifically, as the founder (along with her husband) of the Gandhi Memorial Trust Fund. He reveled in the fact that thousands of Chicago residents drive by the Gandhi statue every day, reflecting upon Gandhi's message of peace and non-violence in this, even if just for a second.
Usha Kamaria's "The Pathfinder" is a must-read for anyone seeking inspiration and guidance on their own journey towards empowerment and community service. The book offers practical advice, personal anecdotes, and a wealth of wisdom that will resonate with readers, regardless of their background or experiences.
Usha Kamaria thanked all guest, leaders of different organization, Friends and said this book was possible because of all of their support. She thanked Mayor for his ongoing support for past 30 plus years he knows her. She specially thanked Hon. Mahajan for making such a long trip all the way from India and doing honor to inaugurate her book.
If you missed the event, you may watch a recording (noted below) of the celebration the release of "The Pathfinder" and honor the remarkable achievements of Usha Kamaria, a true role model for individuals seeking to make a positive impact in their communities.