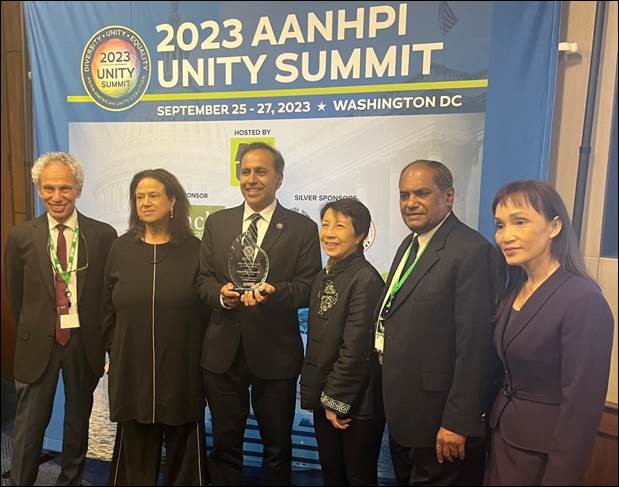 Washington DC: In recognition of his "exemplary commitment to advancing the interests of Asian American, Native Hawaiian, and Pacific Islander communities in Congress," the Asian American Unity Coalition (AAUC) recently honored Congressman Raja Krishnamoorthi with the Dalip Singh Saund Award for Political Leadership. Congressman Saund was the first Sikh, Indian American, and Asian American elected to the United States Congress.
"I am grateful to the Asian American Unity Coalition for this honor and for its continued leadership in bringing together Asian Americans of all backgrounds to build a more inclusive nation," said Congressman Raja Krishnamoorthi. "As we work to expand the promise of the American Dream to every American community, I am honored to join my colleagues in carrying on the example of Congressman Saund."
The AAUC is a coalition that encompasses dozens of nonprofit organizations and lifetime members, embodies the rich tapestry of Asian American and Native Hawaiian/Pacific Islander (AANHPI) communities, including Indian, Chinese, Filipino, Japanese, and Polynesian Americans, among others. With its mission to advocate for and uplift these diverse communities, the AAUC stands as a unifying force dedicated to addressing the unique needs and challenges faced by AANHPI individuals and organizations across the United States.
Also, Congressman Raja Krishnamoorthi (D-IL) announced his intention to reintroduce a bipartisan resolution recognizing the religious and historical significance of the festival of Diwali.