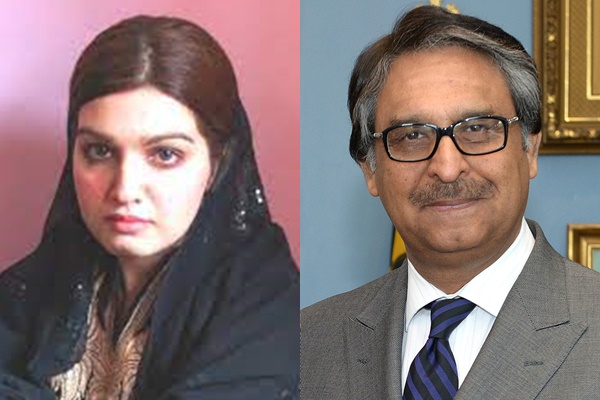 Hamza Ameer
Islamabad, Aug 17 (IANS) Pakistan's caretaker government and its cabinet on Thursday officially took over as the selected cabinet members took oath at the President House.
The formation of the cabinet has a critical and symbolic India centeredness in it.
The selection of the ministers for relevant federal ministries has on one side raised questions and concerns by other political forces, but has also given a teaser on how Pakistan would be looking towards its foreign policy, especially towards its archrival neighbor India.
Among the most important members of the cabinet is Jalil Abbas Jilani. He is a seasoned diplomat with crucial and important experience is representing Pakistan as Ambassador in the United States (US) and the European Union (EU).
Jilani was also the Deputy High Commissioner to India between year 1999 to 2003 and was the Pakistan High Commissioner to Australia from year 2007 to 2009. Previously, Jilani also served as Foreign Secretary of Pakistan from March 2012 to December 2013.
Jilani's appointment showcases the direction of Pakistan's foreign policy as it mends ways with the west and focuses on policy responses to India.
A recent representation of this could be perceived from Jilani's statement on social media platform X, where he responded to Indian former Foreign Secretary Kanwal Sibal's criticism on the recent church attacks in Jaranwala, Faisalabad, with these words:
"Globally India leads on violence against women, Dalits, Christians, Muslims including lynching of minorities under official watch. Ask anyone Kanwal Sibal. Remember Obama on CNN 'If India does not protect rights of ethnic minorities, the country will start falling apart."
Responses like these, made a day before taking oath as the interim-Foreign Minister, pretty much show the future course Pakistan's foreign policy would be marching on with a focus on India.
Another critical appointment is of a Special Assistant to the Prime Minister (SAPM) on Human Rights, which has been given to the wife of Kashmir separatist leader Yasin Malik, Mushaal Husssein Mullick.
Mushaal Hussein Mullick has been vocal about the Kashmir dispute and her husband Yasin Malik, who is in custody of the Indian authorities.
Mushaal's appointment also signifies the future policy of Pakistan towards raising the issue of Kashmir in view of alleged human rights violations, right to freedom of religion and freedom of speech for Kashmiris and use the foreign office and the human rights ministry to showcase it at global platforms. Pakistan's caretaker setup seems to be focused on four major factors as its prime mandate to tackle – economy, foreign policy, security and India – and the team formed to run the show from the ruling quarters meets the criteria for handle and manage them moving forward.