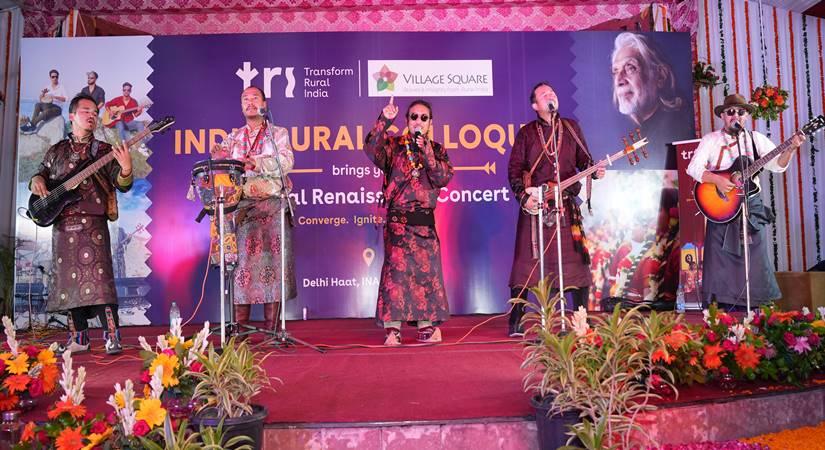 New Delhi, Aug 8 (IANSlife) With soulful and stirring performances by two bands from India's heartlands; 'Naya Savera' from Udaipur Central Jail, and 'Dashugs' from Leh, a lively 'Rural Renaissance Concert' took place at Dilli Haat, New Delhi on the eve of August 5. The lively evening in the heart of the city also included a book launch by Muzaffar Ali
Organised by Village Square, the initiative strives to tell meaningful stories from rural India, this concert is one of the highlights of a transformative eight-day event in the city – India Rural Colloquy – A Rural Renaissance – being held in Delhi by the NGO Transform Rural India's (TRI).
The bands, who flew in from Udaipur and Leh to perform in the national capital for the first time, represented the voices of rural India. "We wanted to bring together a celebration of India's unique culture for the Rural Renaissance Concert. Both the bands have a unique story; Dashugs, hailing from the mesmerising landscapes of Ladakh, is on a journey to preserve their traditional folk heritage & culture. While Naya Savera, with its thought-provoking concept, offered a unique perspective on the lives of prisoners in rural areas. Through this concert, we wanted to provide a platform to these talented artists to truly showcase the transformative power of art, and how creativity and expression can transcend boundaries and reshape lives. We were glad to see that come to life!" shared Sanjana Kaushik, Manager at Village Square.
The concert was a fitting tribute to the rich tapestry of India's artistic heritage and the indomitable spirit of rural life. It brought forth a wave of cultural renaissance, fostering a deeper understanding and appreciation for the diverse traditions that thrive beyond the urban landscape.
Another highlight of the event was the presence of renowned filmmaker, cultural activist, and designer Muzzafar Ali. He led an interesting conversation on 'How India bridges the gap between urban and rural population through arts and culture' and also launched Village Square's first coffee table book, a collection of inspiring stories that beautifully capture the diversity and spiritedness of rural communities.
Ali shared, "People need to strengthen the rural areas with various crafts and talents which need to be nurtured because without that the rural area will become totally bereft of its employment. If things don't develop in rural India, people in the cities are letting go of the craft and aesthetics that are the backbone of our culture. After all, it's only aesthetics that create a balance."
Sanjana adds, "This book will serve as a visual and literary feast, offering a glimpse into the untold stories, cultural heritage, and community initiatives that shape rural India. It is our way of celebrating the resilience, wisdom, and creativity found within these communities. In the end, it is culture and art that build bridges where there are none and we hope this book and its stories will create a dialogue between rural and urban India."
(IANSlife can be contacted at ianslife@ians.in)