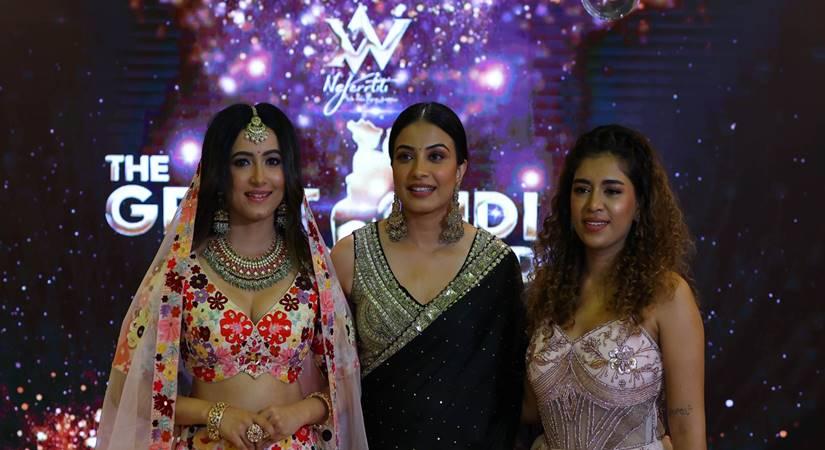 New Delhi, Aug 8 (IANSlife) Unique and revolutionary concept and contest, open to all brides and grooms who are about to tie the knot promises to redefine the world of destination weddings. The Great Indian Wedding Race will provide couples with several rounds of challenges that test the couples' compatibility, creativity, and problem-solving skills. This is an extraordinary opportunity to win a fully organised, all-expenses-paid international destination wedding, including for all selected guests.
The competition will unfold in three captivating levels, with the first two rounds online. In Level 1, a trending concept where registered eligible couples will have their love stories showcased on the official Instagram page, where the audience will vote for their favourites through likes. Level 2 make this contest more interesting where the top 50 couples from Level 1 presenting reels that reflect their wedding vision and love journey with a trending musical touch to capture more views of their reel. The audience will, once again, play a vital role in determining the 15 couples who will advance to the grand finale.
The final round will witness the shortlisted 15 couples racing head-to-head, displaying their passion, teamwork, and creativity to emerge as the ultimate winner of "The Great Indian Wedding Race" Season 1. This captivating finale will feature exciting challenges, heartwarming moments, and unforgettable memories as they vie for the coveted prize – a free, fully organized international destination wedding of their dreams.
Speaking at the event, Mahendra Gangadharan, Founder & Managing Director of Neferrtiti Weddings said, "Love, creativity, and celebrations come together in 'The Great Indian Wedding Race'! From heartwarming love stories to unique wedding ideas, couples from every nook of India will mesmerise you. Unconventional fashion and design will dance together in perfect harmony! With Sandalwood's enchanting Advithi Shetty as our brand ambassador and South Indian's inspiring actress Kavya Shetty as our esteemed chief guest here today. Glamour, fame & dreams is the name of the game! Brace yourself for an exceptional and unforgettable event that will leave you spellbound!"
Brand Ambassador & Kannada Actress Adhvithi Shetty said, "I am honored to support the incredible couples contest "The Great Indian Wedding Race," celebrating their unique love stories and creative wedding visions. Let's unite hearts and break barriers, cherishing every magical moment of this journey. Thanks to Neferrtiti Weddings for this opportunity. Together, let's etch "The Great Indian Wedding Race" Season 1, into our hearts forever.
Chief Guest at the event, renowned South Indian Actress Kavya Shetty said, "Thrilled to be the chief guest at "The Great Indian Wedding Race," celebrating love and creativity. Destination weddings in picturesque landscapes hold a special place in my heart. Being part of this magical event is an honor".
Couples with dreams of a destination wedding are invited to participate in this once-in-a-lifetime opportunity. The registration for "The Great Indian Wedding Race" is now open.
(IANSlife can be contacted at ianslife@ians.in)