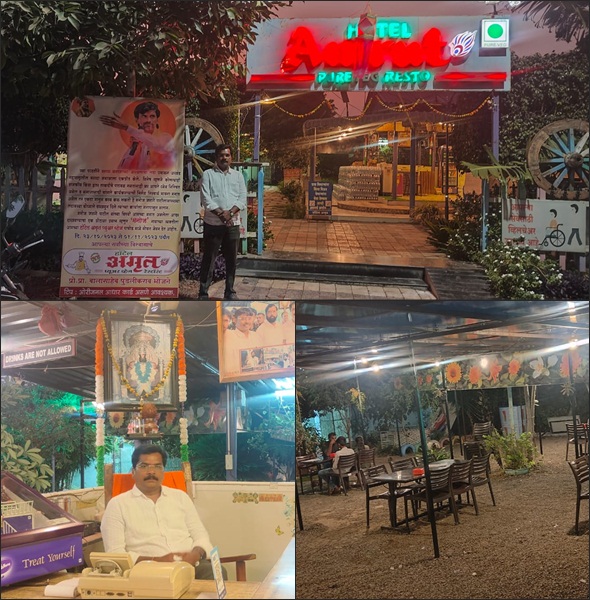 Quaid Najmi
Chhatrapati Sambhajinagar (Maharashtra), Nov 15 (IANS) In a unique tribute to the ongoing Maratha quotas agitation, a restaurateur Balasaheb Bhojane here has implemented a novel initiative to attract customers and popularise the eatery.
As per the scheme, any person named 'Manoj' is entitled to a special feast of the choicest pure vegetarian cuisine at Bhojane's "Amrut Hotel" located strategically on the busy Chhatrapati Sambhajinagar-Solapur Highway at Pachod. Bhojane, 43, advertised the scheme – the second of its kind in three years – through banners and posters outside the restaurant that grabbed eyeballs and many 'Manojs', too. When asked the rationale behind the initiative, Bhojane said he was an admirer of the Shivba Sanghatana leader Manoj Jarange-Patil of Jalna, who is currently spearheading one of the biggest agitations in the state for Maratha reservation.
"I belong to the Dhangar caste. But I am truly impressed at the manner in which Manoj Jarange-Patil Saheb has successfully united all the Marathas in the state in barely three months to speak in one voice for the community. This is a humble salute to his efforts that have been going on since August 29," Bhojane told IANS from the hotel.
Since the scheme started on October 23, the restaurant has seen around 99 'Manojs' turning up to enjoy an unlimited complimentary meal, courteously served by the staffers with Bhojane keeping an eye on the goings-on from his counter, and a record of the beneficiary.
"Many 'Manojs' were not aware of the offer and had simply walked in… We checked their Aadhaar Card and then served them the special vegetarian deluxe thali costing around Rs 225. They were thrilled and left after profusely thanking us," said a proud Bhojane. There were some mischief mongers too, who attempted to grab a 'free meal' by producing fake Aadhaar cards, but Bhojane instantly made an online check and his staffers politely said that they "either pay up or scoot".
Some 'Manojs' even came with friends or families and their bill was suitably adjusted with the complimentary meal waived off, and they clicked selfies later, he said, of the eatery that is located barely 15 km from Jarange-Patil's Antaravali-Sarati village (Jalna).
Incidentally, this is the second time Bhojane implemented a 'name-specific' scheme at his 30-table highway eatery with a capacity to seat around 125 simultaneously, which has become the talk of the region.
In December 2019, he announced an open offer of a similar free meal to anybody named 'Uddhav' as his gesture of support to the former Maha Vikas Aghadi Chief Minister Uddhav Thackeray.
"That was because Uddhav Saheb had fulfilled his election promise of waiving off the farm loans of lakhs of distressed farmers in the state which benefited the tillers… I know, as I also belong to a farming family. At that time, more than 150 'Uddhavs' came and enjoyed a complimentary lunch/dinner here," smiled Bhojane.
Seeing the success of the current 'Manoj' drive, Bhojane said he has extended it till December 24 – the deadline given by Jarange-Patil to CM Eknath Shinde to implement his public assurance of giving Maratha quotas.