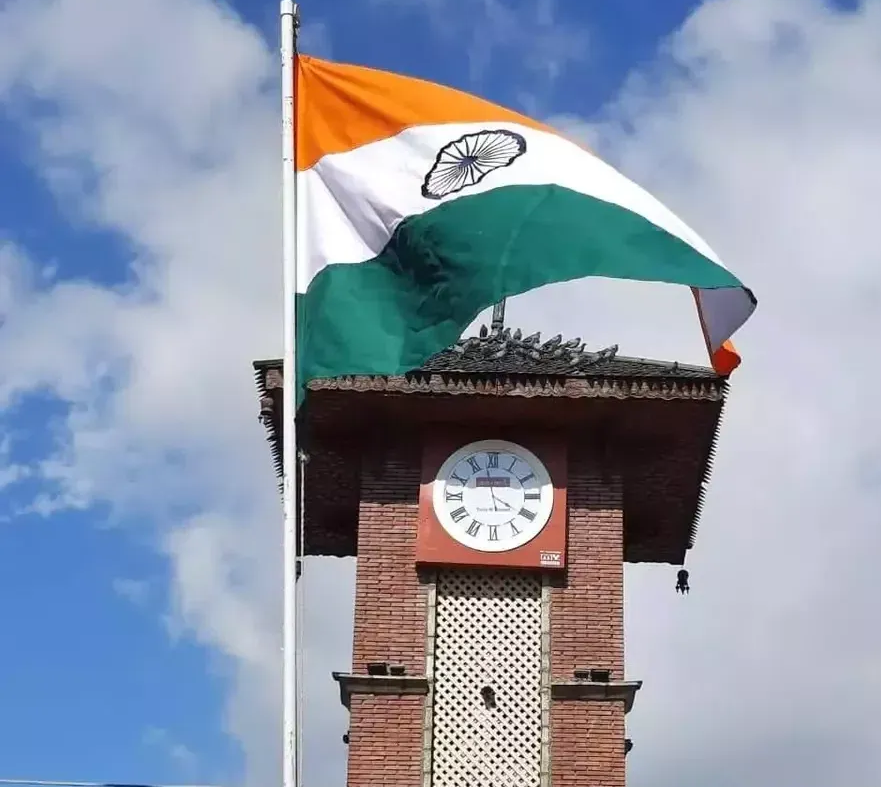 Ahmed Ali Fayyaz
New Delhi, Aug 17: Srinagar's business hub of Lal Chowk admittedly does not represent the entire Kashmir valley's situation and political aspirations. But its iconic landscape and skyline does arguably contain Kashmir's most representative political countenance. That is why diverse characters chose it as their stage to dominate the scene and promote their narratives and ideologies over the last 100-odd years.
In the evening on Tuesday, India's Independence Day, hundreds of enthusiastic Kashmiris gathered at Lal Chowk, danced around a fountain and the newly rebuilt clock tower and clicked pictures from all angles. Earlier in the day, different non-governmental groups and individuals took turns to wave the Indian national flag and get pictures and selfies clicked.
As scores of the I-Day revellers danced on the granite floor base of a fountain, it cracked under their weight. One of the participants was caught while removing the letter 'L' of the commemoration 'LALCHOWK' for a souvenir. All the buildings around were resplendent with radiance. This was in total contrast to the ambience of fear and gloom Lal Chowk presented until recently.
For the first two years of Omar Abdullah's National Conference-Congress coalition in 2009-10 and later in Mehbooba Mufti's PDP-BJP regime in 2016-18, Lalchowk was quite often known for the crates of concertina wire and paramilitary deployments put in place to stop the separatists' marches to the Civil Lines. The summer headquarters of the United Nations Military Observer Group for India and Pakistan (UNMOGIP) used to be their second most favourite destination for theatrics.
Living at the nearby Maisuma, JKLF chief Yasin Malik used to be a frequent demonstrator at Lal Chowk. On every separatist-militant sponsored call for shutdown, dharna or march, Police and paramilitary columns used to close Lalchowk with razor wires and other barricades. Entire Civil Lines presented the looks of a ghost town. Not a single pedestrian or civilian motor driver would be allowed to pass through Maulana Azad Road or Residency Road.
Just five years after the breakdown of Mehbooba Mufti's government, Lal Chowk, as well as the entire capital city and the nine rural district headquarters are calm and quiet. Everything from street clashes to stone pelting mob attacks, separatist demonstrations and Pakistani flags, bullets, pellets and teargas, arson and encounters, has vanished.
After the constitutional changes of August 2019, almost the entire separatist violence has ended. From funeral processions and gun salutes to the militants killed in encounters, everything has disappeared. Education is continuing at schools, colleges, universities and coaching centres without any disruption. Trade and tourism are flourishing. As a result of this unimagined transformation, traders in Srinagar and elsewhere, particularly in the Srinagar Civil Lines, are making remarkable businesses. They claim this is for the first time since 1988.
Before 1947, Lal Chowk scripted a new history for Kashmir. A year after Bollywood produced its first sound film, Ardeshir Irani's 'Alam Ara', in 1931, a Sikh philanthropist Bhai Anant Singh Gauri opened Kashmir's first cinema, Palladium Talkies, at Lal Chowk. 'Alam Ara' was screened at Palladium. In 1947, Palladium served as headquarters of Sheikh Mohammad Abdullah's Emergency Administration and National Militia of Peace Brigade.
National Militia, comprising Kashmir's men and women, picked the first guns and supported the Indian Army in resisting and failing the Pakistani raiders' invasion with the popular slogan of "Hamla Aawar Khabardaar, Ham Kashmiri Hain Tayyar". Later, Prime Minister Jawaharlal Nehru and Sheikh addressed a massive gathering of the Kashmiris at Lal Chowk.
In the last 50 years, Lal Chowk has been witness to a mosaic of political developments. In February, Sheikh Mohammad Abdullah received an enthusiastic reception here from his Kashmiri followers after he dumped his 'Mahaz-e-Raishumari' and returned to the mainstream politics as Chief Minister with support of the then Prime Minister Indira Gandhi. In his fiery speech, Sheikh blasted Pakistan for sending raiders to loot Kashmir, for killing innocent Kashmiris and for being hypocritical to Kashmir.
In 1980, the year when Bajaj business group raised the old Clock Tower at Lal Chowk, Sheikh delivered another historic speech. Two days before, a clash had occurred between the taxi drivers and soldiers in which then SSP Srinagar Ali Mohammad Watali was also injured. Sheikh doused the flames of turmoil and reconnected the civilians with the Indian Army.
In 1989, Chief Minister Farooq Abdullah addressed his last rally of the pre-militancy period in front of Palladium. He asserted that Pakistan's gun would only destroy Kashmir and exhorted the Kashmiris to reject the gun culture and separation.
1n March 1990, Kashmir's massive pro-azadi processions to UNMOGIP passed through Lalchowk. In the next few years, a number of Lal Chowk's business centres and hotels, including Palladium, were reduced to ashes in terror attacks and encounters.
In January 1992, senior BJP leaders Murli Manohar Joshi and Narendra Modi drove all the way to Srinagar and hoisted the Indian national flag at Lal Chowk under tight security and serious threats from militant organisations.
In 1994, top separatist leader Shabir Shah addressed a massive gathering of his followers at Lal Chowk. He stressed on unification of the separatist groups and assured his audiences to reunite the "100 beads of the rosary". Subsequently Shah himself faded out into oblivion.
In 2010, when Chief Minister Omar Abdullah permitted an Eid congregation to march to Lal Chowk, mobs damaged Clock Tower and raised the green Pakistani flags on its top. Later, the unruly crowds set on fire the Crime Branch headquarters of the J&K Police at Exhibition Grounds. Pakistani flags on several occasions at Lal Chowk in 2016-18. Yards away from Lal Chowk, terrorists gunned down journalist Shujaat Bukhari.
On several occasions, innocent civilians and students of the adjacent Tyndale Biscoe School were either killed or left injured in grenade attacks.
This dark period of Lal Chowk's history finally ended with the dismissal of Mehbooba Mufti's government in June 2018. Not a single separatist demonstration, Pakistani flag hoisting or terror attack happened at Lal Chowk after August 2019. In 2022, the old Clock Tower was dismantled and a new elegant tower was raised under the Srinagar Smart City Mission.
In a sharp contrast to New Delhi's policy of 1999-2019 – when separatists, militants and their promoters in the mainstream parties were appeased, accommodated and offered spaces – Prime Minister Modi's ambition of restoration of peace and normalcy is unambiguously clear. But the people of Kashmir, who completely turned their back on violence, separatism and terrorism after 2018, deserve no less credit for the peace that is unfolding and spreading across the valley.
(The content is being carried under an arrangement with indianarrative.com)