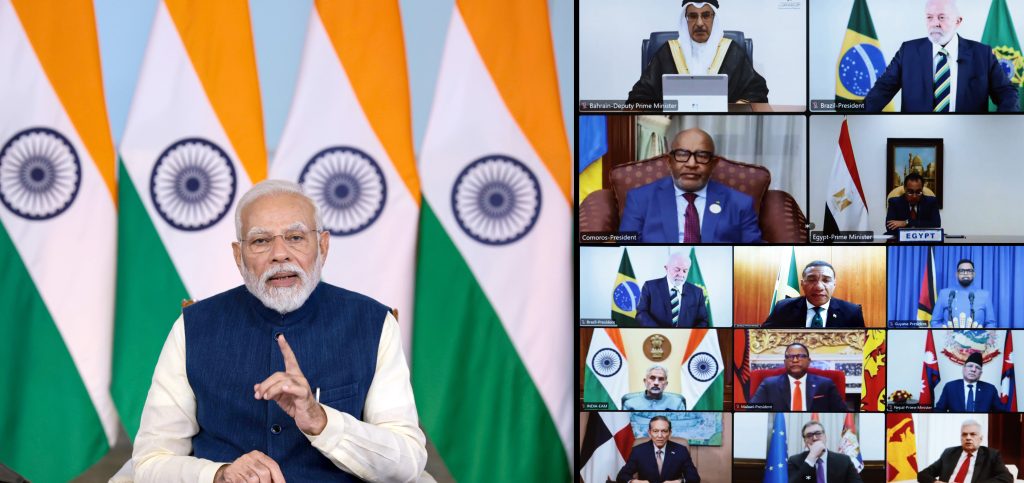 New Delhi [India], November 17 (ANI): Prime Minister Narendra Modi said on Friday that the two summits of the Global South sent a big message to the world that the Global South wants 'autonomy' and its voice should be heard on global governance.
"Two summits of the Global South being held in a year and a large participation in it send out a big message to the world. The message is: Global South wants its autonomy, Global South wants its voice to be heard on Global Governance, Global South is ready to take big responsibility on global issues…India is proud that during an important forum like the G20, we got the opportunity to put the voice of the Global South on the agenda," he said.
He added, "The credit for this goes to your strong support and firm belief in India. For this, I am really grateful to you. And I believe that was raised during the G20 summit will be echoed in upcoming forums."
While speaking at the Concluding Leaders Session of the Voice of Global South Summit, PM Modi went on to mention the humanitarian aid sent by India to multiple countries during tough times and emphasised continuing in the upcoming days.
He said, "Last month, we provided 60 tonnes of medicines and supplies to Palestine. After an earthquake on November 3 in Nepal, Bharat also sent more than 3 tonnes of medicinal supplies help to the country. Bharat will feel happy to share its digital health service delivery capabilities with Global South. With Global South science and technology, we are eager to help our Global south partners in Capacity building and research."
Highlighting the inauguration of a global centre for excellence of the Global South Countries named DAKSHIN, PM Modi noted that the center will focus on developmental issues of developing countries.
He stated, "During the 1st Voice of the Global South Summit, I talked about some of the commitments and feeling happy that there is progress in it. Today morning, a global centre for excellence, DAKSHIN was launched. The center will focus on researching developmental issues related to the developing countries."
He said further, "With this initiative, the practical solutions for the issues of global south will be researched. Under the Arogya Maitri scheme, Bharat is committed to provide and deliver humanitarian aid in the form of medicines and supplies."
Prime Minister Narendra Modi on Friday inaugurated a global centre for excellence for the Global South countries called DAKSHIN. The prime minister noted that he had proposed setting up the centre during the first Voice of Global South Summit in January this year.