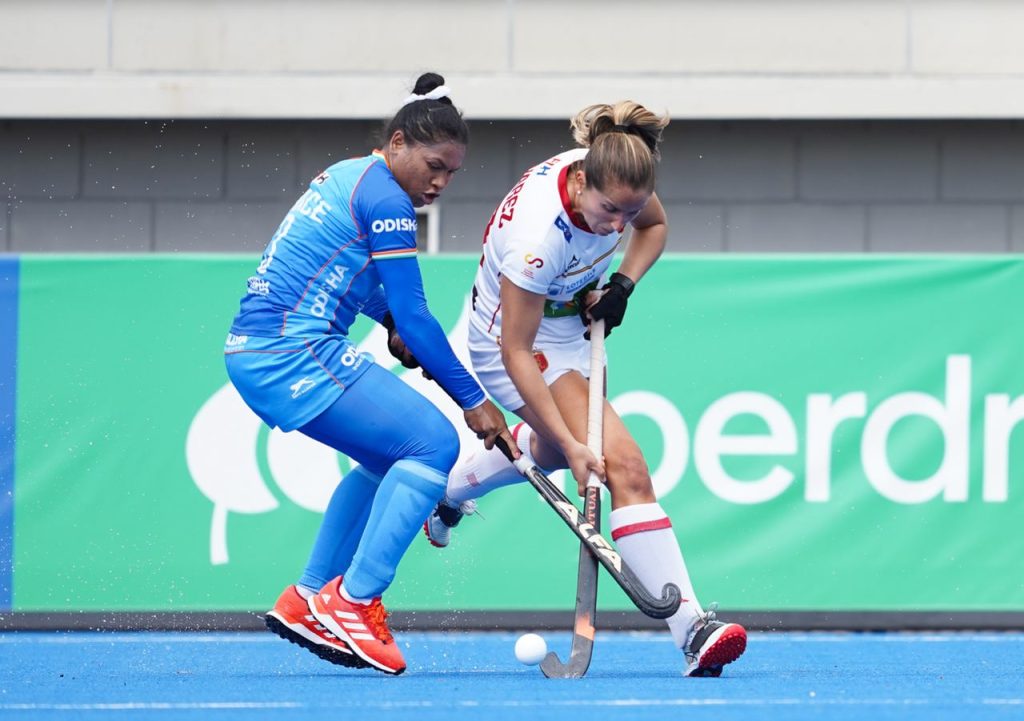 Barcelona (Spain) July 27 (IANS) The Indian women's hockey team came from behind to hold hosts Spain to a thrilling 2-2 draw in its second match of the 100th Anniversary Spanish Hockey Federation – International tournament (Torneo del Centenario), here on Thursday.
For India, Navneet Kaur (14′, 29′) scored a brace, while Xantal Gine (13′) and Laia Vidosa struck (26′) were the goal-scorers for Spain.
The first quarter began with Spain using the home ground advantage to put pressure on the Indian defence. But with Navneet Kaur starting an Indian attack from the right flank, Spain's defence had to remain cautious.
A long pass from a Spanish player allowed Marta Segu to penetrate inside the circle and go one-on-one against Savita. But, the Indian goalkeeper stood tall to avert the danger.
Late in the first quarter, Spain launched a counter-attack and Xantal Gine (13′) converted a goal to give hosts the lead. But Navneet Kaur (14′) managed to make the most of a long pass inside the circle and equalised straightaway for India.
With the scores levelled, both India and Spain started searching for a quick goal. Deepika broke through Spain's defence to enter inside the circle and managed to get a shot away. The ball went just above the nets, giving the opposition a respite.
With just a few minutes left in the quarter, Spain made the most of a penalty corner as Laia Vidosa (26′) struck the ball into the nets following a save from the Indian goalkeeper Savita, and Spain regained their lead. But Navneet Kaur (29′) showcased her brilliance once again, as she dribbled past the Spanish defence to score the equaliser for India and the game remained level at 2-2 at halftime.
The second half started with the Indian women's hockey team showcasing their intent straightaway to get the lead. Vaishnavi Vitthal Phalke dribbled past the Spain defence, causing them to commit an error and earning India a crucial penalty corner.
Spain goalkeeper Clara Perez deflected the danger and the scores remained level. With Neha Goyal dominating midfield, India maintained possession and kept pushing inside Spain's half. But Perez kept stopping the shots on target and managed to hold off India.
With 15 minutes left on the clock, the Indian team started showcasing urgency to get the winning goal. Sangita Kumari received a sensational pass inside the circle to score the goal, but the Spain goalkeeper managed to stop her in her tracks. Late in the final quarter, Spain earned a penalty corner, putting pressure on the Indian defence. But the Indian goalkeeper managed to deflect the ball away and the match ended in a 2-2 draw.
India will next take on England in their third game of the tournament on Friday.