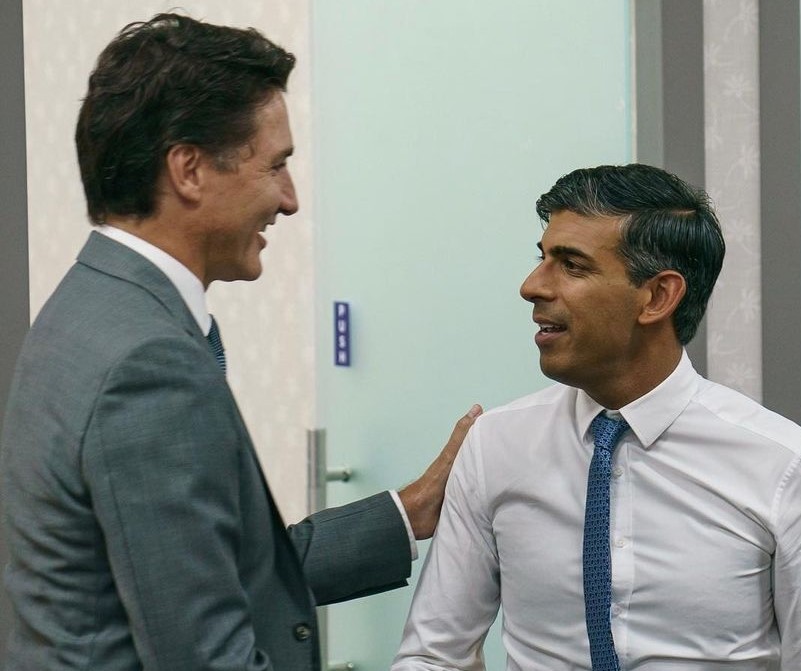 London, Oct 7 (IANS) British Prime Minister Rishi Sunak has said that he hoped to see a de-escalation in diplomatic tensions between India and Canada after New Delhi asked Ottawa to withdraw its 41 diplomats by October 10 amid worsening ties.
In a call with his Canadian counterpart Justin Trudeau on Friday evening, Sunak reaffirmed the UK's position that all countries should respect sovereignty and the rule of law.
"The Prime Minister reaffirmed the UK's position that all countries should respect sovereignty and the rule of law, including the principles of the Vienna Convention on Diplomatic Relations," a government statement read.
Trudeau updated Sunak on the situation relating to Canadian diplomats in India, and both leaders "agreed to remain in contact on the next steps".
Relations between Canada and India have nosedived after Trudeau alleged in Parliament last month that Indian intelligence agents may have been involved in the murder of Sikh pro-Khalistan hardliner Hardeep Singh Nijjar.
Following Trudeau's allegations, the two nations expelled a diplomat each, and India termed Canada's allegations as "politically driven" and "absurd".
Recently, New Delhi asked Ottawa to withdraw 41 out of its 62 diplomats in India to achieve a parity in the number of diplomatic staff in each country.
According to a CTV News report, Canada has evacuated the majority of its diplomatic staff from India and shifted them to either Kuala Lumpur (Malaysia) or Singapore.
However, there has been no official word on their evacuation from New Delhi.
The news comes amid claims by Canadian Foreign Affairs Minister Melanie Joly on Tuesday that the government was engaged diplomatically with India on the issue of staff reduction.
"We are in contact with the government of India. We take Canadian diplomats' safety very seriously, and we will continue to engage privately because we think that diplomatic conversations are best when they remain private," Jolie had said.