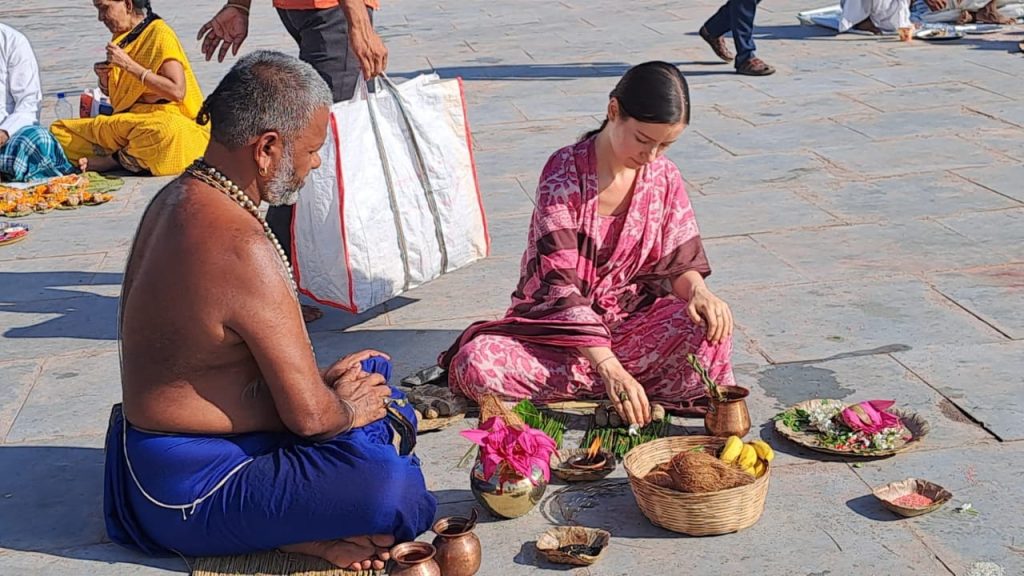 Patna, Oct 7 (IANS) A Ukrainian woman on Saturday performed the 'Pind Daan' of her parents and others who were killed in the ongoing Russia-Ukraine war at a temple in Bihar's Gaya.
Yulia Jito, a physiologist who lives in Ukraine, lost her parents and several relatives in the ongoing war. Besides offering pind daan for her parents, she also performed the rituals for the salvation of souls of those lost their lives in both the countries.
The Russia-Ukraine war is still underway and thousands of people have lost their lives so far.
Yulia performed the rituals at famous Vishnupad temple located on the bank of Falgu river in the city. Acharya Loknath Gaud helped her complete the rituals.
She will stay in Gaya till October 13 and will perform all the 'Karmakand' for the peace of departed souls.
Interacting with the media persons, she said that this was the second time she came to Gaya for the pind daan. "It gave me immense peace last time when I performed the pind daan in Gaya. So, I came here again to perform the ritual for my parents and people of both Ukraine and Russia who lost their lives in war," she said.