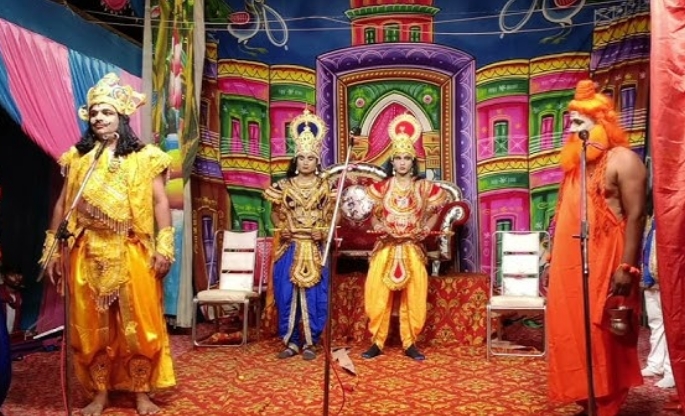 Lucknow, Oct 23 (IANS) The famous Ramlila of Aishbagh in Lucknow is one of the oldest in the city and its origins can be traced back to saint-poet Goswami Tulsidas in the 16th century — making it almost over 500 years old.
Today, it has earned the distinction of becoming the most hi-tech Ramlila of the country.
General Secretary of Shri Ram Lila Samiti, Aishbagh Aditya Dwivedi said, "In the 16th century, when Goswami Tulsidas came here for Chaumasa, he stayed at this place which was an Akhara of sanyasis. He used to narrate Ram Katha to the sanyasis who started enacting Ramlila so that its basic message reached the masses in an easy way. The staging of Ramlila was started under the guidance of Tulsidas."
"In 1773, Nawab Asafuddaula came here to watch Ramlila with his ministers. He was so happy to see it that he not only donated 6.5 acres of land to the Akhara but also started giving annual aid for the Ramlila. Today this aid is given by the Lucknow Municipal Corporation," said Aditya Dwivedi.
He further said, "Till 1857, the Ramlila was enacted by sanyasis who used to come here for Chaumasa. After the 1857 Uprising, the movement of sanyasis was banned by the British. The Akhara sadhus then approached the locals who started enacting the Ramlila. Since then, many families have been associated with the Ramlila Samiti till now and more than 10 families have been serving the committee for generations."
One such family is of Kishan Lal Agarwal whose son Kanhaiyalal, grand-son Prag Das, great-grandson Chaman Lal, great-great-grandson Gulabchand and great-great-great-grand son Harish Chandra headed the committee. Harish Chandra is the present president of Shri Ramlila Samiti, Aishbagh.
Dwivedi said, "Family members of Girija Bhushan Sinha, Basant Lal Kohli, Vishnu Narain Chaddha, Devi Prasad Varma, Vrindavan Awasthi and Kedarnath Padha (father of Rajya Sabha member Dinesh Sharma) are still associated with the Ramlila Samiti. I can proudly say that we all are part of the oldest Ramlila of the country. Even during the Covid period, we enacted Ramlila online."
Aditya Dwivedi further said, "We were the first to use special effects in Ramlila and today we are using the best of technology to attract youths. You will be surprised to know 80 per cent of the crowd which comes here, comprises youths and our ground remains packed during the days when Ramlila is enacted. Today, we create scenes of Treta Yug with special effects, music and sound system. When fight sequences are enacted, our special effects steal the limelight, particularly when we have to show someone flying in the sky and hitting the enemies. We also manage to create sea waves while showing Lord Ram going to Lanka. The youths come here to see how we do this."
He said, "Today Ramlila is becoming very expensive but we are fortunate that artists who come to play different roles do not charge anything. Most of them are professionals working in different fields. Many of them take special leave to play their roles in our Ramlila."
"For the past three months, they have been rehearsing their dialogues on Zoom as they are based in different cities like Delhi, Kolkata and Lucknow, etc. We are preparing two artists for one role because any artist can fall ill at the eleventh hour. However, there is a tradition of worshipping main characters of Ramlila which is performed religiously here," he added.
Shankar Lal, who has played the role of Ravan for the past 10 years said, "I come from Kolkata every year, leaving my business to my family members. I feel the more I work here the more I progress in life. I have gained eternal peace working here which is more than the money which I would have earned as a professional."
Bhaskar Bose who plays Hanuman, said, "There was a time when Ramlila was enacted without loudspeakers, under the light of earthen lamps and petromax. Today it has totally been transformed and has become one of the most hi-tech Ramlilas in the country. I am proud to be part of this Ramlila."