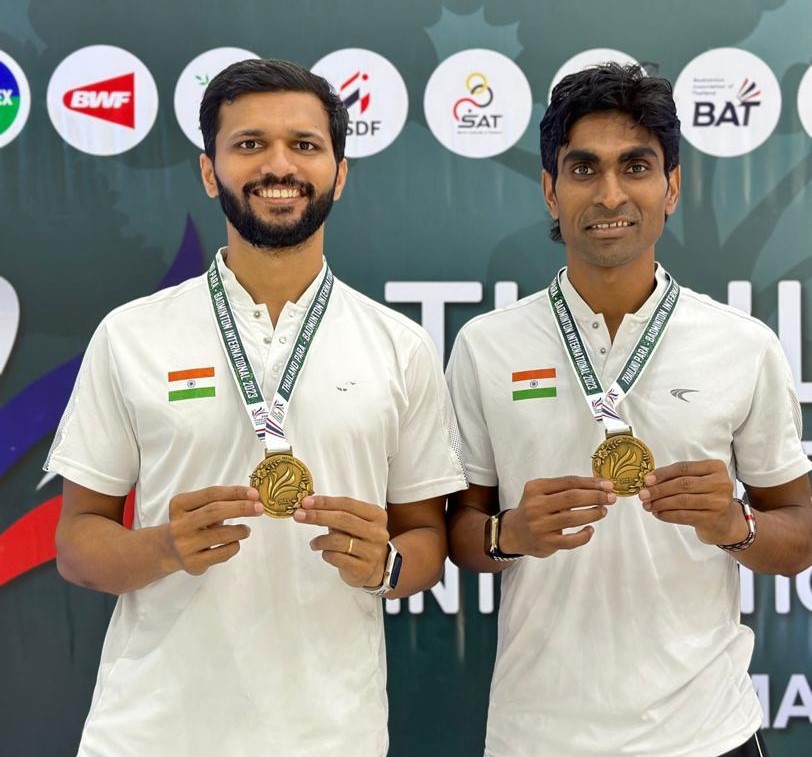 Hangzhou, Oct 23 (IANS) Ace shuttlers Pramod Bhagat and Sukant Kadam continued their good run on the second day of badminton competitions in the Para Asian Games.
Paralympic Games gold medallist Pramod Bhagat defeated Maldivian Abdul Latheef Mohamed in straight sets in a match which lasted only 20 minutes. This victory has secured a quarterfinal spot for the last year's gold medallist.
Bhagat never looked like he was in trouble from the first serve itself. He wrapped up the match in quick time with a score of 21-10 and 21-6, with a victory he won both his group stages and qualified for the next round.
In the mixed doubles, the pair of Pramod Bhagat and Manisha Ramdass defeated Thailand's Chawarat Kitichokwattana and Chanida Srinavakul in straight sets to book a place in the quarterfinals. The pair were focused and didn't take much time to put the opponents away and the final score read 21-8, 21-14. In the quarterfinals, Pramod and Manisha will face Japan's Taiyo Imai and Noriko Ito.
In the men's doubles, the world No. 1 pair of Pramod and Sukant defeated Indonesia's Ukun Rukaendi and Hary Susanto in straight sets to keep their 100%-win record intact in the tournament. The pair dominated the opponents and the final score read 21-8, 21-15.
On the other hand, Sukant Kadam defeated Maldivian Ahmed Fayaz in straight sets. The shuttler dominated the game and the final score read 21-5, 21-7. This victory has secured him a spot in the quarterfinals.
In the other matches, Nitesh Kumar and Murugesan Thulasimathi defeated Thailand's Teamarrom Siripong and Saensupa Nipada, Manoj Sarkar of SL3 defeated Chian's Xiong Lichuan, Suhas Yathiraj defeated Bangaldesh's Shamim Shaharia, Tarun defeated China's Gao Yuyang, Nitesh Kumar defeated China's Chen Xiaoyu in SL3 singles, Nitya Sre went down fighting to China's Lin Shuangbao, Rachana Patel went down fighting to Chinese Taipei's Wu Yu-yen, Sashank Kumar of WH1 went down to Japan's Nishimura Keita.