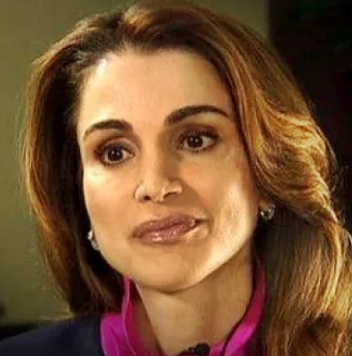 TN Ashok
Amman, Oct 27 (IANS) Jordan's Queen Rania Al Abdullah has accused Western leaders of a "glaring double standard" for not condemning Israeli bombardment in Gaza, killing hundreds of innocent civilian as more Middle East nations cried a halt to Israel's war on Hamas.
Queen Rania said: "The people all around the Middle East, including in Jordan, we are just shocked and disappointed by the world's reaction to this catastrophe that is unfolding. In the last couple of weeks, we have seen a glaring double standard in the world."
She was speaking to CNN's Christiane Amanpour in an exclusive interview on Wednesday.
"When October 7 happened, the world immediately and unequivocally stood by Israel and its right to defend itself and condemned the attack that happened… but what we're seeing in the last couple of weeks, we're seeing silence in the world," she said.
Jordan's King Abdullah warned last week that the displacement of Palestinians to Jordan and Egypt would be a "red line", and said neither Jordan nor Egypt would accept refugees from Gaza.
He said that any suggestion of the two countries taking in fleeing Gazans was a plan "by the usual suspects to try and create de facto issues on the ground", suggesting that the refugees may not be allowed to return to their homes, media reports said.
Asked by Amanpour about her husband's position, Queen Rania said the people of Gaza face "two choices".
"Essentially, they're given a choice between expulsion or extermination, between ethnic cleansing and genocide. And no people should be given, (should) have to face that kind of choice. The people of Palestine should not, (the people) of Gaza should not, be forced to be moved again," she said.
A two-state solution to establish a "free, sovereign and independent" Palestine is the only path to peace in the region, Rania told CNN.
UK Prime Minister Rishi Sunak had emphasised on this to Israel's Prime Minister Benjamin Netanyahu during his meeting with Israeli leaders at Tel Aviv as the next most important step in resolving the perpetual Middle East crisis.
"There can never be a resolution except around a negotiating table. There is only one path to this, and that is a free, sovereign, and independent Palestinian state, living side by side, in peace and security, with the state of Israel."
The Queen also emphasised that the conflict in the Middle East did not begin on October 7 when Hamas attacked Israel, highlighting the history of Israel's occupation and the displacement of Palestinians.
"Most networks are covering the story under the title of 'Israel at war'. But for many Palestinians on the other side of the separation wall, on the other side of the barbed wire, war has never left," she said.