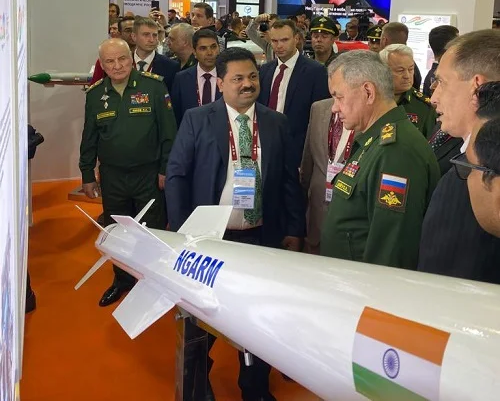 Ateet Sharma
New Delhi, Aug 16: India's self-designed and developed advanced technologies by leading defence firms continue to grab eyeballs at the seven-day Army 2023 International Military-Technical Forum which began at the Patriot Congress and Exhibition Centre of the Russian Armed Forces in Moscow region on Monday.
India's Defence Research and Development Organisation (DRDO), along with several defence Public Sector Undertakings (PSUs) like Bharat Electronics Limited (BEL), Goa Shipyard Limited (GSL) and Bharat Earth Movers Limited (BEML), have displayed their state-of-the-art products at the ninth edition of the forum.
Almost 1500 Russian defence enterprises, 82 foreign companies and defence delegations from many countries are participating in the forum's expositions and business programme.
Over the last two days, several top dignitaries, including Russian Defence Minister Sergei Shoigu and Deputy Prime Minister Denis Manturov, have visited the Indian pavilion and spent time at the stalls of DRDO and BrahMos.
A high-level delegation of the Royal Malaysian Navy was also apprised about the "invincible" BrahMos missile system and its major advancements.
The potent offensive missile system already inducted into the Indian Armed Forces has been developed through the joint venture between India (Defence Research and Development Organisation) and Russia (Military Industrial Consortium Mashinostroyenia).
On Tuesday, Armenian Deputy Defence Minister Karen Burtyan visited the DRDO and BrahMos stalls and held discussions on the defence systems being showcased.
"Deputy Defence Minister of Armenia Karen Brutyan visited BrahMos pavilion and showed keen interest in all three variants of the BrahMos missile on day-2 of Army-2023," tweeted BrahMos Aerospace.
By displaying over 28,000 samples of modern military and dual-use products developed by its enterprises, Russia is using the forum to send a message that its military-industrial complex not only quickly adapted to work in conditions of severe sanctions pressure, but also increased its capacity by multiple times in different directions.
While inaugurating the forum on Monday, Shoigu noted that some of the developments presented at the forum this year are increasingly being used by the Russian forces during the ongoing conflict with Ukraine.
"In real conditions, our weapons show their reliability and effectiveness. At the same time, the widely advertised Western technology turned out to be far from flawless in reality. You can be convinced of this by looking at the exposition of captured weapons," said the Russian Defence Minister as he began one-on-one discussions with his counterparts and chiefs of defence staffs from various nations during the event.
In his video message, Russian President Vladimir Putin said that his country is open to deepening equal technological partnership and military-technical cooperation with countries which want to defend their national interests and independent path of development.
"We offer our partners a wide range of modern weapons of almost all kinds and types. This includes the latest control systems, intelligence, high-precision weapons and robotics. Particular attention at the forum sites was paid to the subject of unmanned aerial vehicles. This direction is actively developing today both in the military and in the civilian sector," said Putin.
Besides the innovative products – that include boats and helicopters, amphibians and drones for the widest range of applications – a majority of the 250 events being held on the sidelines of the defence exhibition focus on the development of artificial intelligence technologies.
"Russia has something to offer in these breakthrough, promising areas. Year by year, we have a growing market for products that use artificial intelligence technologies," stated the Russian President.
Russian state-owned technology conglomerate Rostec is already demonstrating latest means of combating UAVs on the fields of Army-2023.
Among the exhibits is the Pishchal-Pro anti-drone gun from Ruselectronics, one of the lightest drone suppression solutions in the market.
The holding is also presenting the Serp-VS5 complex, which provides protection of the territory from UAVs, including from a swarm of drones, within a radius of up to 5 km.
Reconnaissance equipment, electronic warfare and air defence systems are presented as part of a layered system for combating UAVs, which ensures the defeat of drones of various classes.
"The samples of Russian weapons exhibited at the Army Forum have a successful experience of being used on the battlefield. They have proved to be easy to operate and at the same time very effective in countering the most modern products of our Western competitors," said Alexander Mikheev, Director General of Rosoboronexport.
(The content is being carried under an arrangement with indianarrative.com)