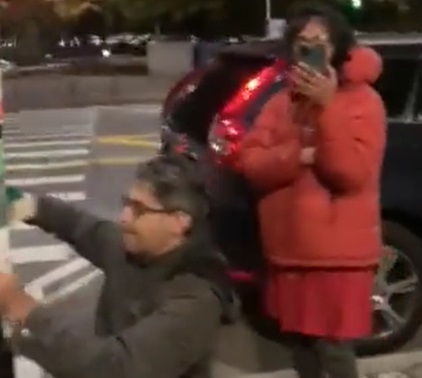 New York, Nov 16 (IANS) An Indian-origin analyst for a commodities company here has been fired for alleged anti-Semitic remarks recorded on video, according to media reports.
The Financial Times identified the man as Kurush Mistry who had been an oil analyst with Freepoint Commodities.
Without naming him, the company confirmed in a statement on Wednesday that the "individual" associated with the incident is "no longer associated" with the company.
This was the latest in a spate of people of Indian origin getting caught up in the heated war of words in the US over the October 7 Hamas attack on Israel.
A South Asian group at Harvard University with students of Indian origin signed on to a statement seen as supporting Hamas, but later dissociated itself from it, while a student at New York University who claimed to be a Hindu apologised for tearing up posters showing kidnapped victims of the October 7 attack.
When Mistry was covering up posters in New York about the kidnapping victims of the Hamas attack with pamphlets that said "Occupiers face consequence" and putting up posters accusing Israel of "genocide" and of being an "apartheid state", he was approached by a Jewish American man, who asked him if he was proud of what he was doing.
Mistry told the man to "go back to your country" and to "go live in Israel" and made an obscene gesture and used foul language.
"Go back to your country" is a racist insult in the US directed against immigrants and ethnic Americans, and Indian Americans have often faced it, and in this context, it is considered anti-Semitic.
A woman dressed in red with him identified as Shailja Gupta also joined in making the obscene gesture at the man and using foul language, telling him to go back to his country.
When he said he is an American, Gupta said, "I am also a F—–g American, darling."
Later Gupta claimed that her country was Palestine.
She called Jewish people "rapists" and claimed she had proved it in published papers.
After telling the man to go back to go live in Israel, Mistry said, "I have nothing against Jewish people", while Gupta was continuing her tirade.
Freepoint Commodities in a statement posted on its website said that while it welcomes "the diversity of views and opinions held by our employees", it "does not tolerate discrimination and hate speech directed against any group".
It added, "We are aware of the recent antisemitic incident reported on social media, and the individual involved is no longer associated with Freepoint."
The video of the interaction in Manhattan was posted on the social media platform X by Andy Ngo, an author and journalist, who is a critic of the left.
A post responding to it on X from a person identified as Sandeep Gandotra said, "They are not welcome to India send them to Palestine."
Another person identifying as Darshin Vyas posted, "As an Indian, apologies on their behalf. They DON'T represent us. Our thoughts and prayers are with the unfortunate victims in Israel. We condemn this."
The LinkedIn profile of Mistry said that he was a charted accountant and that he was a graduate of the Indian Institute of Management Ahmedabad.