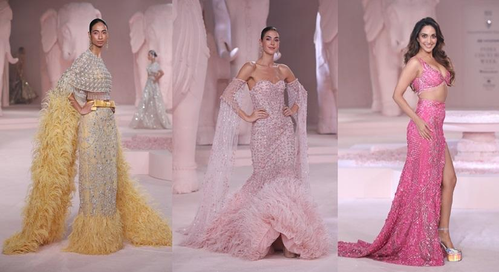 Mumbai-based designers Falguni Shane Peacock opened India Couture Week with a presentation of dazzling bridal couture. Not only did they show present heavily embellished ensembles perfect for the upcoming wedding season, but also featured newly wed Kiara Advani as their show stopper, to drive home the message.
The collection titled 'Renaissance Reverie' is a reflection the designer duo's love for art and the treasures, encountered during their travels. Drawing inspiration from the renaissance era, the silhouettes were grand and rich with intricate embroidery. The ensembles showcased the techniques and and meticulous workmanship of India's skilled artisans, who have brought the designer duo's vision to life by marrying Western ethos with the richness of Indian heritage.
The designers believe "Each garment in the collection is a testament to cultural exchange and celebrates the invaluable lessons they have learned from the past." The colour palette feature pink in its soft and brighter hues, pastel blues and a series of whites and ivories.
An off shoulder gown featuring feathers
Bollywood beauty Kiara walked the runway in a hot pink lehenga with sequin details, looking every bit the belle off the ball. The Couture Week is India premier fashion event and one is expected to see a number of Bollywood stars make an appearance for this year's fashion extravaganza.
The runway too was a unique fusion of Ease and West, The colour was muted sandstone and feature life sized elephants to showcase the artistic mastery of Indian influences and inspirations.
A Renaissance inspired ensemble features an Indian veil
Falguni and Shane Peacock are well known in the Indian and Global fashion platform having created red carpet ensembles for leading movie and music icons like Jennifer Lopez, Beyonce, Katy Perry, and Lady Gaga. The duo are celebrated for their statement fashion creations. (IANS)