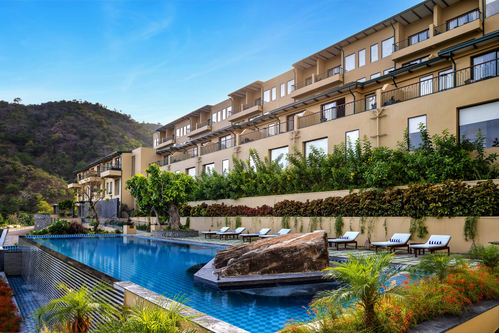 New Delhi, July 26 (IANSlife) Nestled among the magnificent Aravalli Range, Radisson Blu Resort, Kumbhalgarh is set to alter the hospitality landscape of the area by providing visitors with a pleasant and fashionable experience.
The luxurious and peaceful resort is nestled in a stunning natural environment. The resort's architecture honours Rajasthan's illustrious past by deftly fusing traditional and contemporary features to produce a setting that is utterly captivating. The resort is two hours' drive from the Maharana Pratap Airport Udaipur and the Udaipur City Junction Train Station and is situated in a stunning setting with mountains in the background.
The property is located in proximity to the illustrious Kumbhalgarh Fort, a UNESCO World Heritage site renowned for its architectural splendor. The resort's strategic location ensures convenient access to other prominent attractions, including the revered Ranakpur Jain Temple and the captivating wildlife of Kumbhalgarh Wildlife Sanctuary. Just a 2-hour drive away from Udaipur, life at Radisson Blu Resort, Kumbhalgarh is all about the simple pleasures — waking up to warm sunshine, strolling through lush gardens, savouring local culinary delights, and exploring tales of bravery with guided treks and trails to sites undiscovered.
The resort also features a fitness center, a rejuvenating spa, and an outdoor pool for relaxation. It provides expansive meeting and banquet facilities with advanced technology. Guests can engage in self-rejuvenating recreational activities such as artisanal, puppet, and pottery workshops, guided treks led by naturalists, jungle visits, and cultural trails. The resort further enhances the guest experience with a royal welcome, performances like Nagada and Flute recitals, Ghoomar dance, and Sandhya aarti.
It is a serene oasis spread across 5.18 acres. Surrounded by diverse flora and fauna, including multiple-aged banyan trees, it offers a refreshing change of pace. It is the only IGBC-certified property in the region. The resort boasts spacious rooms and suites that are elegantly designed with thoughtful touches offering stunning views of the picturesque landscape, ensuring a tranquil retreat for every guest. The resort offers three unique dining options, comprising a pizzeria, an all-day diner, and a lounge bar.
"We are delighted to collaborate with Radisson Hotel Group for the opening of Radisson Blu Resort, Kumbhalgarh. This partnership marks a significant milestone in our journey as a hospitality brand, as we join forces with a renowned global leader in the industry. Through this collaboration, we are confident in delivering an exceptional experience that allows our guests to immerse themselves in the rich culture and heritage of Rajasthan. We are committed to providing unparalleled hospitality and ensuring that every guest enjoys a memorable stay," said Sharad Mishra, Director & Owner of Radisson Blu Resort, Kumbhalgarh.
"We are thrilled to unveil Radisson Blu Resort Kumbhalgarh, a true gem in our growing portfolio. With its captivating setting, thoughtful amenities, and Rajasthan's warm hospitality, we are confident that it will become a preferred destination for travelers seeking an unforgettable experience. Radisson Hotel Group, in the past 25 years of operations in India, has become a part of the country's social fabric. We derive deep inspiration from this and will continue to add more such magnificent hotels to our portfolio that are an embodiment of India's rich heritage," said Zubin Saxena, Managing Director & Area Senior Vice President – South Asia, Radisson Hotel Group.
Gourav Deb, General Manager of Radisson Blu Resort, Kumbhalgarh said, "Radisson Blu Resort, Kumbhalgarh is designed to offer a perfect blend of tranquility, luxury, and cultural immersion. We are dedicated to crafting memorable experiences for our guests with exceptional services and recreational activities, making it a perfect cultural holiday spot. The resort ensures spectacular hospitality amidst the UNESCO world heritage site, and we are excited to host our guests with the Group's signature Yes, I Can! Service ethos."