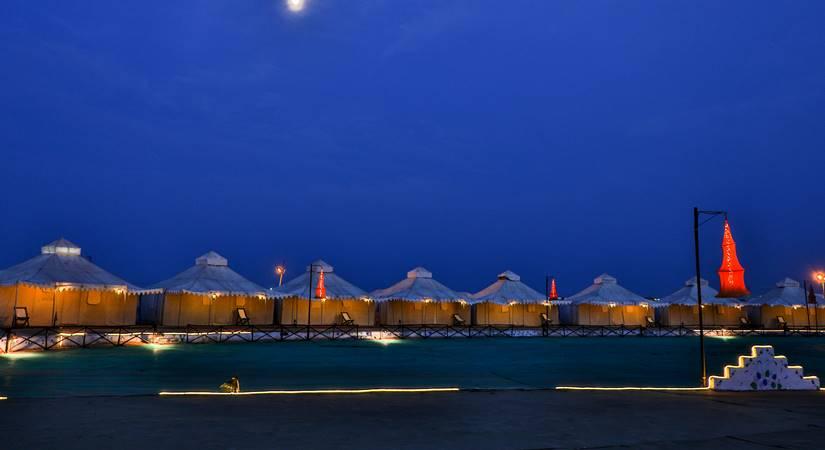 New Delhi, Nov 06 (IANSlife) Experiential hospitality company, Evoke Experiences, introduces the eagerly awaited Rann Utsav – The Tent City, set to commence on November 10, 2023. This year's edition promises an even grander celebration, featuring an ensemble of over 400 luxurious tents and welcoming about 500,000 guests to the tent city throughout the Rann Utsav festivities.
Nestled within the expansive Great Rann of Kutch, Dhordo village in Gujarat has gained prominence for hosting the annual Rann Utsav. This vibrant cultural festival serves as a platform to showcase the regions deeply rooted traditional arts, music, and crafts, offering visitors a glimpse into the rich cultural tapestry of the area.
The Prime Minister, Narendra Modi, has actively championed the cultural splendor of Rann Utsav and the scenic beauty of Dhordo village. He has shared captivating photos and videos showcasing the mesmerizing allure of the White Rann on his X account (formerly known as Twitter).
Reflecting on his visits to Dhordo in 2009 and 2015, PM Modi expressed immense joy at Dhordo's rich cultural heritage and natural beauty being acknowledged globally. He commended the people of Kutch, especially, for their dedication and efforts in achieving this recognition.
Bhavik Sheth, COO of Evoke Experiences, revealed, "The mesmerizing visuals shared by the honorable Prime Minister are part of a larger narrative – a story that intertwines Rann Utsav and the Tent City by Evoke Experiences. In fact, these visuals are courtesy of Rann Utsav – The Tent City by Evoke Experiences."
"We feel privileged to host Rann Utsav with the support of Gujarat Tourism and the Dhordo villagers. We eagerly anticipate contributing to the region's progress," added Sheth.
Adding to the excitement, the Dhordo village in the Kutch region recently earned the prestigious title of "Best Tourism Village" (BTV) by the United Nations Best Tourism Village, making it the sole village from India to achieve this recognition.