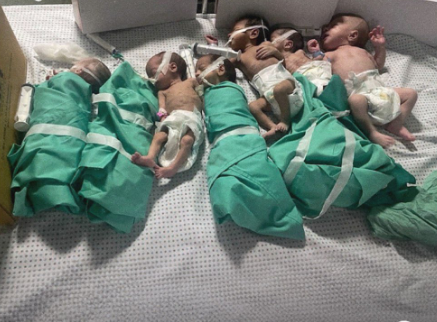 Jerusalem, Nov 13 (IANS) As IDF battles Hamas around Al Shifa Hopsital in Gaza, babies are being wrapped in foil and placed alongside hot water containers as desperation drives doctors to keep them alive, media reports said.
Al Shifa Hospital Director termed the situation in the hospital as "catastrophic" and also expressed concern that the facility will be unable to function if fuel supplies run dry, media reports said.
People are trapped in the hospital premises and too scared to leave due to the heavy fighting, media reports said.
"There is no more water, food, and milk for children and babies. The situation in the hospital is catastrophic," the director of the medical centre, Muhammad Abu Salmiya, told CNN.
Images showed several new-born babies removed from incubators and placed together on one bed.
The doctor told Araby TV that several children died in the intensive care unit and the nursery over the past two days in the bombardment by the IDF. An Israeli military spokesperson told CNN that its forces were engaged in "ongoing intense fighting" against Hamas in the vicinity of the hospital complex, but denied firing at the northern Gaza medical center and rejected suggestions the hospital is under siege.
The Israel military has alleged Al-Shifa Hospital serves as Hamas command center, which is denied by both Hamas and hospital authorities. The Israeli military has also accused Hamas of holding up in civilian at the hospital.
A freelance journalist inside Al-Shifa Hospital said medics were working under candlelight, food was being rationed and people inside were starting to drink pipe water.
CNN, while talking to Al Arabiya network reporter, Khader al Zaanoun said tha: "Communication is very bad and almost impossible for us to report what is happening in the hospital and its yards, we barely have cell lines but no internet."
Abu Salmiya, the Director of Al-Shifa Hospital, told CNN that 7,000 displaced people were desperately trying to shelter in Al-Shifa Hospital with about 1,500 patients and medical staff. Inside the hospital, none of the operating rooms are functioning due to a lack of electricity, Abu Salmiya told Al Araby TV, adding that "whoever needs surgery dies, and we cannot do anything for him."
"Now the wounded come to us and we cannot give them anything other than first aid," he said.
The World Health Organisation said that Al-Shifa Hospital has been without power for three days. "Regrettably, the hospital is not functioning as a hospital anymore," it said.
Ashraf al-Qidra, the spokesman for the Hamas-controlled health ministry in Gaza, said the intensive care unit, pediatric department and oxygen devices were out of service.
Israeli airstrikes have killed more than 11,000 people, including 4,506 children and 3,027 women, the Palestinian Ministry of Health in Ramallah, said.
Israel's blockade on essential supplies including fuel into Gaza has worsened the humanitarian crisis as hospitals, water systems, bakeries and other services that rely on electricity are shut down.