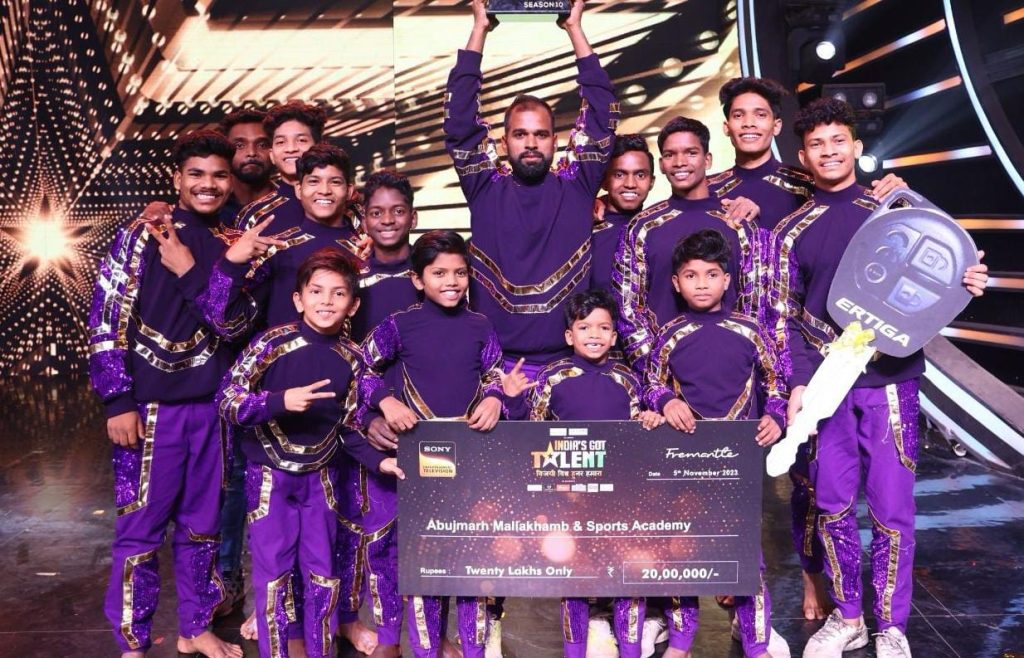 Mumbai, Nov 5 (IANS) The Abujhmad Mallakhamb & Sports Academy from Chhattisgarh won the coveted trophy of the reality show "India's Got Talent" Season 10, and took home the prize money of Rs 20 lakh.
Along with this, the winner was also awarded a brand-new car — Maruti Suzuki Ertiga.
In the finale episode, Abujhmad Mallakhamb group performed on the track "Jee Karda Marjaneya".
Celebrating 'Vijayi Vishwa Hunar Humara' in all its glory, "India's Got Talent" has drawn the curtains on this epic season with its Finale titled 'Hunar Ka Vishwa Cup'.
The finalists of this season were — Abujhmad Mallakhamb Group, Mahila Band, Golden Girls, Zero Degree, Raaga Fusion, and The ART.
The Indian Classical Fusion Band — Raaga Fusion (comprising Jayant Patnaik from Ludhiana, Ajay Tiwari from MP, Amritanshu Dutta from Patna, and Harshit Shankar from Patna) clinched the first runner-up position, and received a cheque of Rs 5 lakh along with a hamper from Go Cheese for winning the highest number of golden buzzer in this season.
The talented dance group, Golden Girls from Kolkata, was honoured as the second runner-up, also receiving a cheque of Rs 5 lakh.
Having entertained viewers for close to four months, this acclaimed international format celebrated diverse talent from across the country, judged by a stellar panel comprising Shilpa Shetty Kundra, Kirron Kher, and Badshah, hosted by Arjun Bijlani.
Filmmaker Karan Johar and the finalists of last season, Rishabh Chaturvedi and Ishita Vishwakarma, also joined as special guests for the ultimate showdown between the 'Top 6' finalists.
Hailing from a small town in Chhattisgarh, Abujhmad Mallakhamb & Sports Academy's journey on IGT 10 was nothing short of inspiring.
The group exemplified the power of dedication and perseverance, proving that even the impossible becomes achievable if you are committed to your craft and stayed true to their motto of 'Chattishgarhya, Sabse Badiya'.
Their mind-blowing acts, executed with remarkable skill and finesse, left the judges and the nation in awe. Additionally, Kirron Kher and Badshah, deeply moved by their incredible journey, pledged to support the academy financially, fostering the growth of this unique art form. Elated over winning the show, Manoj Prasad, Coach, Abujhmad Mallakhamb & Sports Academy, said: "It feels surreal; this is a dream come true for us at the Abujhmad Mallakhamb & Sports Academy. We started with a vision to promote India's indigenous sports and spread the joy of these ancient martial art forms.
"Participating in IGT was our first big step outside our academy walls. Winning the title and prize money gives us the means to develop our academy and provide more opportunities for promising local athletes," he shared. Manoj further said: "We thank India's Got Talent and the judges for giving us this platform to shine and inspire more youngsters to take up these sports. We also want to thank our family members who have supported us unconditionally."
He concluded by saying: "Above all, this win has motivated us to work harder and push our boundaries further. We hope our journey will encourage more youths to pursue their dreams."
On the victory, judge Shilpa said: "Their talent, perseverance and dedication have paid off, and I believe they truly deserve this victory. They've truly raised the bar with each of their outstanding performances. Six-year-old Suresh has captured my heart with his fearless performance, and the trust they place in each other serves as a valuable lesson in team sports. I hope to see the them represent our country internationally."
Judge Badshah said: "The enthusiasm, determination and passion of Abujhmad Malkhamb Group is commendable. It's very heartwarming to see how they have transformed their dreams into reality and never backed down despite the odds.
"They serve as a significant source of inspiration for the youth and have shone a deserving spotlight on the art form of Mallakhamb," he added.
He further said: "I hope this serves as a reminder to everyone to embrace authenticity and on the importance of preserving and representing our traditional art and culture on a national scale."