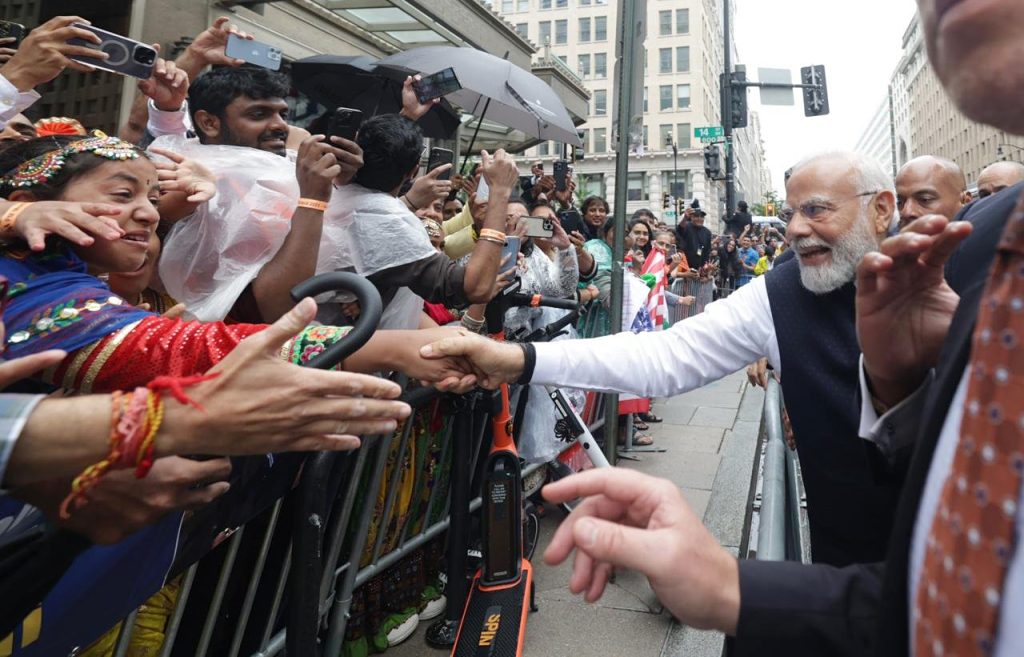 Washington DC [US], June 22 (ANI): Prime Minister Narendra Modi, who is on a four-day visit to the US, has received a warm welcome from the Indian diaspora as he arrived at the Willard InterContinental hotel in Washington DC, where he will be staying.
The hotel echoed with slogans like "Bharat Mata ki Jai," "Modi, Modi," and "Matram Matram, Vande Matram," as people enthusiastically cheered for the Prime Minister. Children and their parents eagerly waved their hands to greet him upon his arrival, with some kids holding placards that said "Welcome PM Modi to Washington DC."
The Prime Minister also playfully interacted with the children, touching one child's nose and blessing a few others.
There was a sense of excitement among the crowd, who were eager to catch a glimpse of and interact with PM Modi during his visit. An individual of Indian origin in the US expressed her profound joy at seeing and having an opportunity to meet PM Modi, stating, "I am really happy that I got this opportunity to see PM Modi in person. It is a pleasure to be here. It was a great experience to see him."
Meanwhile, other Indians also expressed their excitement over seeing PM Modi.
"I am very glad to see his (PM Modi) presence in Washington, DC. He gave me a high five and signed my shirt. It is a memorable moment, I will never forget this," says a young member of the Indian diaspora as he welcomes PM Modi at a hotel in Washington, DC.
Another member of the Indian diaspora mentioned meeting PM Modi and having received signatures on placards.
This visit "just shows the incredible amount of commitment that Modi has put towards furthering India and America relationships and is doing amazing things for both countries. And I really hope that the world benefits from this friendship," he added.
Outside the hotel, the people were seen playing the drums.
At the US capital, PM Modi will be accorded a ceremonial welcome before being hosted by President Joe Biden and First Lady Jill Biden at a state dinner.
PM Modi will also address a joint sitting of the US Congress on Thursday.
On June 23, Prime Minister Modi will be jointly hosted at a luncheon by US Vice President Kamala Harris and US Secretary of State Antony Blinken.
In addition to official engagements, Prime Minister Modi is also scheduled to have several interactions with leading CEOs, professionals, and other stakeholders.
He will also meet members of the Indian diaspora.