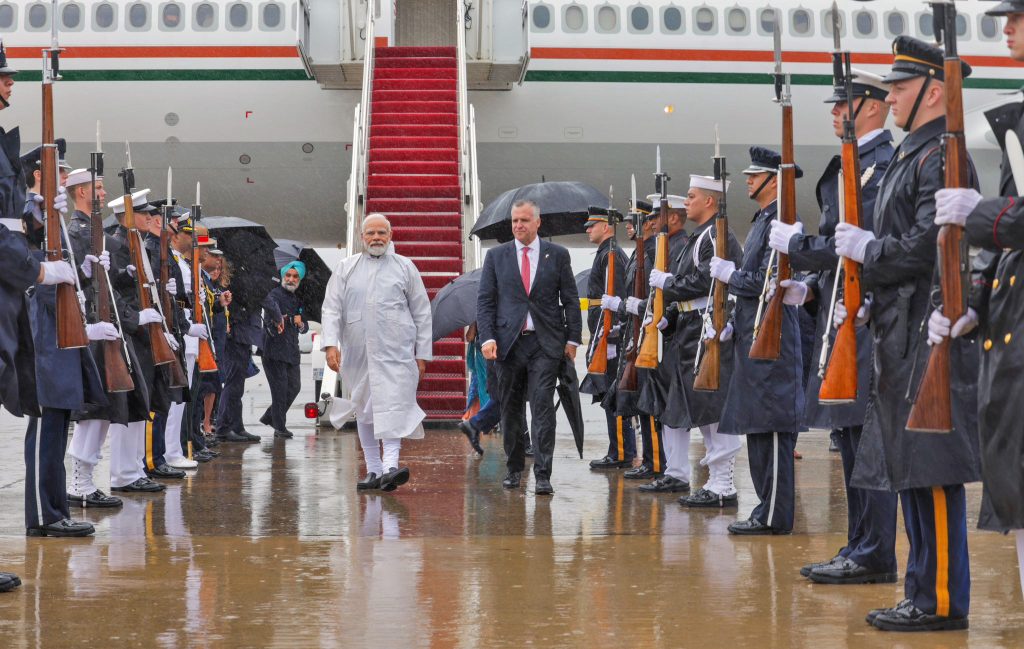 Washington DC [US], June 22 (ANI): Upon arriving at the Joint Base Andrews in Washington, DC, Prime Minister Narendra Modi was greeted with a ceremonial welcome and guard of honour amidst the drizzling rain.
The national anthems of both countries were played at the airbase to mark his arrival. PM Modi received a bouquet from two young children and he playfully pulled their cheeks.
PM Modi's Official State visit has moved to its next phase.
Taking to Twitter, Ministry of External Affairs Spokesperson Arindam Bagchi said, "PM @narendramodi accorded a ceremonial welcome and guard of honour as he sets foot at the Joint Base Andrews airport in Washington DC. In Washington DC, PM will hold bilateral meeting with @POTUS @JoeBiden ; address the Joint Session of the US Congress; and interact with CEOs and a cross-section of Indian diaspora."
After performing a special Yoga session on the lawns of the United Nations headquarters in New York City, PM Modi landed at Joint Base Andrews.
President Joe Biden and First Lady Jill Biden will host a State Dinner in honour of Prime Minister Modi on the same evening at the US capital.
The PM will also address a Joint Sitting of the US Congress on June 22, which is the historic speech that was extended by both the House of Representatives and the Senate, demonstrating bipartisan support and respect for Prime Minister Modi in the United States.
It is pertinent to mention that Narendra Modi would be the first Indian Prime Minister to address a joint session of the United States Congress twice.
On June 23, the Prime Minister will be jointly hosted at a luncheon by US Vice President Kamala Harris and the US Secretary of State Antony Blinken. In addition to official engagements, the Prime Minister is scheduled to have several curated interactions with leading CEOs, professionals, and other stakeholders. He will also meet members of the Indian Diaspora.
He is expected to meet business leaders of 20 top American companies here and is also expected to address a gathering of more than 1,500 diaspora and business leaders who have been invited to the John F Kennedy Centre in Washington.
Top 20 business leaders of US companies including Mastercard, Accenture, the Coca-Cola Company, Adobe Systems and Visa are expected to meet with the Prime Minister, two people familiar with the event and its logistics told ANI.
A reception at the Hall of Nations Terrace (Kennedy Center) will follow the Prime Minister's address. The event with some of the important names including Shantanu Narayen, Chief Executive Officer of Adobe Systems; Julie Sweet CEO of Accenture; Ryan McInerney CEO of Visa Inc, Michael Miebach, CEO of Mastercard; and James Quincey, CEO of Coke Cola.
After this, the PM will then travel to Cairo to pay a state visit to Egypt from June 24-25.