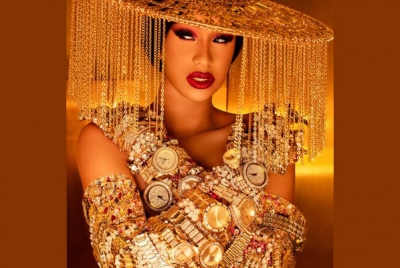 Los Angeles, July 28 (IANS) Rapper Cardi B has set the record straight after social media chatter alleged her public feud with husband Offset was nothing more than a stunt to promote new music.
A month after the 'Up' rapper, 30, and the Migos member, 31, argued over cheating allegations online, the couple seemingly put that aside and announced the release of their new collaborative single 'Jealousy', reports 'People' magazine.
Earlier this week, Offset released a teaser, where he parodies James Brown's bizarre CNN interview from 1988 and used the clip to address rumours about "drama" between him and his wife.
The video also featured an appearance by actress Jamie Lee Curtis, who interviewed Offset as she took on the role of CNN host Sonya Friedman. Shortly after the teaser, fans on social media began wondering if the rappers' fight was staged.
As per 'People', in response, the 'Bodak Yellow' star addressed a fan on social media who wrote: "We said it was a stunt they pulled with their relationship and that's exactly what it was. Lmfaoo."
"It wasn't no STUNT (sic)", she said on Instagram, according to the Screengrab shared on Twitter. "Tasha K made some ish up and you all were laughing about it and happy ass hell about it. Now that we putting it in the music is a stunt … Naaa baby be mad at the one who started trolling with it (sic)", Cardi B wrote.
She added on Twitter: "They c****ie was so wet when the lie was going around. Now, it's a different narrative when we put it in the music ….OOOO IM POPPIN IT ON THIS SONG !!!! (sic)" In her tweet, Cardi was referring to her defamation lawsuit against blogger Tasha K, which she filed in 2019 after the blogger made a series of negative claims about her. Ultimately, the court sided with Cardi B.