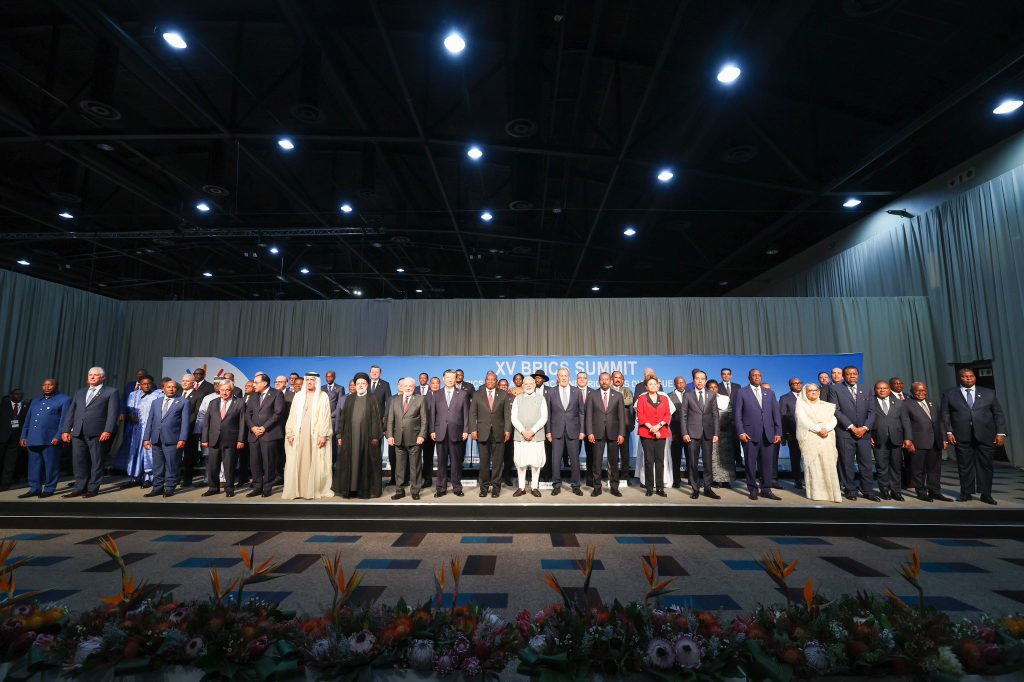 New Delhi, Aug 24 (IANS) BRICS nations on Thursday reiterated their stated positions on the Ukraine conflict, proposing to peacefully resolve the situation through mediation.
In the Johannesburg declaration which was issued after the culmination of the three-day 15th BRICS summit, it said: "We recall our national positions concerning the conflict in and around Ukraine as expressed at the appropriate fora, including the UN Security Council and UN General Assembly. We note with appreciation relevant proposals of mediation and good offices aimed at peaceful resolution of the conflict through dialogue and diplomacy, including the African Leaders Peace Mission and the proposed path for peace."
BRICS also rejected double standards in countering terrorism and extremism conducive to terrorism and called for an expeditious finalisation and adoption of the Comprehensive Convention on International Terrorism within the UN framework and for launching multilateral negotiations on an international convention for the suppression of acts of chemical and biological terrorism, at the Conference of Disarmament.
It also called for strengthening of disarmament and non-proliferation, including the Convention on the Prohibition of the Development, Production and Stockpiling of Bacteriological (Biological) and Toxin Weapons and on their Destruction (BTWC) and the Convention on the Prohibition of the Development, Production, Stockpiling and Use of Chemical Weapons and on Their Destruction (CWC), recognising its role in safeguarding and for preserving their integrity and effectiveness to maintain global stability and international peace and security.
"We underline the need to comply with and strengthen the BTWC, including by adopting a legally binding Protocol to the Convention that provides for an efficient verification mechanism. We reassert our support for ensuring the long-term sustainability of outer space activities and prevention of an arms race in outer space (PAROS) and of its weaponisation, including through negotiations to adopt a relevant legally binding multilateral instrument," the declaration said.
The BRICS nations also reiterated the need to resolve the Iranian nuclear issue through peaceful and diplomatic means in accordance with the international law.
"We recognise the threat emanating from terrorism, extremism conducive to terrorism and radicalisation. We are committed to combating terrorism in all its forms and manifestations, including the cross-border movement of terrorists, and terrorism financing networks and safe havens," the declaration said.
It also underlined: "Terrorism should not be associated with any religion, nationality, civilisation or ethnic group. We reaffirm our unwavering commitment to contribute further to the global efforts of preventing and countering the threat of terrorism on the basis of respect for international law, in particular the Charter of the United Nations, and human rights, emphasising that States have the primary responsibility in combating terrorism with the United Nations continuing to play central and coordinating role in this area.
"We also stress the need for a comprehensive and balanced approach of the whole international community to effectively curb the terrorist activities, which pose a serious threat, including in the present-day pandemic environment."