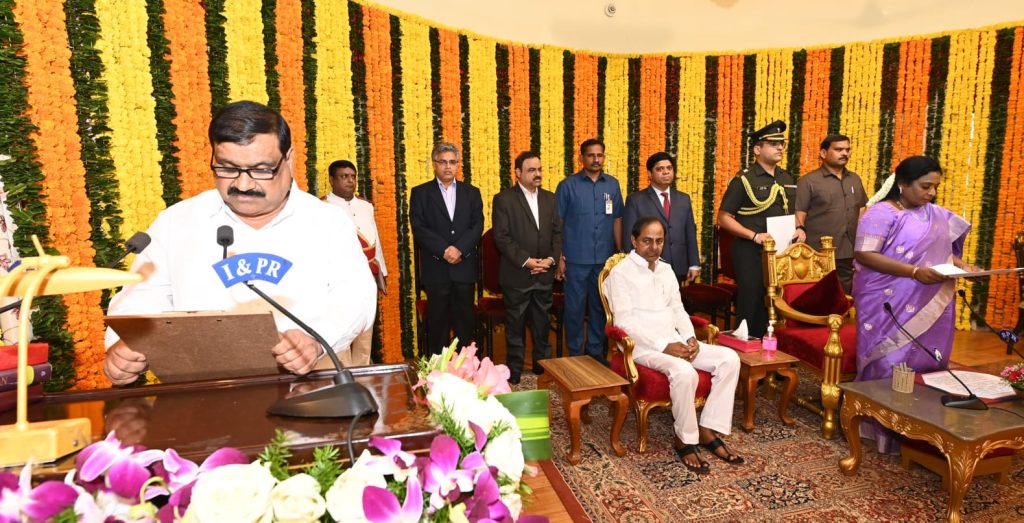 Hyderabad, Aug 24 (IANS) Barely three months before the Assembly elections, Telangana Chief Minister K. Chandrasekhar Rao on Thursday expanded his cabinet with the induction of Patnam Mahender Reddy.
Governor Tamilisai Soundararajan administered the oath of office and secrecy to Reddy at Raj Bhavan.
Chandrasekhar Rao, his cabinet colleagues, speaker Pocharam Srinivas Reddy, legislative council chairman G. Sukhender Reddy and senior officials attended the swearing-in.
Earlier, Mahender Reddy thanked KCR for giving him the opportunity and said he would try to live up to expectations.
His portfolio is likely to be announced later. With Mahender Reddy taking oath, the strength of the cabinet has gone up to 18 including the chief minister.
Mahender Reddy's swearing-in filled the lone vacancy in the cabinet. The position was vacant since May 2021 when KCR had dropped Eatala Rajender from the cabinet.
Reddy is currently a member of legislative council. His induction into the cabinet is seen as an attempt by the Bharat Rashtra Samithi (BRS) to pacify him as he was expecting a party ticket to contest the coming assembly elections from Tandur constituency.
There were reports that Reddy was planning to quit the BRS and join the Congress or the BJP.
After KCR announced BRS candidates for 115 assembly seats, Mahender Reddy had called on him and he was assured of a cabinet berth.
The BRS leadership also ensured a patch-up between Mahender Reddy and sitting MLA from Tandur Rohit Reddy. A cold war was going on between them ever since Rohit Reddy defected to the BRS a few months after he was elected from Tandur as a Congress candidate in 2018.
After BRS named Rohit Reddy as its candidate from Tandur for the coming assembly election, he called on Mahender Reddy and took his blessings by touching his feet.
This will be Mahender Reddy's second stint as a minister in Telangana. He was a member of the first KCR cabinet between 2014 and 2018. He had held the transport portfolio.
He was with the Telugu Desam Party (TDP) before joining the BRS. He was elected as an MLA from Tandur in 1994, 1998 and 2009 on a TDP ticket. He joined the BRS before the 2014 elections and was again elected from Tandur. However, he lost the election in 2018 to Congress nominee Rohit Reddy.
In 2019, the BRS made him a Member of the Legislative Council (MLC). He was re-elected to the Council from the local body authorities constituency in 2021.