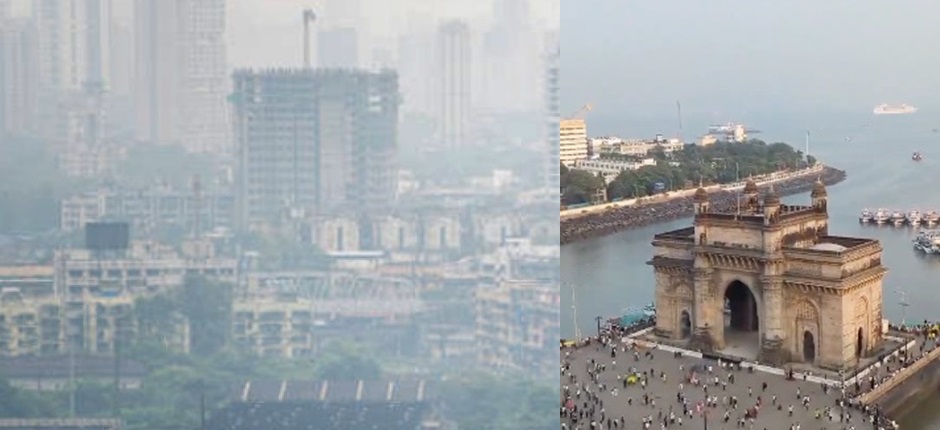 Quaid Najmi
Mumbai, Nov 4 (IANS) As the country's financial capital gasps for breath and grapples with very poor air quality, and four out of five Mumbai families having at least one person suffering for sore throat, cough, burning eyes, the authorities are waking from their sleep slumber.
The Bombay High Court has taken suo motu cognisance of air pollution levels in the city, fire-crackers were banned for the ODI World Cup matches here, civic authorities are cracking the whip on air pollution "creators" and taking up washing of all major roads (60-feet wide) in the city.
This is largely the situation of air pollution since the end of monsoon and the early winter in October in state and country's commercial capital Mumbai, the orange city of Nagpur, the cultural capital of Pune, the tourism hub of Chhatrapati Sambhajinagar (former Aurangabad) or the wine capital of the country, Nashik.
As Mumbaikars choke, the BrihanMumbai Municipal Corporation (BMC) woke up to find over 6,000 construction sites in Mumbai as prime polluters and on October 20 ordered a series of measures to control the air pollution – anti-smog guns, sprinklers at building sites, special squads to catch violators, and latest, cleaning 650-kms of all major roads with recycled water daily.
A LocalCircles survey among 7,000 revealed that 78 per cent families in Mumbai have one person down with air pollution related ailments, 44 per cent experienced burning eyes, 85 per cent blame it on construction sites and 62 per cent on vehicular emissions.
Experts at ASAR Social Impact Advisors said that as per IQAir, last week Delhi was the worst-polluted in India, followed by Jaipur, Mumbai and Nagpur, all falling in the 'unhealthy' air quality index (AQI), while Delhi topped in the world and Mumbai stood at the sixth spot.
Currently, Mumbai's AQI hovered around 125-169, the towns in Mumbai Metropolitan Region were in the range of 180, Pune at 165, Nagpur in poor AQI at 200, Chhatrapati Sambhajinagar 150 and Nashik around 162.
The chief culprits for air pollution remain the same – vehicular emissions, industrial activity, construction sites, waste-burning, agricultural residues, plus certain natural factors like limited wind movement and trapping of pollutants owing to geographical features that compound the problems.
On the recent crackdown on construction sites in Mumbai, Maharashtra Congress General Secretary Sachin Sawant wondered that when massive works of metros, coastal road, and other infra are going on why only the private developers are being blamed for the air pollution.
"How much space is left in Mumbai for the developers to pollute? The civic administration must also take similar precautions if they are serious about curbing air pollution," said Sawant.
ASAR-SIA's Brikesh Singh said there must be robust collaboration among all stakeholders, like civil society, citizens groups, and urban local bodies to mitigate the effects of air pollution and work towards a cleaner, healthier future for all.
"There should be city-specific action plans addressing their unique challenges rather than apparent quick-fixes like smog-towers or smog-guns, and the focus should be on meticulously designed and properly implemented solutions that promise a long-term end to the menace of air pollution," urged Singh.
NGO Waatavaran's Founder Bhagwan Keshbhat said the BMC's new guidelines to rein in pollution from the construction and demolition waste is a commendable step.
"But it is crucial that these guidelines are adhered to scrupulously to ensure Mumbai thrives not just economically but also environmentally," said Keshbhat.
Centre For Sustainable Development, Nagpur Director Leena Buddhe said beyond 'quick-fixes', there must be strategic measures – bolstering public transport, solutions to emissions from thermal power plants, regulating industrial emissions, arresting dust from metros or road constructions and other infra-projects plus promoting green spaces, for a cleaner and healthier Nagpur of the future.
The experts warn that the air pollution crisis is not just about safeguarding the environment but also linked to the health and wellbeing of the citizens, ensuring cleaner air and ensuring a more sustainable future for the generations to come, with the cooperation of all stake-holders.