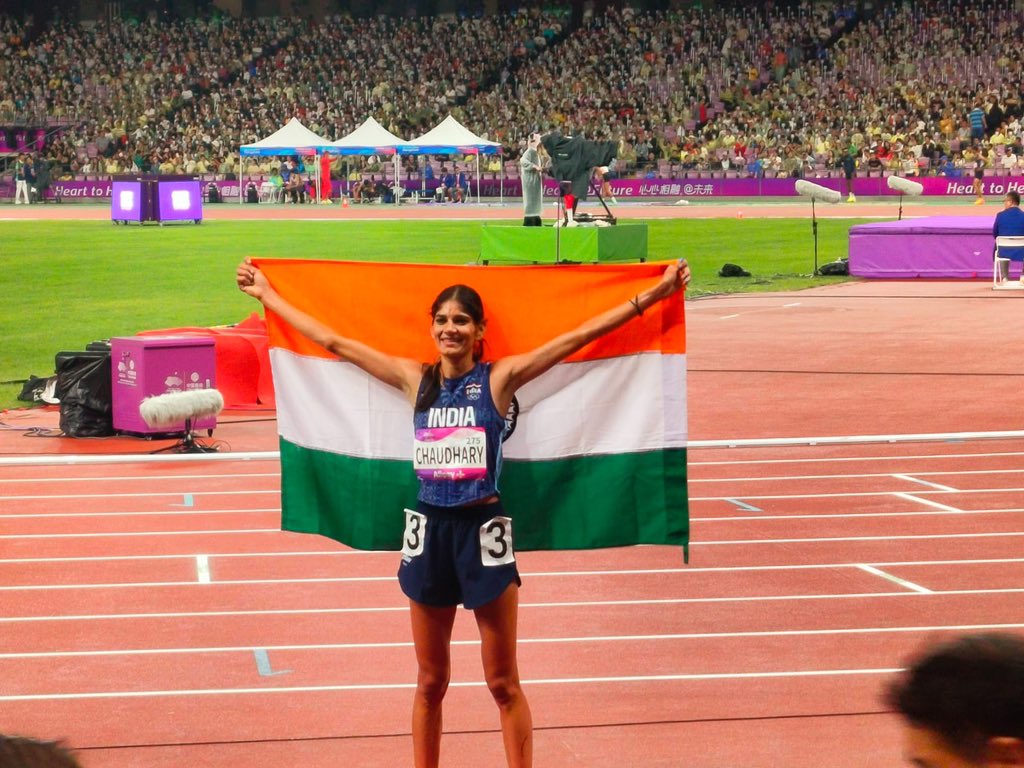 B Shrikant
Hangzhou, Oct 3 (IANS) Distance runner Parul Chaudhary and javelin thrower Annu Rani came up with memorable efforts on another successful day for India at athletics as the country is on the verge of surging past its best-ever medal haul in the Asian Games.
Just about 24 hours after she took a silver medal in the Women's 3000m steeplechase, Parul Chaudhary became the first Indian woman to win a gold medal in the 5000m race while Annu Rani overcame a season full of disappointments, which caused her depression, to bag gold medal in javelin throw.
India won six medals in athletics — two gold, two silver via Tejaswin Shankar in decathlon and MOhd Afsal in Men's 800m, and two bronze —
Praveen Chitharavel in triple jump and Vithya Ramraj in women's 400m hurdles.
A bronze each in Canoe Doubles 1000m and in 50-54 kg boxing via Preeti, took India's tally for the day to 8 medals, putting India on the verge of improving on the country's highest-ever medal tally of 70 medals achieved at the 2018 edition of the games in Indonesia.
World champion and Olympic bronze medallist boxer Lovlina Borgohain stormed into the final of the Women's 75kg, assuring herself of the medal.
On Tuesday, Abhishek Verma and Ojas Deotale assured India of two medals in archery by reaching the final of the Compound Men's Individual competition, assuring the country of a 1-2 finish.
Jyothi Surekha Vennam also assured India of a medal as she overcame the challenge of 17-year-old compatriot Aditi Gopichand Swami to reach the final, the teenager losing her nerve as coming up with a seven on the first arrow in the final three arrows of the match.
The recurve archers, Atanu Das and Dhiraj Bommadevara, however, failed to reach the semifinals as they lost in shoot-offs, matches they should have won easily. Bommadevara actually registered two no-scores.
In badminton, India's top players PV Sindhu and HS Prannoy cruised to victories in Round of 32 matchesThe stars of the day for India were two athletes who are on the opposite ends of the spectrum — Parul Choudhary who has produced her personal best a few weeks back and Annu Rani, who was struggling to produce good throws the entire season.
On Tuesday, they tapped into reserves of hidden energy as they produced late efforts to claim gold medals in their respective disciplines.
Parul Chaudhary came up with her best in the last 50 metres, finding ounces of energy inside her body as she surged past Japan's Ririka Hironaka to win India's first gold medal in women's 5000m at the Asian Games on Tuesday.
Parul was sixth midway through the race and then pulled ahead getting past one competitor at a time and finally surged past the Japanese opponent in the last 10 metres to take the gold medal in a timing of 15:14.75.
Hironaka finished second in 15:15.34 while Kazakhstan's Caroline Chepkoech Kipkirui took the bronze medal in 15:25.12, her season's best effort. India's Ankita finished fifth in 15:33.03, which is her personal best at this distance.
Even though it was not Parul Choudhary's best effort as she has a personal best of 15:10.69, she was still happy because this was her second race in two days. Parul had bagged a silver medal in the Women's 3000m race on Monday.
Annu Rani was also in a similar state in the Women's javelin throw, winning the first-ever gold medal for India in the event.
Annu says she had gone into depression as she had been able to produce her best effort throughout the year in competitions despite emerging as India's best javelin thrower in the last few years, winning medals at the Asian Games and Commonwealth Games and qualifying for the Olympics and World Athletics Championships.
But somehow, she was not able to make that last final push to claim the gold medal. On Tuesday, she produced a throw of 62.92 to claim the gold medal in the 19th Asian Games here, making the most of the conditions to produce her best effort. Sri Lanka's Nadeesha Dilhan Hatarabage Lekamge took the silver medal with a personal best of 81.57 metres while China's Lyu Huihui took the bronze medal with a throw of 81.28 metres, barely breaking any sweat.