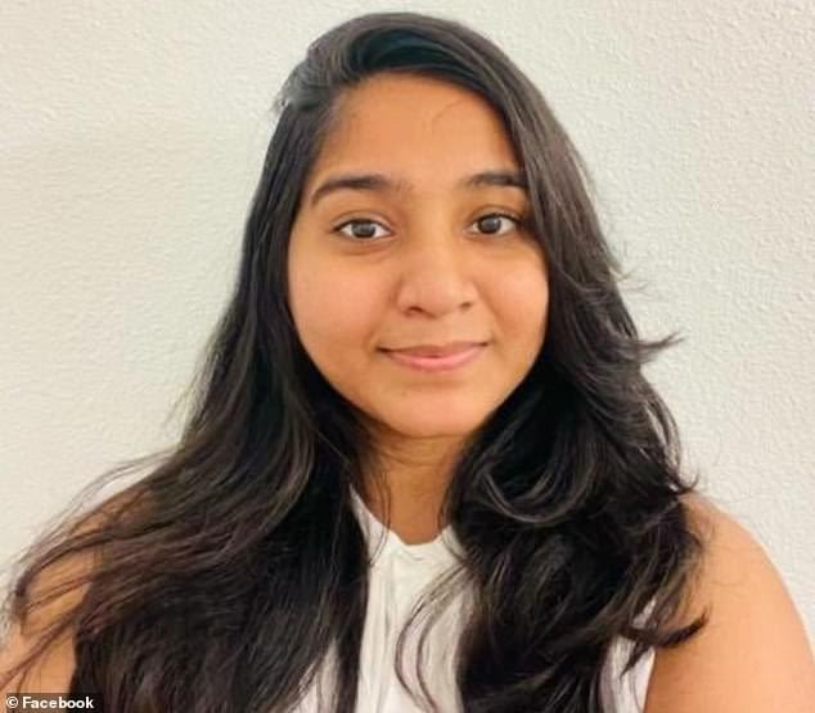 New Delhi, Sep 14 (IANS) Top Indian-American lawmakers and advocacy groups said they were "horrified", "sickened" and "appalled" following the release of a bodycam video in which a Seattle cop is heard joking and laughing about an Indian student's death by a police patrol car this year.
Jaahnavi Kandula, a 23-year-old student of Northeastern University campus in South Lake Union, was hit by a Seattle Police vehicle on January 23.
In the brief clip, which has sparked massive outrage on the internet, Seattle Police Officers' Guild Vice President Daniel Auderer is heard saying, "she had limited value", in a call with the guild's president, Mike Solan.
Congressman Ro Khanna, who is also the co-chair of the Congressional Caucus on India and Indian-Americans, said that anyone who thinks that "a human life has 'limited value' should not be serving in law enforcement".
"Jaahnavi Kandula came here for graduate work from India. She was killed on a crosswalk by a speeding police car, & Officer Auderer said her life had 'limited value'. I thought of my Dad who came here in his 20s," Khanna wrote in a post shared on X (formerly Twitter) on Wednesday.
"Mr Auderer, the life of every Indian immigrant has infinite value," he added.
Slamming the video, Indian-American representatives Pramila Jayapal and Shri Thanedar sought justice for Kandula, who came to the US in 2021 on a student exchange programme.
"This is appalling. I hope to see justice for Jaahnavi Kandula's family and accountability for those involved," Congresswoman Jayapal wrote on X.
"Video shows Seattle policeman laughing over death of Indian student killed by patrol car. TOTALLY UNACCEPTABLE. Justice for Jaahnavi Kandula," Thanedar posted on his X handle.
The Asian American Foundation, an organisation committed to serving the AAPI (Asian Americans and Pacific Islanders) community, called upon the Office of Police Accountability to keep holding Auderer accountable for his actions.
"We are sickened by the insensitive remarks made by an officer of the Seattle Police Department… We condemn this type of behaviour from a leader in the community who is sworn to protect and serve," Norman Chen, Chief Executive Officer of The Asian American Foundation, said in a statement.
"We call upon the Office of Police Accountability to keep holding this officer accountable for his actions and encourage the Seattle Police Department to work with local leaders to rebuild trust within the Seattle and greater Washington community," Chen added.
Stating that Kandula's case has not been "properly investigated", advocacy group, the Coalition of Hindus of North America (CoHNA), called for "strict action", saying Kandula and her family "deserve better".
"We are horrified by the disgusting lack of concern or humanity for Jaahnavi Kandula, in the tapes of Seattle police that surfaced this week. Laughing and assigning a dollar value to a life snuffed out so brutally needs to be condemned in the strongest way," CoHNA said in a statement on X on Wednesday.
"We condemn this racist and brutal act in the strictest of terms and demand the local authorities, Seattle Council and lawmakers like @RepJayapal (Pramila Jayapal) ensure a swift investigation and strict action against all involved," CoHNA said.
Terming the incident as "deeply troubling", the Consulate General of India in San Francisco said they have taken up the matter with relevant authorities, and demanded a "thorough investigation and action against those involved in this tragic case".
Kandula, who hails from Kurnool, Andhra Pradesh, was walking near Dexter Avenue North and Thomas Street when she was hit by a Seattle Police vehicle driven by Kevin Dave on January 23.
Auderer, who was assigned to see whether Dave was under any influence, left his body camera on by mistake, in which he was heard laughing and saying that Kandula's life had "limited value" and the city should "just write a check", The Seattle Times reported on Monday.
"Eleven thousand dollars. She was 26 anyway," Auderer said, adding Dave was "going 50 (miles an hour)", stating how "that's not out of control" for a trained driver.
A police investigation released in June found that Dave was actually travelling at 74 miles an hour in a 25 mile an hour zone while responding to a different call when Kandula was hit and thrown more than 100 feet.
The SPD said in a statement released on Monday that the video of Auderer's call "was identified in the routine course of business by a department employee", and was escalated to Chief Adrian Diaz.
Following the chain of command, the employee then escalated it to the Office of Police Accountability for a review, the statement added.
Stating that it released the video "in the interest of transparency", the SPD said it will not comment further on the video until the OPA completes its investigation.
According to the KTTH radio station in Seattle, Auderer said he was mocking at the lawyers when he made that comment.
Auderer said that while talking to Solan, he had "lamented" Kandula's death, stating that it was unfortunate that her death would "turn into lawyers arguing 'the value of human life".
"I responded with something like: 'She's 26 years old. What value is there? Who cares?' I intended the comment as a mockery of lawyers," Auderer was cited as saying in KTTH.
"I was imitating what a lawyer tasked with negotiating the case would be saying and being sarcastic to express that they shouldn't be coming up with crazy arguments to minimise the payment," he added.
Auderer further said that he had laughed at the ridiculousness of how these cases are litigated and the ridiculousness of how he watched these incidents play out as two parties bargained over a tragedy.
Born to a single mother who taught in an elementary school, Kandula was due to graduate in December this year.
According to The Seattle Times, Kandula's mother took on financial debt so that her daughter could travel to the US to pursue her Master's degree.
Her uncle, Ashok Mandula, who lives in Texas, told the newspaper: "The family has nothing to say… Except I wonder if these men's daughters or granddaughters have value. A life is a life."
(Meenakshi Iyer can be reached at meenakshi.i@ians.in)