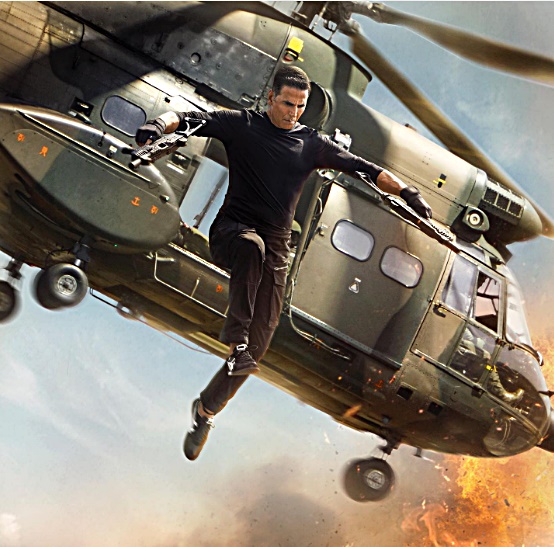 Mumbai, Nov 5 (IANS) Bollywood superstar Akshay Kumar, who recently delivered a hit at the box-office with 'OMG 2', shared the look of his Rohit Shetty cop universe character ATS Chief Veer Sooryavanshi on Sunday.
With a picture, he announced his inclusion in Shetty's upcoming film 'Singham Again'. The new picture shows him in the middle of a heavy-duty action scene, jumping off a chopper as he wields guns in both hands.
Sharing the picture, on his Instagram the 'Hera Pheri' star wrote: "Aila re aila, #Sooryavanshi aila' Time for ATS Chief Veer Sooryavanshi's entry. Are you ready?"
The still was shared on the occasion of the 2nd anniversary of Akshay Kumar's 'Sooryavanshi' which kickstarted the theatre business after the civil restrictions were eased up following the 2nd wave of Covid-19.
Superstar director Rohit Shetty also shared the still on his Instagram as he wrote: "In Singham Again, we are just doing what our fans want us to do! So here it is…Akshay Kumar and a helicopter! As we complete 2 years of Sooryavanshi, VEER SOORYAVANSHI joins the battle with Singham."
Shetty has created a cop universe in Bollywood with three of his major films – 'Singham', 'Simmba' and 'Sooryavanshi', starring Ajay Devgn, Ranveer Singh, and Akshay Kumar, respectively. The narratives and arcs of each film will now bleed into each other extending the cop universe.
Shetty flagged off the shoot of 'Singham Again' in September this year and also stars Deepika Padukone and Kareena Kapoor Khan.
Earlier, star couple Deepika Padukone and Ranveer Singh, who recently stirred a pot with the first episode from 'Koffee With Karan' season 8, also shared their looks from 'Singham Again'. While Ranveer has been a part of the cop universe with his film 'Simmba' and then Akshay's 'Sooryavanshi', Deepika is a new entrant in the universe. The actress unveiled her look of the cop – Shakti Shetty.
The first picture, which was shared on the first day of Navratri, gave a strong reference to goddess Durga slaying Mahishasur at her feet.
The other picture shows Deepika laughing with the barrel of the gun resting on her forehead. She can also be seen wearing bandages on her hands.
The actress wrote in the caption: "Introducing…Shakti Shetty." Deepika was announced to be a part of the star cast of 'Singham Again' and that she will be playing a cop during a press event for her husband Ranveer Singh's film 'Cirkus', last year in Mumbai.