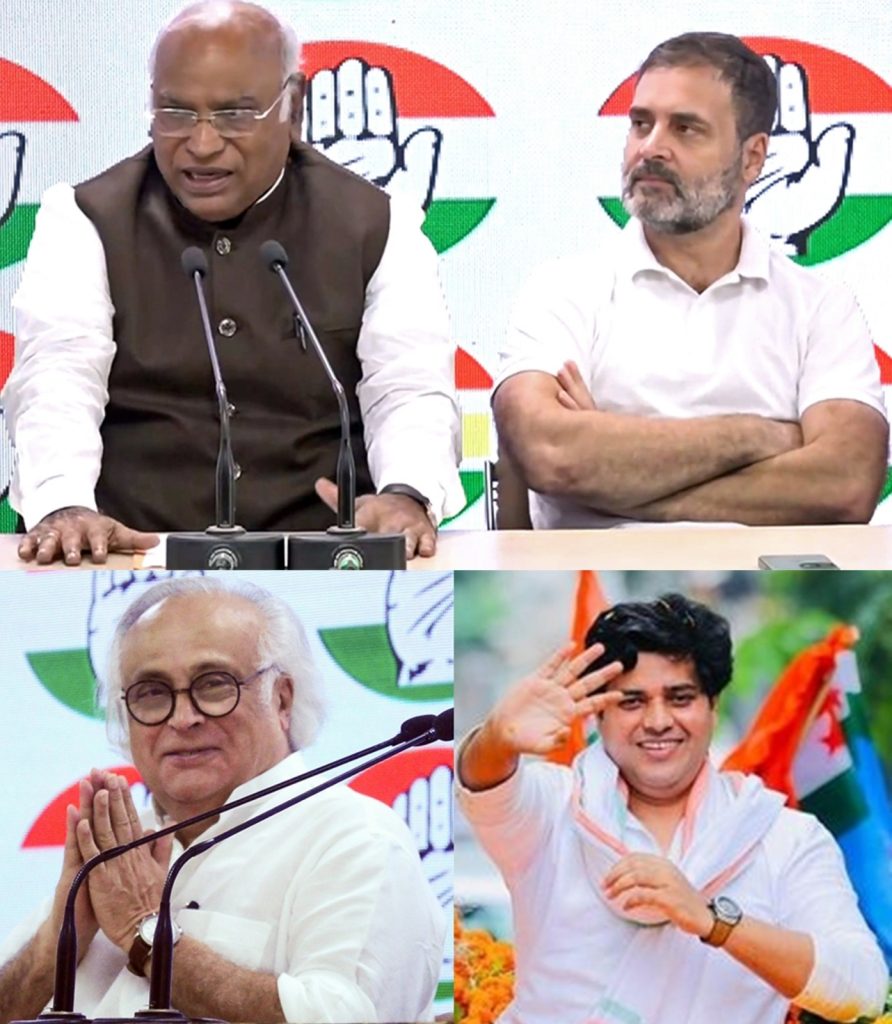 New Delhi, Sep 12 (IANS) Amid the debate over 'India and Bharat' after President Droupadi Murmu sent invites for the G20 summit dinner being hosted at Rashtrapati Bhawan as 'President of Bharat' instead of 'President of India', the Congress slammed the government and said that it is panicky and fearful of the opposition Indian National Developmental Inclusive Alliance (INDIA) coalition and these are all diversionary tactics.
Dubbing the India vs Bharat controversy a "distraction tactic" and a "panic reaction", Congress leader Rahul Gandhi, who is currently on a tour of European countries, said in Belgium's Brussels on Friday that the government is scared and Prime Minister Narendra Modi is "disturbed" to the extent that he wants to change the country's name which is "absurd".
Addressing a press conference here, Rahul Gandhi said: "I am happy with the names that we have in the Constitution. 'India that is Bharat' works perfectly for me. I think these are panic reactions, there is a little bit of fear in the government and it is a distraction tactic."
He said that the opposition parties came up with the name INDIA for "our coalition and it's a fantastic idea as it represents who we are".
"We consider ourselves the voice of India so the word works very well for us. But it actually disturbs the Prime Minister very much that he wants to change the name of the country which is absurd. But that's what it is," he said.
Rahul Gandhi's remarks came against the backdrop of President Murmu's G20 dinner invitations that were in the name of "President of Bharat", triggering a row and fuelling speculation about the government's plans to rename India in the upcoming special session of Parliament. Similarly, a document pertaining to Prime Minister Modi's visit to Indonesia mentioned Bharat instead of India, including Modi's designation as the prime minister of Bharat.
Hitting out at the Prime Minister, Rahul Gandhi said whenever he or his party raised the Adani issue or crony capitalism, the former "came out with some dramatic new diversion tactics".
Meanwhile, Congress president Mallikarjun Kharge also hit back at the government and at a public meeting in Chhattisgarh's Rajnandgaon on Friday said, "For 2024, we have formed an alliance and named it INDIA. As soon as we kept this name, BJP people got panicked. Now, they are saying that the country's name should be 'Bharat'… it is already there in the Constitution."
"We love Bharat so much… Rahul ji walked for 4,500 km; it was named Bharat Jodo Yatra. We are uniting Bharat, but you (BJP) are trying to break it. If BJP hates the word 'India', then why do they have schemes like Startup India, Digital India, Skill India, Make in India? This is their mentality… we have to fight against it," he said.
We don't speak against anyone. We brought MGNREGA… gave it the name of Mahatma Gandhi. We brought the Food Security Act… didn't give it anybody's name. We brought RTE for compulsory education of children… didn't give it anybody's name. We always think about the welfare of poor people, not about earning fame.
Hitting out at the government for its love to change the names of the schemes he said, "They (govt) recently changed the name of Nehru Museum to Pradhan Mantri Museum. Why do they hate Pandit Jawaharlal Nehru ji? He laid the foundation of democracy in the country, stayed in jail for 14 years. But they want to close the museum of such a person. Modi ji only makes false promises day and night."
Speaking to IANS over the phone, Congress Rajya Sabha MP Imran Pratapgarhi said, "When the meeting of the INDIA bloc was going on they called a five day special session of Parliament. Now they are saying that they will remove India and rename it Bharat. Why are you so scared of the INDIA Bloc?"
He argued that the Constitution Committee under the chairmanship of Dr BR Ambedkar has said in the Constitution that "India that is Bharat". Thus for everyone, India is Bharat and Bharat is India," the Congress leader, who is also the chief of the Minority Department, said.
He added, "If you have a problem with INDIA, will you remove India from the passport where it is written Republic of India, will they (BJP) be ready to remove the word India from the currency notes? If you have problem with the India word then will you again bring demonetisation just because you have to remove India from there as on every currency note Reserve Bank of India is written? This is my question."
He gave further examples of the several institutions in the country which have India on them and said it is also there in the Aadhaar card, AIIMS, IIM, IIT, ISRO and at many other places.
"From how many places do you want to remove India. Why do you want to divide India?" he asked.
Meanwhile, Congress Working Committee (CWC) member, Gurdeep Sappal said, "Modi government is running over 200 schemes. Of these 52 are named after India, 22 are named after the Prime Minister and only five are named after Bharat."
He said, "This love for Bharat is only a recent thing, prompted by the fear of the INDIA alliance."
Congress general secretary Jairam Ramesh also took a swipe at the government and said that the start of the 18th G20 summit with India's rotational presidency is a moment for reflection, revealing one of the "biggest failures of the NDA (No Data Available) government" as it has failed to conduct the "decadal Census" that was due in 2021 due to which an estimated 14 crore citizens are excluded from their food entitlements.
He demanded that the government stop denying 14 crore Indians their basic rights under the NFSA, increase the beneficiary quota until the Census is carried out, conduct an updated national caste census and end suppression of data inconvenient to the government.
He said that nearly, every other G20 country has managed to conduct the census, despite Covid-19, including other developing countries like Indonesia, Brazil, and South Africa.
"The Modi government is so inept and incompetent that it has been unable to carry out India's most important statistical exercise that has been conducted on schedule since 1951. This is an unprecedented failure in the history of our nation," Ramesh said.
Amid the heated debate across the country, the Prime Minister has urged restraint among ministers concerning the ongoing discussion. However, the scheduling of a special Parliament session from September 18 to 22 has fuelled speculation about a potential move to rename India as Bharat.