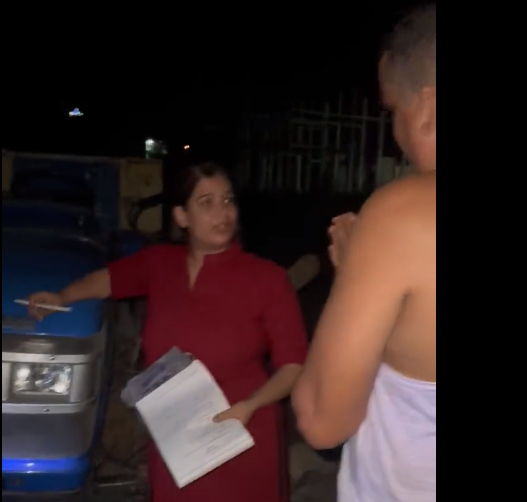 Shimla, Sep 4 (IANS) A daring young woman officer in Himachal Pradesh took on a mining mafia by raiding an riverbed mining site in the night without the police protection and stopped them for carrying out the illegal quarrying of sand and gravels.
Himachal Administrative Services (HAS) officer Oshin Sharma has been posted as Assistant Commissioner-cum-Tehsildar in Sandhol in Mandi district.
She reached the spot at 10 pm on Sunday and imposed compoundable fines for illegal activity.
As per officials, she was tipped off about illegal mining by local people in Bakkar Khad in Sandhole. She reached there and challenged them. She also warned them the machines and vehicles will be confiscated in case they were caught again.
The violators were using a tractor-trailer for loaded them with gravel.
Illegal mining in Himachal Pradesh is acute in Una, Solan and Sirmaur districts adjoining Punjab and Haryana.
The government last month decided to stop the operation of all stone crushers on both perennial and non-perennial rivulets of the Beas river basin and its tributaries till further orders.
The decision was taken taking into consideration the alarming transformation of the ecosystem during the current monsoon, wreaking havoc downstream in the Beas river and its tributaries in Kullu, Mandi, Kangra and Hamirpur districts, besides Chakki rivulet in Kangra.
The decision has been taken to ensure the safety of human settlements and infrastructure, to preserve the fragile ecology and environment of the state, an official statement has said.
However, the lease of legal mining has not been cancelled.
An official statement quoting the Chief Minister said the industry department will conduct a comprehensive scientific study by constituting a multi-sectoral expert committee to evaluate the cumulative impact of unscientific and illegal mining activities and also assess to redefine distance limits as based on the findings, thereby allowing more effective regulation and management of such operations to preserve the environment in river system and to avoid any such anthropogenic induced disasters in the state.