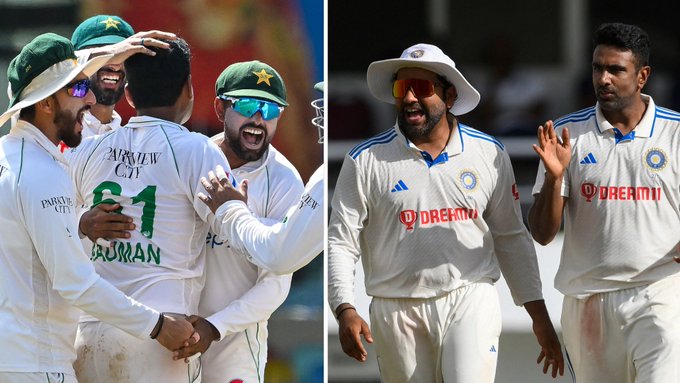 Dubai, Aug 2 (IANS) England and Australia had points deducted from their tally due to a slow over-rate in the recently-concluded men's Ashes 2023 series, which affected the World Test Championship standings as Pakistan and India firmly occupy the top two spots.
England were docked 19 points and Australia 10 points as a penalty for slow over-rate across the series as they fell further down the WTC25 standings on Wednesday.
As a result, the gap at the top of the ICC WTC standings has further widened significantly, with Asian neighbours Pakistan and India leading the way after making an unbeaten start to the new cycle.
Pakistan have made a perfect start to the 2023-25 campaign with a point percentage of 100 after their clean sweep against Sri Lanka. After a closely fought first Test, Babar Azam's men dominated the hosts with a thumping innings victory in the second Test.
Closely tailing them are India in the second spot with 66.66%, who have a win and a draw against their name after their series against West Indies. India set the tone with a massive innings win in the first Test but rain dampened their hopes of a clean sweep in the second Test that ended in stalemate.
Before the sanctions, England and Australia had 26 points each and a point percentage of 43.33. After the penalties, Australia dropped to 30% while England plummeted to 15%, taking them below the West Indies at 16.67%.
Having been whitewashed 2-0 at home, Sri Lanka are at the bottom with 0 points. Bangladesh, New Zealand and South Africa are yet to kickstart their campaign in the current iteration of the World Test Championship.
Adding to the misery, Australia lost their top spot in the ICC Men's Test Rankings as England made an impressive comeback from 2-0 to 2-2 in the Ashes. Tied on 118 points, India are on top on decimal points (118.4 points) as Australia (117.8) drop to second.
England are closing in on top after gaining one point from the drawn series, moving to 115 points.