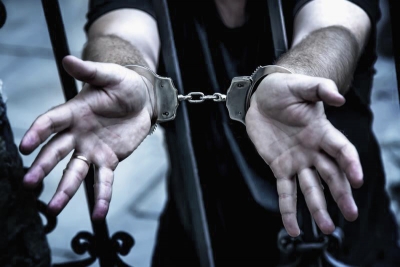 Lucknow, July 12 (IANS) Had it not been for his footwear, Veer Shankar, a manager with a shopping mart would have been enjoying his 'lakhpati' status.
Senior managers of the shopping mart in Krishna Nagar lodged an FIR at the local police station about the theft of Rs 22.13 lakh from its locker in the cash room.
The police swung into action and rounded up all 36 employees for questioning as any outsider was unlikely to have access to the cash room.
DCP, South Zone, VineetJaiswal, said that soon after the incident was reported by the manager Ajay Singh, all the 36 employees of the mart were interrogated.
There was no question of suspecting Veer Shankar as he was on leave on the day of theft -Monday, July 10.
Their suspicion on an insider grew further when they came to know that one of the locker keys was missing since June 29.
"Employees were asked who they were suspecting, and most of them pointed fingers at floor manager Dileep. When we asked what was the basis of their suspicion, they said it was Veer Shankar who was spreading the word that management was not happy with Dileep and he was about to be sacked, and that is why he might have executed the theft," said the DCP.
Meanwhile, another police team scanning the CCTV footage spotted a suspicious looking woman customer who entered the mart around noon.
She was wearing a pair of jeans, had long hair but covered her face with a dupatta, and had put on sunglasses, the DCP said.
"We scanned that clip for over two hours and suddenly the slippers she was wearing seemed to be of a male. We cross-checked it with all employees and found that it was Veer Shanker who was wearing similar slippers," added DCP Jaiswal.
The officer said that he was interrogated and spilled the beans. "He said he had stolen the second keys of the locker on June 29. On the night of July 9, he left the mart citing ill health. Next day, he came back dressed as a woman, wearing a wig and covering his face with a dupatta. He shopped for cotton balls and some women's wear. Meanwhile, he kept waiting for the cash room in charge to leave their place.
"As soon as two managers -Rajeev Singh and Dilip -went down for some work, he entered the cash room and opened the locker with duplicate keys he had stolen and took out Rs 22 lakh cash he had stashed in a box on the night of July 9 and pasted a tape on it," the DCP said.
He then went to the bill counter and paid for the article he had purchased and later left the mart," said Jaiswal.
He told cops that he had been working in the mart for the past five years and was well aware of the security checks and systems.