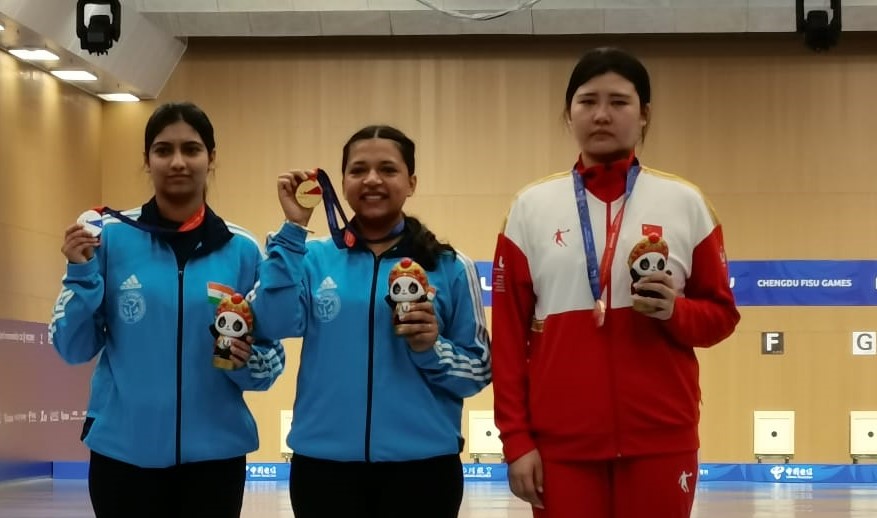 Chengdu, Aug 1 (IANS) 'Amazing' is the only buzzword that can be used to describe the performance of Indian University Shooters in the ongoing World University Games, here.
Indian university team netted four more medals from shooting on Tuesday, maintaining its fourth position in the medal tally with a total of 21 medals (11 gold, 4 silver and 6 bronze).The shooting sport events of the Chengdu 2023 FISU World University Games are held from July 29 to August 2 at Chengdu Shooting Sport School, and a total of 18 gold medals are awarded.
The first medal on Day four of the World University games came from shooting for the 10m Air Pistol Team Men finals when the Indian University Team, represented by Varun Tomar, Arjun Singh Cheema and Anmol Jain bagged bronze. Korea secured gold and China secured silver in the event.
In the Shooting – 50m Rifle 3 Positions Women, Indian university shooters made a clean sweep by securing gold and silver medals. Sift Kaur Samra (India) and Ashi Chouksey (India) claimed gold and silver medals, cornering Zeru Wang from the host China to accept the bronze medal.
Indian Women shooters continued their dominance in the 50m Rifle 3 Positions Team Women by clinching gold. The Indian University Team, represented by Manini Kaushik, Ashi Chouksey and Sift Kaur Samra defeated host China in the finals. Bronze was claimed by the Czech Republic.
Team Indian Universities started its athletic stint today at the Shuangliu Sports Centre Stadium. In Shot Put Women, Shiksha (India) qualified for finals with a performance of 14. 4 meters whereas the favorite Nidhi Pawaiya failed to qualify for the finals. In the Long Jump Women, Bhavani Yadav Bagavathi (India) qualified for finals. In the 400 meters Hurdles (Women), Dhivya Jayaraam qualified for the semi-finals with a timing of 1:00.51. In the 100 meters Women Heats, Avantika Santosh Narale qualified for the semifinals.
Indian University Team for the Badminton Mixed Team Group C Match 10, India made an impressive win against Switzerland for 5-0. In the Mixed Team quarterfinal of L2 Match 2, India defeated Brazil 3-0.
The events scheduled for Wednesday for the Indian University team are Athletics, Badminton, Shooting, Swimming, Tennis, Taekwondo, Table Tennis and Volleyball.