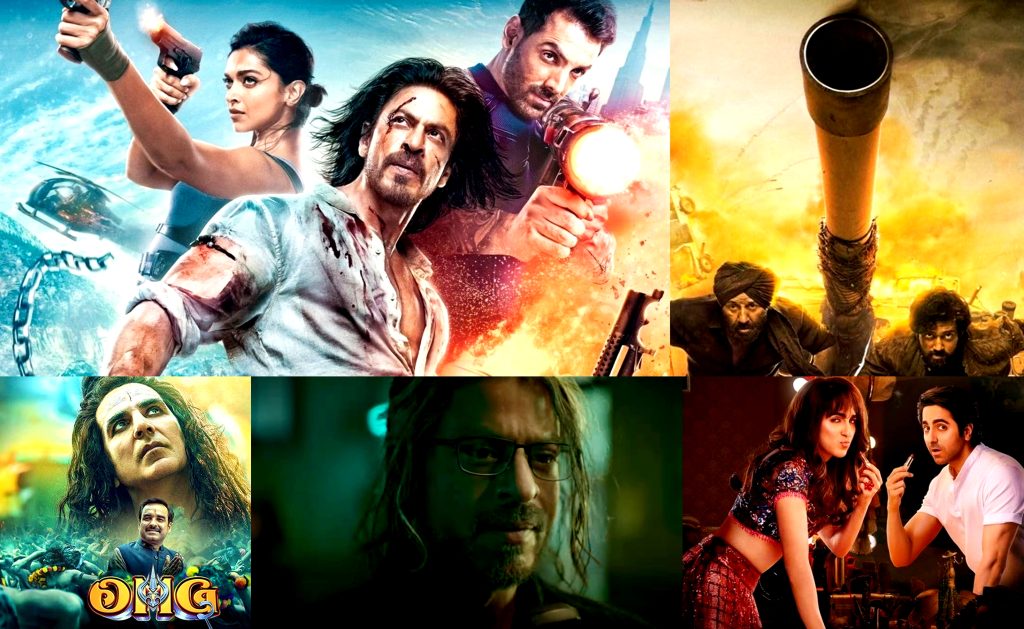 Vinod Mirani
New Delhi, Sep 3 (IANS) Filmmakers, especially the stars who prefer to make their own films, or to call the shots when they are not the makers, are seen to be working out new ways of promoting films. They try changing their pre-release promotion strategies.
One must say that the stars have not been very imaginative so far. Most of the time, they just want to better the filmmaker before them to score a point. For instance, there was a time when filmmakers booked a number of promo/trailer slots on television channels. So, if the earlier count by a producer was 400 slots, the next one would score for personal glory by booking 500!
A television channel even had a special slot at 7 p.m. when it telecast promos of various films. The inspiration, it would seem, came from the Saptahiki slot of the Doordarshan of yore!
This 7 p.m. slot is one when nobody is free to watch television, nor wants to see the same promos every day. But the film folk were gullible. If the other producers were doing it, it would be good. It became the norm!
As more TV channels sprang up, the stars-cum-filmmakers decided to create news. The channels wanted to be the first in everything that was worth or not worth showing. So, the reporters ran from one event location to office, handed over the content, and ran to the next event!
The print media was being ignored for the electronic media. After all, television flashed an event the same evening while the print media followed a fixed schedule. Finally, producers realised that these promo slots on television were helping only the channels, not their films.
Some producers learnt to buy fewer but more productive time slots on other channels (news or special interest, which actually enjoyed the TRPs and eyeballs).
Rarely did a producer or his team think up an original idea to promote a film. Feroz Khan did something novel to promote 'Janbaaz' (1986). The Sharjah one-day cricket matches in those days were as popular as the IPL is today, if not more. Feroz Khan displayed the advertising panels of the film on the boundary lines and there was no better way to advertise your film, especially when India and Pakistan were playing.
Boney Kapoor, who knew how to use a good idea when he saw one, quickly followed with the same medium with his ambitious project, 'Mr India'.
How did a star make news with whatever limited imagination they could use? The star created an event on a regular basis like the launch of a film promo. Aamir Khan, for example, would invite television channels. He would launch one promo each time at some far-from-civiliatison location (probably getting a good deal) at something like 10 a.m.! Another promo a few days later, same place, same timing. Poor television crews fell for it, the people did not. The ploy did not last long.
The other ploy was to create some sort of a controversy. In these days of the social media and electronic media, a controversy does not take long to spread. The people in the country are sensitive on certain personal issues and easily take an affront. This trick never worked and often ended up costing the filmmaker financially.
Having seen those days when a film's promotion was all over the town –streets, local transport and even railway stations across the country, but not invading your home through the electronic and social media.
Film advertising entered our homes for the first time when All India Radio (AIR) started its commercial services. The radio played jingles of both consumer products as well as movies. Then there were wall posters. They were not there when you went home but the next morning, when you stepped out, new movie posters graced the walls as well as kiosks on streetlight poles.
They were the greatest eyeball grabbers, especially the six-sheet poster, which was 5′ x 10′. They told you a lot about a film and it was normal for movie buffs to stand below them and gape.
The other major draw was a combination of film photo sets and show cards. They were displayed prominently in a cinema theatre glass windows facing the road. It was normal for a few people gathering there and taking in all that these photos had to offer!
Then there was railway publicity. Those six-sheet posters adorned all the prominent railway stations, on the local and the main lines. This display took a long time but, eventually, covered each and every station where a train stopped.
But, then, in those days, we had single-screen cinemas in smaller towns as well. These were classified as C centres and a new film took almost a year to grace these cinemas. Film prints were costly, thanks to a huge excise duty added to each print, which varied according to a film's length. The prints, which were released in the Metro cities, reached the smaller cinemas after finishing their run at major centres.
Earlier, there used to be two publicity budgets for a film. The one spent by the producer and the other granted to the local distributor. While the producer spent on the all-India media such as the Railways and the radio and to print publicity material, the distributor spent on the local publicity targeted at his circuit audience. It was all well worked out and carried on for a long time.
Radio and railway publicity were the kind that brought awareness to these mofussil towns and villages far from cities. AIR and Doordarshan had begun to realise the potential of film publicity.
So, AIR started a morning 8 a.m. slot when a producer could air a song in three minutes of playtime for Rs 3,000. In all, about eight songs were played.
I used to rile the guys from the company that had a virtual monopoly on this medium, namely, D.S. Mittle & Sons, by noting that they started their day making over Rs 3,500 (@15 per cent commission) even while they shaved and showered! (In those days, Rs 3,500 mattered even for those for whom it does not mean much now!) Doordarshan also created a slot for the promotion of film songs on similar lines.
Filmmakers followed all sorts of promotion routines besides releasing promos and teasers on regular intervals, followed by their release on television and buying space in advertorial supplements of the print media. On the strength of their spending power on these advertorial supplements, some makers also were in a position to plant reviews for their films.
A critic penned the review, but whether a film got five stars or four stars was the domain of the publication's marketing team, and their call used to depend on the space that the filmmaker bought.
What was happening was that, while trying to fool the audience, these exercises of stars and positive reviews were meant primarily to deceive the buyers of satellite, and now OTT, rights. Only the audience was never fooled.
The whole idea of promoting a film changed with the arrival of social media. YouTube was the first to be launched in 2005. The video streaming probably never thought of becoming a medium of film promotions.
For, when a Hollywood studio thought of using it to promote a film, YouTube neither had a rate card nor the idea of how to go about it. Now, if there is one medium that all filmmakers use, it is YouTube.
But, again, the same lack of imagination was in evidence. A promo launch of a film on YouTube was announced through the PR machinery for the benefit of other media as well as on social media. All makers did it as a rote. The joy was in counting the hits on a certain song or a promo was what mattered.
Of course, while some hits were organised, all those who clicked on a promo were not the prospective audience! After some initial hits, the promos stayed dormant. The maker's content had become stale already. Social media is a great medium, but is of some use only if one knows how to use it.
Now, some filmmakers seem to have realised that all those likes on your promo on YouTube does not necessarily translate into ticket sales. By the time a film is released, that promo is stale and forgotten. It is all about impact and that impact is made only if you load it closer to the film's release.
The makers of the recent few films have opted for this last-minute blitz to make the desired impact and keep the film talked about till its release. The promos of recent releases — 'Pathaan', 'Gadar 2' and 'OMG 2 — have all been released just a week or fortnight before release. 'Dream Girl 2' was released 24 days before the film hit the big screen.
The idea seems to have worked. Shah Rukh Khan has done one better. He released a two-minute-long footage of his new film, 'Jawan'. It was described as neither a teaser nor a promo. Just a flash. The official promo came a week before the release.