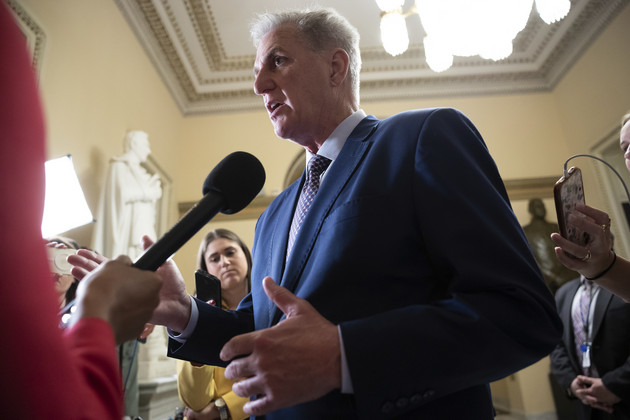 TN Ashok
Washington, Sep 27 (IANS) With Democrats and Republicans hardening their stands in the Congress, the US is bracing for a government shutdown that could delay and disrupt the way of life as it is now.
A government shutdown means what all federal agencies and services officials do not deem "essential" will cease work and close shop.
Some of these essential services cover the US Postal Service, people receiving Medicare and Social Security benefits.
Those will continue whether or not the government shuts down.
As of Wednesday morning, lawmakers progressed little towards averting a crisis that would hit homes across the country on October 1, media reports said.
House Republicans, however, successfully passed a procedural vote for four out of 12 spending bills on Tuesday, and a bipartisan group of senators moved the Continuing Resolution — to keep the government open and spending flow.
But the chamber of Congress has moved anywhere closer to avoiding a shutdown, as the deadline of September 30 is so close to call, media reports said.
What House Republicans have proposed won't pass the Democratic-controlled Senate, and even the bipartisan stopgap measure from the Senate would not pass the House, presenting a real Catch 22 situation for both the Democrats and Republicans even as a bipartisan group seeks to break the deadlock.
House Speaker Kevin McCarthy, R-Calif., said he will put the House's version of a continuing resolution up for a vote on Friday — two days before a shutdown would begin, USA Today reported.
However, a section of ultra-conservative legislators reiterated they would not support a Continuing Resolution under any circumstances, extending further the deadlock in Washington that would impact many homes across the US.
The Congress has just three days left to cut a deal to prevent a government shutdown that could impact millions of Americans.
The last government shutdown lasted from December 22, 2018 to January 25, 2019.
Spanning 35 days, it was the longest government shutdown in the US history.
In 50 years, the government has faced 21 shutdowns under different presidents between 1976 to 2021, most of them lasting between two to three days.
Under former President Donald Trump, the government faced federal shutdown twice — the first lasted three days in January 2018, and the second lasted only a few hours in February 2018.
The US could face a setback in its credit rating causing additional pressures on investors and the economy, Moody's Investor Service said.
The shutdown could expose the weaknesses in US institutional finance and its governance strength when compared to other countries with similar credit ratings.
However the shutdown will not impact government debt service payments and isn't expected to disrupt the economy, Moody's said.
If the potential shutdown does drag on, it would "likely be disruptive both to the US economy and financial markets," although Moody's notes that any government shutdown is more likely to be brief and concentrated in areas with a large government presence, like Washington DC.