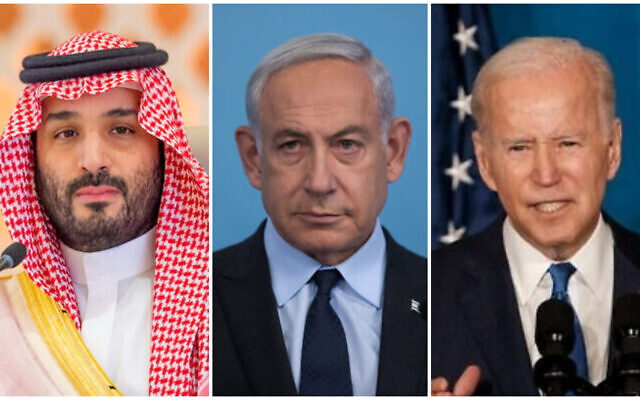 Mohammed Anas
On top of US President Joe Biden's foreign policy agenda is to make Saudis and Israelis sit and sign a deal similar to the Saudi-Iran rapprochement midwifed by Chinese some fortnights back. However, Biden's policy gambit with an eye on 2024 re-run, termed as a long-shot bid to broker a landmark deal, faces almost impossible conditionalities either put forth by leaders of both the countries or hardcore public perception in both the countries.
Saudi Arabia, or Arabs earlier, had a around 80-year-old dispute with the "Jewish" state and till 2000, voices in the Kingdom had been calling for the destruction of Israel. When two Gulf states, UAE and Bahrain, entered into normalisation of ties with Israel as part of the Abraham Accords, Riyadh, despite being pushed by President Donald Trump, stayed away.
So far, Riyadh has been sticking to the Arab Peace Initiative, which conditions normalisation with Israel on its withdrawal from Arab territories and the establishment of a Palestinian state, as well as finding a "fair solution" to the plight of Palestinian refugees.
Two historical adversaries, Saudi Arabia and Iran, engaged in the Yemen War had nevertheless also been engaging in discreet courtship eventually leading to a peace deal. So why could not Riyadh and Tel Aviv follow this precedent? But, even if this goal were to be achieved, it is unlikely to take place under Washington's tutelage. Simply put, Saudi Arabia and other Gulf states have begun to exercise their strategic autonomy. It is therefore highly unlikely, in the era when the unipolar world is yielding to multipolarity, the Gulf countries will allow Washington to re-establish the US as the region's "chief mover and shaker".
The Biden administration earlier this year handed over the draft of its Middle East Policy to the US Congress and it clearly reads that the new policy "includes efforts to expand and strengthen the Abraham Accords as well as efforts to normalise relations between Israel and Saudi Arabia".
A US-Saudi security pact that produces normalisation of relations between Saudi Arabia and the Jewish state — while curtailing Saudi-China relations — would be a game changer for the Middle East, bigger than the Camp David peace treaty between Egypt and Israel, wrote renowned Middle East expert Thomas L. Friedman in one his columns on the prospects of Israel-Saudi deal.
According to reports, the US sent its top diplomats Antony Blinken and Jack Sulliven to Riyadh and Tel Aviv several times since May onwards.
A statement issued after Sullivan's recent Jeddah visit pointed out that its role was " to discuss bilateral and regional matters, including initiatives to advance a common vision for a more peaceful, secure, prosperous, and stable Middle East region interconnected with the world."
The US media has been agog with prospects seemingly likely Israel-Saudi deal despite knowing obvious bottlenecks. "The US is now in the midst of complex negotiations with leaders who have their own reasons for a deal but are making demands that might prove to be too costly," said a recent New York Times report.
According to the NYT: "The Saudis are seeking three main things from Washington: a Nato-level mutual security treaty that would enjoin the US to come to Saudi Arabia's defense if it is attacked (most likely by Iran); a civilian nuclear program, monitored by the US; and the ability to purchase more advanced US weapons, like the Terminal High Altitude Area Defence anti-ballistic missile defense system, which are particularly helpful to the Saudis against Iran's growing mid-and-long-range missile arsenal." Besides, added the NYT, the US deems it as an opportune moment to see that Saudis do not fall into complete Chinese embrace.
Meanwhile, another reported condition has been put forth by King Salman himself and that is guarantee on "clear Israeli steps towards Palestinians." This is largely because Israel remains immensely unpopular among the Saudi and Arab people.
It must be clear here that the US policymakers have unanimity on one front: no transfer of nuclear technology to any state in the region, unless it changes under President Biden. Already there are signs, and regular dampeners, regarding finalisation of a fresh civil nuclear deal with Iran.
Similarly, the non-Nato ally status to Saudi will also make President Biden seek a nod from the US Congress and seems highly unlikely. The deal on Palestine, perhaps may be possible, but will be linked to other conditions having been met first.
Israeli position on the deal with the Saudis totally depends on the condition and decisiveness of the coalition government headed by embattled Prime Minister Benjamin Netanyahu. A landmark diplomatic arrangement could help reverse his political fortunes as recognition from Saudi will be a bigger breakthrough than the Abraham Accords. But, concessions like the nuclear program will make him jittery, and, as a Middle East commentator said, the moment he will push for it, if at all he attempts, it will sound the death knell for his reign in power and politics.
First-ever Saudi Ambassador to Palestine
As the US has intensified its moves for the historic peace deal, Saudi Arabia on Saturday sent its first ever ambassador to Palestine, under the control of Palestine Authority (West Bank). Ambassador to Jordan, Nayef bin Bandar Al-Sudairi, will also serve as Non-resident Ambassador to the Palestinian Authority and the Consul General in Jerusalem — a move that reveals that Riyadh is not prepared to throw the Palestinians under the bus.
(The content is being carried under an arrangement with indianarrative.com)