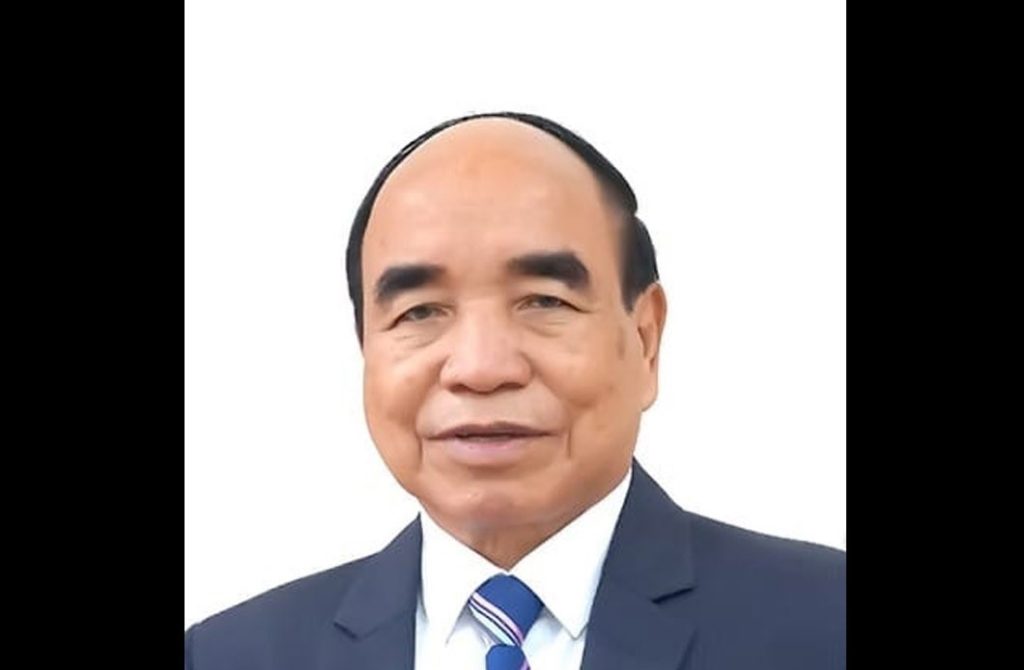 Aizawl, July 4 (IANS) Mizoram Chief Minister Zoramthanga on Tuesday again expressed his deep concern over the two-month long ethnic violence in Manipur, asking "when will it stop?"
Zoramthanga, who is also the President of the ruling Mizo National Front (MNF), said that many lives have been lost, there is bloodshed all over, physical torture and the victims are looking for refuge wherever possible.
His statement comes hours after burning of houses of Kuki National Organisation (KNO) leader and spokesperson, Seilen Haokip at Songpi in Manipur's Churachandpur district late on Monday night.
The Kuki leader's house was burnt a day after the lifting of the blockade on the Imphal-Dimapur National Highway (NH-2), the lifeline of Manipur, was lifted.
Lifting the blockade after 54 days, the KNO and United People's Front (UPF) had jointly announced on Sunday that withdrawal of blockade was done keeping in view Union Home Minister Amit Shah's "deep concern to restore peace and harmony in the state and alleviate the plight of people in general".
Police suspect that a small section of the people belonging to the Kuki-Zomi community, who did not support the withdrawal of the blockade, might be involved in the incident that took place on Monday night.
The Mizoram Chief Minister, in his statement, said that the onset of May witnessed a brutal, untoward and uncalled-for incident in Manipur.
"At this very moment, 3.30 am, July the 4th, 2023; nothing seems to have changed. We are counting, and today is the 62nd day. While we hope with much goodwill, anticipation and hope, things would turn for the better, situations seem to have worsened. When will it STOP ? I condole my Manipuri Zo Ethnic brethren, my incessant prayers for those who have lost their loved ones, their homes and families wrecked in shatters," Zoramthanga said.
"May the gracious Lord give you the strength and the wisdom to navigate through this disastrous incident. I wish not to see anymore pictures and video clips of Churches being burnt, brutal killings and violence of all nature, regardless of gender and age. If there is only one way of settling for peace, shall we opt for that ? Many lives have been lost, bloodshed all over, physical torture and the victims are looking for refuge wherever possible.
"With no iota of doubt, those victims are my kin and kin, my own blood and should we quieten the situation by just being silent ? I don't think so ! I would like to call for immediate restoration of peace and normalcy," the MNF supremo said.
He said that it is incumbent and imperative upon those responsible and law-abiding citizens or entities of India to look for immediate ways for peace restoration.
"Development with a human touch and Sabka Saath, Sabka Vikas applies to my Zo ethnic tribes in Manipur too ! The brutal violence in Manipur has resulted in internally displaced people (IDPs) to the tune of 12,000 in Mizoram. Refugees and or IDPs from Manipur, Myanmar and Bangladesh have risen to over 50,000. I wish and pray that the Central government, on humanitarian grounds, lend us an immediate helping hand," Zoramthanga said.
Since the ethnic violence began in neighbouring Manipur on May 3, the displaced tribals have started taking shelter in Mizoram and their number has crossed 12,200. After the military takeover in Myanmar in February 2021, thousands of Myanmarese fled to Mizoram with around 35,000 men, women and children from that country staying in the mountainous state. Over 1,000 tribals have also sheltered in Mizoram after trouble broke out in the Chittagong Hill Tracts (CHT) of southeast Bangladesh. The tribal refugees have fled from their native villages in the CHT after an armed conflict started in mid November last year between the Bangladesh Army and the Kuki-Chin National Army (KNA), also known as Kuki-Chin National Front (KNF).