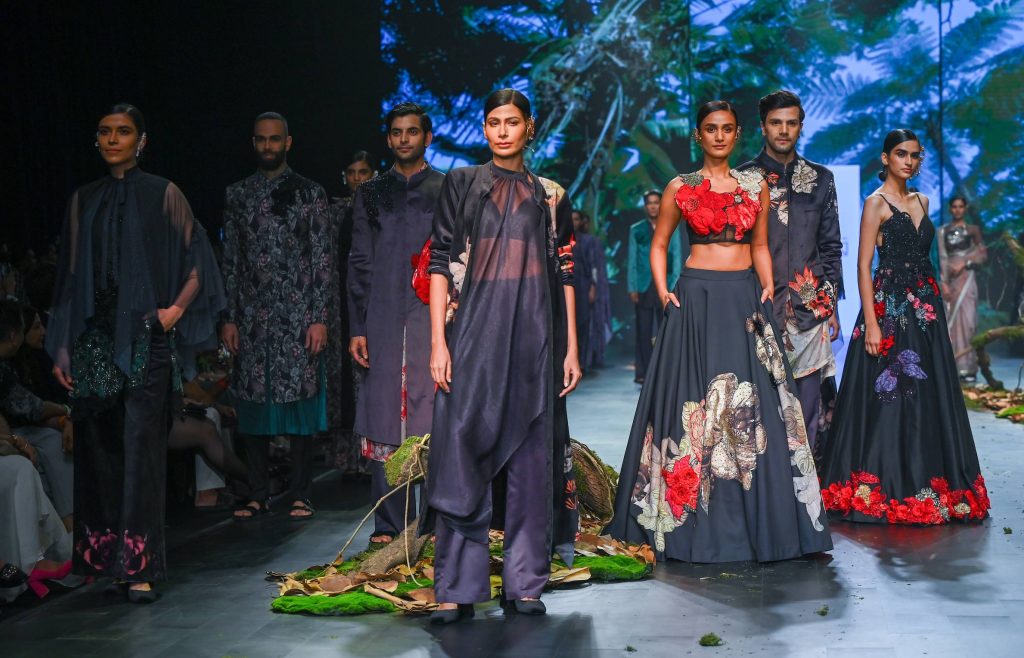 New Delhi, Oct31 (IANSlife) The recently concluded Lakmé Fashion Week x FDCI hosted new and seasoned designer showcases, thought-provoking discussions, sustainable initiatives, crème de la crème of the Indian fashion and entertainment industry and more.
Scroll below to get a glimpse of some of the biggest moments that the platform witnessed and what's up and coming for the season.
Birkenstock Presents Grounded in Nature with Shivan and Narresh
Fresh Exciting talent
When it comes to making a splash in the fashion business, the INIFD GenNext show put on centre stage No Grey Area, Sonam Khetan, and Triune, while INIFD Launchpad presented five future names and the Pearl Academy's FDCI 'First Cut' show dazzled with 32 designers. The NEXA Spotlight event shone its arc lights on the showcase by winner Sushant Abrol's 'Countrymade' label.
Bibhu Mohapatra's spectacular collection 'Come Home
The House of Lakmé presented the exquisite creations of New York based designer, Bibhu Mohapatra's spectacular collection 'Come Home'. The show was undoubtedly one of the most memorable happenings in the Indian fashion world. The most exciting part of the show was the coming together on the ramp, of past and present beautiful Lakmé faces – Lisa Haydon, Carol Gracias, Bipasha Basu, Alicia Kaur, Kirandeep Chahal, Vipasha Agarwal Simone Singh and Shimona Nath who paraded with Ananya Panday, the current Lakmé brand ambassador.
RElan x Varun Bahl_Lakmé Fashion Week
SUSTAINABLE FASHION
The R|Elan™ presents Circular Design Challenge in partnership with United Nations in India went global with Indian label winner Anish Malpani's sunglasses making an impact, while Italian Filepe Fiallo's footwear made from waste material bagged the runner-up title. India's 'Biparita' label's accessories from banana crop waste, and Studio Medium's silk offcuts/discarded yarns for garments, Sri Lanka's Amesh Wijesekera's ethical men's wear and Asia Pacific's Pei-Ven Jin's zero waste designs; took the contest to a different level.
FASHION WEARS ART
The trailblazing, exciting show brought to the forefront the concept of 'Canvas to Runway'. "Fashion Wears Art", the unique first-of-its-kind presentation of seven leading artists and designers, was well appreciated in the world of fashion, where the collaboration between designers and artists has been one of the most looked forward to. The designers and artists merger included top names in the business such as JJ Valaya x Waswo X. Waswo, Namrata Joshipura x Sudarshan Shetty, Rohit Gandhi + Rahul Khanna x Vibha Galhotra, Varun Bahl x A Ramachandran, HUEMN x Hanif Kureshi, Gautam Kalra x Siddharth Singh Bokolia and Rajesh Pratap Singh x Mithu Sen.
Finalists of RI Elan Presents Circular Design Challenge in partnership with UN_LFW X FDCI
THE LUXE LOOKS
Luxe looks were in the forefront of the fashion week. Amit Aggarwal unveiled his debut luxe prét look 'Core', while Gauri & Nainika with Caprese combined handbags with demi couture. R|Elan™ and Varun Bahl turned the runway into a floral fantasy with his 'Inner Bloom – Festive Edit'. Raga by Titan's collaboration with Pankaj & Nidhi created a merger of watches and stylish western fashion.
BEAUTY AND HAIR TRENDS
TRESemmé made a debut with its TRESemmé Style Collective discussion and presentation by top hair stylists and celebrity panellists, while the brand's fashion display with Falguni Sane Peacock was all about the latest in hair style looks.
MEN'S WEAR TO THE FORE
Men's wear designs brought a refreshing look to the category. NoughtOne was all about sporty biker jackets, with Pawan Sachdeva and Son of Noble (SNOB) giving their own spin to menswear attires. Tasva stayed true to the festive wedding look, and Park Avenue offered the classic casual western options. Sushant Abrol of label 'Countrymade' presented 'No Man's Land' reflecting a soldier's journey. Designers Abraham & Thakore, Shweta Kapur and SVA as well as brand Kalki , displayed men's styles to match their inspirations.
TRESemmé Style Collective
FOR RELAXED LOUNGING
With India's diverse temperatures, fashion catered to the fluctuating mercury. Resort, holiday, and streetwear styles focused on colours, prints and cool silhouettes. Verandah brought the relaxed Goan vibe, Guapa's holiday wear was colourful, while Falguni Shane Peacock with TRESemmé created unique street wear. A rustic fun filled formula was visualised by Aseem Kapoor, SVA, Swati Vijaivargie, while Birkenstock's Grounded in Nature with Shivan & Narresh brought the Finnish touch to holiday wear. The péro collection was an ode to craft in a crazy, funky manner aimed at the Autumn/Winter 2023 season.