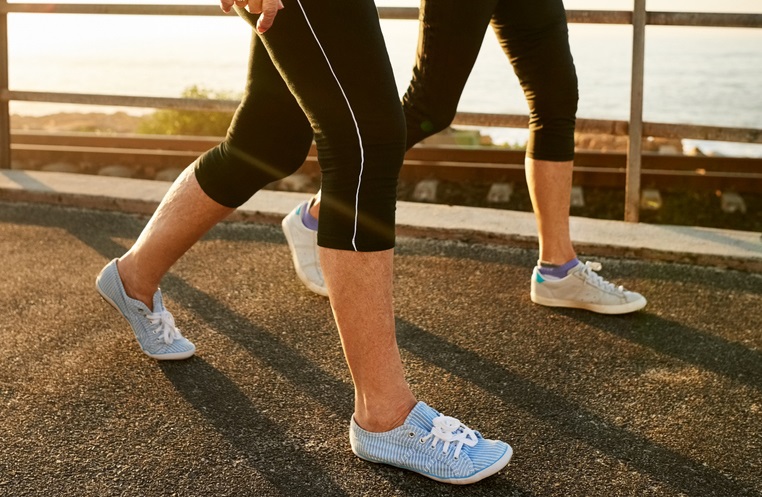 New Delhi, Aug 9 (IANS) By walking at least 3,967 steps a day may reduce the risk of dying from any cause, and 2,337 steps a day may reduce the risk of dying from diseases of the heart and blood vessels (cardiovascular disease), a new study has shown.
The new analysis of 2,26,889 people from 17 different studies worldwide has shown that the more you walk, the greater the health benefits.
According to the study published in the European Journal of Preventive Cardiology, the risk of dying from any cause or from cardiovascular disease decreases significantly with every 500 to 1,000 extra steps you walk.
An increase of 1,000 steps a day was associated with a 15 per cent reduction in the risk of dying from any cause, and an increase of 500 steps a day was associated with a 7 per cent reduction in dying from cardiovascular disease.
Moreover, the researchers found that even if people walked as many as 20,000 steps a day, the health benefits continued to increase. They have not found an upper limit yet.
"We found that this applied to both men and women, irrespective of age, and irrespective of whether you live in a temperate, sub-tropical or sub-polar region of the world, or a region with a mixture of climates," said Maciej Banach, Professor of Cardiology at the Medical University of Lodz, Poland.
"In addition, our analysis indicates that as little as 4,000 steps a day are needed to significantly reduce deaths from any cause, and even fewer to reduce deaths from cardiovascular disease," he added.
Studies have shown that insufficient physical activity affects over a quarter of the world's population.
More women than men (32 per cent versus 23 per cent), and people in higher-income countries compared to low-income countries (37 per cent versus 16 per cent) do not undertake a sufficient amount of physical activity, according to the study.
According to World Health Organization (WHO) data, insufficient physical activity is the fourth most frequent cause of death in the world, with 3.2 million deaths a year related to physical inactivity.
The studies analysed by the researchers followed up with participants for a median (average) of seven years.
The mean (average) age was 64, and 49 per cent of participants were female.
The size of the reduction in risk of death was smaller in people aged 60 years or older than in people younger than 60 years, the study found.
There was a 42 per cent reduction in risk in older adults who walked between 6,000 and 10,000 steps per day and a 49 per cent reduction in risk in younger adults who walked between 7,000 and 13,000 steps per day.