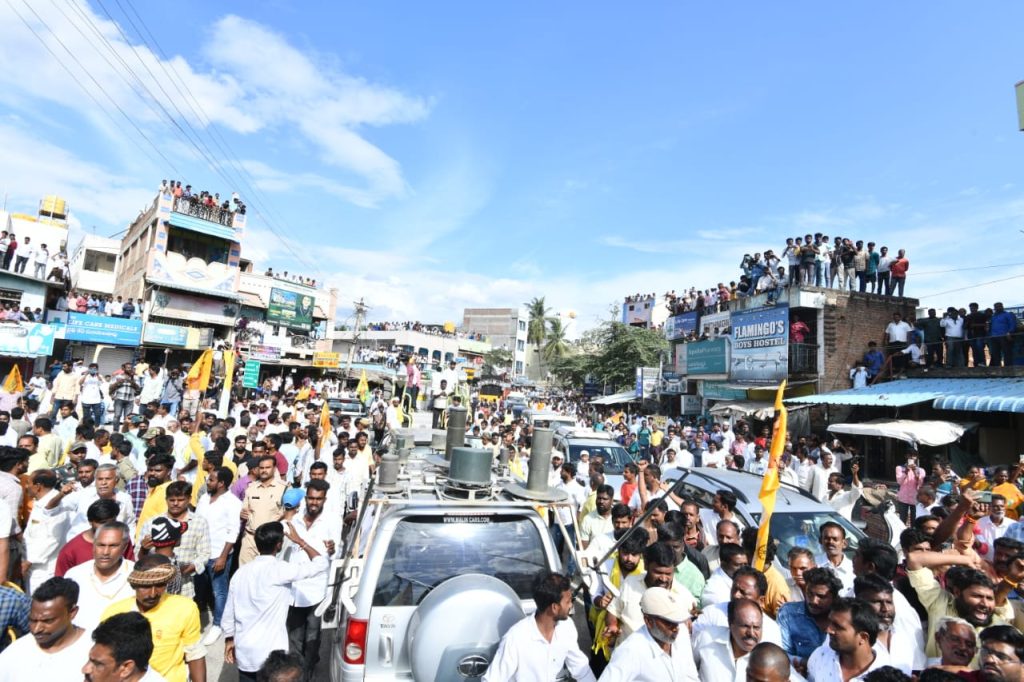 Amaravati, Aug 4 (IANS) Violence broke out in Andhra Pradesh's Chittoor and Annamayya districts on Friday after the police denied permission for Telugu Desam Party (TDP) President N. Chandrababu Naidu's visit to Punganur town.
Police reportedly opened fire in the air after a baton charge and tear gas shells failed to bring the situation under control.
Some TDP workers and policemen were injured while two vehicles were set afire.
Police used the force after TDP workers staged a protest demanding the police to allow Naidu to visit the town and allegedly indulged in violence.
The former Chief Minister's convoy was stopped by police at Beemaganipalli on the outskirts of Punganur as the permission was denied for his visit to the town. Police even parked a truck in the middle of the road to stop the TDP leader.
TDP workers accompanying Naidu demanded that police remove the hurdle and allow him to visit the town. There was a heated argument between the protestors and police officials. Some protestors allegedly indulged in stone pelting.
Police undertook a baton charge and fired tear gas shells to bring the situation under control. When this failed, the police opened fire in the air.
Earlier, there was a clash between supporters of TDP and ruling YSR Congress Party (YSRCP) at Angallu in Annamayya district. Trouble broke out when YSRCP workers tried to remove banners put up for Naidu's visit. TDP activists tried to stop them, leading to a clash between the two sides. The groups fought pitched battles with stones and sticks.
More violence was reported after Naidu's convoy passed through Angallu. Some YSRCP workers allegedly attacked TDP men. Few people were injured and about 20 vehicles were damaged in the violence. The TDP alleged that police acted in a biased manner.
Meanwhile, Chandrababu Naidu blamed state minister Peddireddy Ramachandra Reddy and police for the violence. He appealed to police personnel not to allow themselves to be used by the ruling YSR Congress Party (YSRCP).
Addressing people from an open-top jeep at bypass road on the outskirts of Punganur, he demanded an inquiry into the incidents and action against the guilty.
The Leader of the Opposition said he would never forget these incidents. YSRCP leaders had threatened to disrupt Naidu's visit to the town. Apprehending the law and order problem, the police had denied permission.
The TDP President is on a state-wide visit to "expose the YSRCP government's failure in handling and completing various irrigation projects". He is visiting key irrigation projects during his 10-day tour covering a distance of 2,500 km.