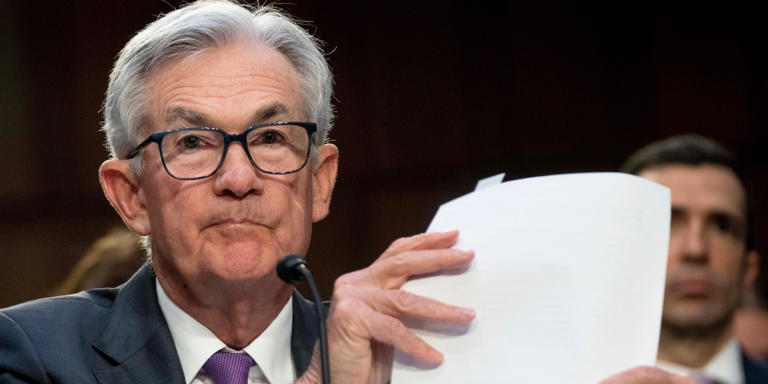 TN Ashok
New York, Oct 2 (IANS) The US stocks traded on a mixed note Monday as Treasury bonds yields continued to rise high again as the 10 year yield rose 7 basis points as investors were weighing in on what Fed Reserve Chairman Jerome Powell may unveil in his monetary policy for the new fiscal 2023-24 since October 1.
With inflation returning at 3.7 per cent, there were expectations that the Fed may raise interest rates, but the Fed chairman is holding back as he feels it is a temporary phenomenon.
But if inflation continues and consumer prices especially food and gasoline prices keep peaking, the Fed may be forced to intervene with aggressive rate hikes to rein in.
Gas prices have risen to $4 a gallon (3.3 litres make a gallon). Pre-Covid levels were at $3.50 per gallon peak.
Jerome Powell, the Federal Reserve chairman, is scheduled to speak on Monday at a roundtable discussion unfolding the details of his monetary policy for the new fiscal that started on October 01 2023, the Markets Insider reported.
US stocks traded mixed on Monday as Treasury yields jumped ahead of comments from Jerome Powell, the Federal Reserve chairman that may offer hints about upcoming monetary policy.
Powell has scheduled a meeting with Patrick Harker, the president of the Philadelphia Fed, at a roundtable discussion on Monday, and 10-year Treasury yields have jumped over 7 basis points to 4.64 per cent, the insider said.
A persistently stubborn inflation may drive 10-year yields to 5 per cent, Wall Street giants such as Bill Ackman and Larry Fink have predicted.
The Fed can achieve their 2 per cent objective faster than they think they can, says JP Morgan's Gabriela Santos. Bill Ackman is inclined for a deal with Elon Musk, but said it is not clear that 'X' is necessarily interested.
In commodities, bonds, and crypto: West Texas Intermediate crude oil slid 0.74 per cent to $91.07 a barrel.
Brent crude, the international benchmark, edged 0.85 per cent lower to $92.84 a barrel.
India uses Brent Crude as its benchmark for importing crude oil, mostly from the Middle East, from Oman and Abu Dhabi.
Gold declined 0.72 per cent to $1,834.55 per ounce.
The yield on the 10-year Treasury bond rose 7.9 basis points to 4.65 per cent. Bitcoin increased 1.02 per cent to $27,192.
But the mega bets have shifted from oil scripts, IT firms (the magnificent 7) and gold to Artificial Intelligence firms where billions are being poured in by the big tech firms as also new players in the market.
AI threatens joblessness in many big techy and law firms as it can do the work of juniors easily and faster leading to their layoffs.
Some of the best-known names in investing are betting big on artificial intelligence stocks. Bill Ackman recently revealed a $1 billion bet on Google parent Alphabet, while Stanley Druckenmiller pumped a combined $430 million into Microsoft and Nvidia.
Tiger Global founder Chase Coleman, billionaire trader Paul Tudor Jones, and Ark Invest CIO Cathie Wood are all bullish on AI.
Some of the biggest names in investing are piling into artificial intelligence, the theme that has taken markets by storm in 2023.
AI's cutting-edge technology has fancied global investors following the spectacular debut of OpenAI's language bot ChatGPT, igniting a "Game of Thrones"-style war between tech giants from Microsoft to Alphabet and Meta to lead the AI boom. Morgan Stanley predicts the new tech to unlock $6 trillion of investment potential, the market insider claimed.
Billionaire investors including Bill Ackman, Stanley Druckenmiller and David Tepper are betting big on firms at the forefront of the AI race – such as Microsoft, Alphabet and chipmaker Nvidia.