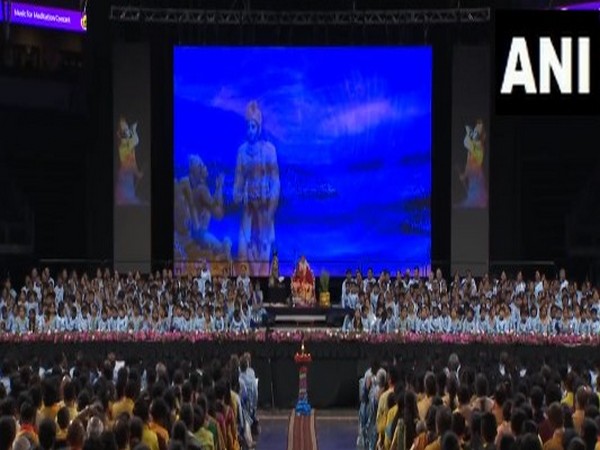 Texas [US], July 4 (ANI): A total of 10,000 people aged four to 84 gathered at the Allen East Center in Texas to recite the Bhagavad Gita together on the occasion of Guru Purnima.
The event was organised by Yoga Sangeeta and SGS Geeta Foundation as Bhagavad Gita Parayan Yagya. The Bhagavad Gita was recited in the presence of world-known spiritual saint Pujya Ganpati Sachidanand ji on the occasion of Guru Purnima on Monday, as per information from the Avadhoota Datta Peetham Ashram in Mysuru.
Avadhoota Datta Peetham is an International Spiritual, Cultural and Social Welfare organisation established by His Holiness Sri Ganpati Sachidanand ji Swamiji in 1966.
Sri Swamiji's universal vision and deep compassion for the upliftment of mankind has inspired the Peetham to run a vast variety of programs, activities and projects towards the enrichment of human life.
All the 10,000 people who chanted the Bhagavad Gita in Texas had memorized it in the last eight years under the guidance of their Guru Ganpati Sachidanand ji Swami.
It's not the first time that Swami Ji organised the event of chanting the Bhagavad Gita in the USA. Swami Ji has been organising the event for the last few years and spreading the core of Hindu spirituality in the USA on a large scale.
Pujya Ganpati Sachidanand ji swami ji is a world-famous saint for preaching the Bhagavad Gita and spreading the values of Sanatan Hindu Dharma
Meanwhile, devotees from all over India thronged the Mankameshwar Mahadev Temple in Agra's Rawatpara on Guru Purnima on Monday.
According to officials, devotees started worshipping Lord Shiva in the early morning and visited Shivalaya to worship the deity and seek his blessings.
"Devotees had started worshipping Lord Shiva since the morning. Devotees reach Shivalaya to worship Baba Bholenath and are worshipping Lord Shiva for their wishes," they said.
Mankameshwar Mahadev Temple Mahant Yogesh Puri said that there will be nine Mondays in the month of Sawan and as per the rituals, the devotees will perform the sacred bath on these days that would be completed on a full moon.
"There will be nine Mondays in the month of Sawan. On these days the sacred bath will be performed and will be finished as per rituals only on a full moon," said Mahant Yogesh Puri.
As per the officials, the Guru Purnima festival is being celebrated enthusiastically today in Prayagraj, the king of pilgrimages.