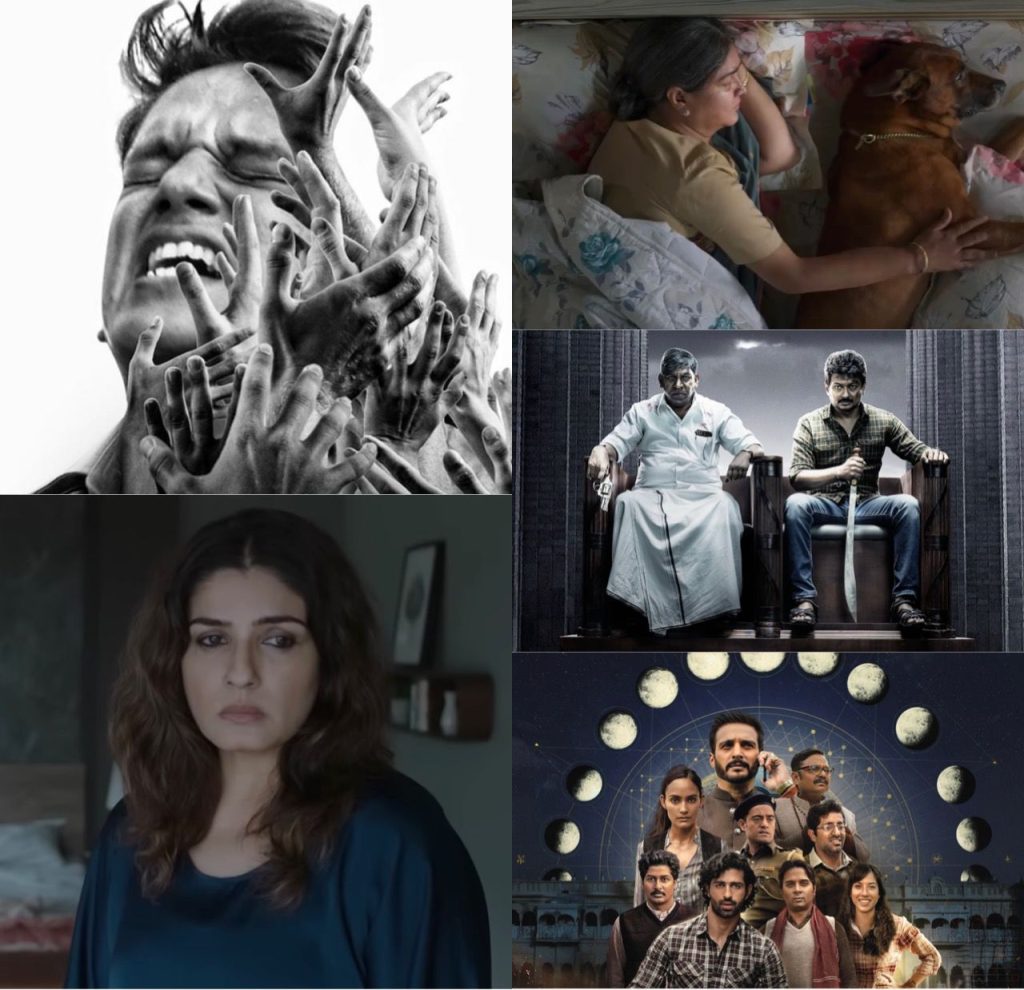 New Delhi, July 27 (IANS) With OTT platforms dishing up an overflowing platter of options, it's hard to put together a must-watch list, especially if it's limited to five. Here are the five new titles that have caught the attention of IANS:
From an investigative crime drama to a gripping thriller, to a love story, IANS has put together a slate that should grab the interest of diverse audiences, spanning interests and languages.
This week's must-watch array of multi-genre content includes Urvashi's 700th movie 'Appatha' to Vijay Varma and Shweta Tripathi's investigative drama 'Kaalkoot'. We also have Tamil political thriller 'Maamannan' to 'Choona', a thrilling heist drama loaded with perfect comic punches.
And, don't forget Raveena Tandon and Milind Soman's 'One Friday Night', which explores the complexities of relationships.
Kaalkoot
The investigative drama stars Vijay Varma and Shweta Tripathi Sharma, along with Yashpal Sharma, Gopal Datt and Seema Biswas. Directed by Sumit Saxena, 'Kaalkoot' delves deep into the dark realities of patriarchy and systemic oppression.
An intense crime series set against the backdrop of a horrifying acid attack case, the story revolves around Ravi Tripathi (Vijay), a sub-inspector in the town of Thana Sarsi. Initially lacking interest in his job, Ravi's perspective changes when he discovers that the victim of the brutal attack, Parul (Shweta), is the same girl his mother wanted him to marry.
Driven by a newfound purpose, Ravi takes it upon himself to investigate the crime and find the person responsible. Along the way, he confronts gender biases, toxic masculinity, and societal expectations that hinder his pursuit of justice.
Directed by Sumit Saxena, it is streaming on Jio Cinema from July 27.
One Friday Night
Starring the talented trio of Raveena Tandon, Milind Soman, and Vidhi Chitalia, 'One Friday Night' is a gripping thriller that promises an evening of romance, betrayal and suspense!
This riveting drama explores the complexities of relationships, secrets, and the unexpected turns life can take. It centres around Ram, an affluent man who finds himself entangled in an affair with Niru, a woman half his age. Their secret rendezvous in a clandestine love nest takes an unforeseen turn when a life-altering accident leaves Ram severely injured, and in dire need of medical attention.
With no other options available, Niru is forced to make a fateful decision — to reach out to Ram's unsuspecting wife, Lata. What happens thereafter is a total rollercoaster.
Presented by Jio Studios, produced by Jyoti Deshpande and Manish Trehan, the film is directed by Manish Gupta. It is slated for a digital premiere on July 28 on JioCinema.
Appatha
Starring the legendary South Indian actress Urvashi (it's her 700th film), and directed by Priyadarshan, 'Appatha' skillfully weaves together elements of humour and genuine emotions.
The Tamil movie takes viewers into the world of Kannamma, also known as Appatha, who has spent all her life in the village of Kaayilanpatti. She raises her son after losing her husband, makes a name for herself with her business, but all along, she stays away from her one fear — dogs.
Watch as she reconnects with her estranged son, who brought her to the city only for her to realise that she needs to keep an eye on the family dog Zeus when they go on a vacation. The duo goes from trying to stay away from each other to nearly becoming inseparable.
It will start streaming on JioCinema on July 29.
Maamannan
A Tamil political thriller written and directed by Mari Selvaraj, the film boasts of an ensemble cast that includes Vadivelu, Udhayanidhi Stalin, who's also the producer, Fahadh Faasil and Keerthy Suresh.
Maamannan (played by Vadivelu) is an MLA belonging to the oppressed community, who rose up the ranks from being a party cadre in Salem, Tamil Nadu. His son, Athiveeran 'Veera' (Stalin), a practitioner of the martial art Adimurai, is estranged from his father owing to a casteist attack by the local dominant community members during his childhood, which left him emotionally and physically scarred.
Rathnavelu (Fahadh) is the district secretary in the party of which Maamannan is a member, and belongs to the dominant community. Rathnavelu and Maamannan are always at loggerheads due to the former's brash and aggressive attitude.
One day, after an altercation and noticing the disrespect to his father Sundaram (played by Azhagam Perumal), by his colleagues and other party members, Rathnavelu lashes out at them, which instigates Maamannan and Veera to turn from pawns to players.
What follows is how Veera and Maamannan tackle the obstacles rolled out by Rathnavelu to establish his control over local politics. And this clash of personalities is intertwined with notions of social equality.
The film was released on June 29 and it started streaming on Netflix on July 27.
Choona
Starring Jimmy Shergill, Aashim Gulati, Vikram Kochhar, Chandan Roy, Namit Das, Gyanendra Tripathi, Atul Srivastava, Monika Panwar and Niharika Lyra Dutt, this thrilling heist drama is written and directed by Pushpendra Nath Misra.
When an astrologer, a highly skilled, shape-shifting informer, a 'gully ka gunda', a demoted police officer, a once-successful contractor, and a resourceful mediator, Bishnu, plan a heist to take down their one common enemy Shukla, the calm is whitewashed and chaos is liberally laid out for one and all.
They plan to loot Rs 600 crore, no less, and that too from the lion's lair! The party office of Shukla is guarded by armed men, over a hundred physically fit workers, and is secured by CCTV cameras at every corner. With such a huge amount at stake, this extraordinary heist will need more than just brains and brawns to succeed.
Can these ordinary men successfully pull off an extraordinary feat and 'lagao choona' to Shukla?
With a comic seasoning of astrological reasoning in its narrative and a exciting visual experience, 'Choona' is set to take the viewers on an entertaining, fun-filled ride.
It will start streaming on August 3 on Netflix.