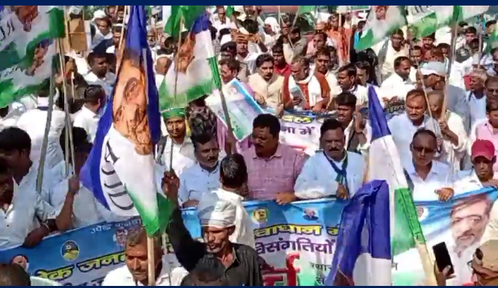 Patna, Oct 14 (IANS) Rashtriya Lok Janata Dal President Upendra Kushwaha along with hundreds of his supporters held a protest march against the caste survey released by the Bihar government recently.
Upendra Kushwaha, is one of the NDA leaders raising doubts about the caste survey data ever since it was released by the Bihar government on October 2.
"We appreciate the Bihar government for conducting the caste-based survey in Bihar, but the way the data was released is not satisfactory. Many people are complaining that the survey agents did not come to their house or contact them, so how were the personal details of people collected," Kushwaha alleged.
"A majority of the people in Bihar are confused following the emergence of the data. We want the government to address its discrepancies," Kushwaha said.
Kushwaha and his supporters, who planned to reach the Raj Bhawan and meet the Governor, started the protest march from Gandhi Maidan. However, when they reached the Dak Bungalow crossing, Patna Police stopped them and did not allow them to go to Raj Bhawan.
"We want to meet the Governor of Bihar and hence we hit the road on Saturday. The state government is not listening to our points and hence we want the Governor to intervene in the matter. Police are not allowing us to march till Raj Bhawan," Kushwaha said.
"We have protested today and we will take out marches in different districts of the state until the Bihar government does not listen to our points on this issue," he said.