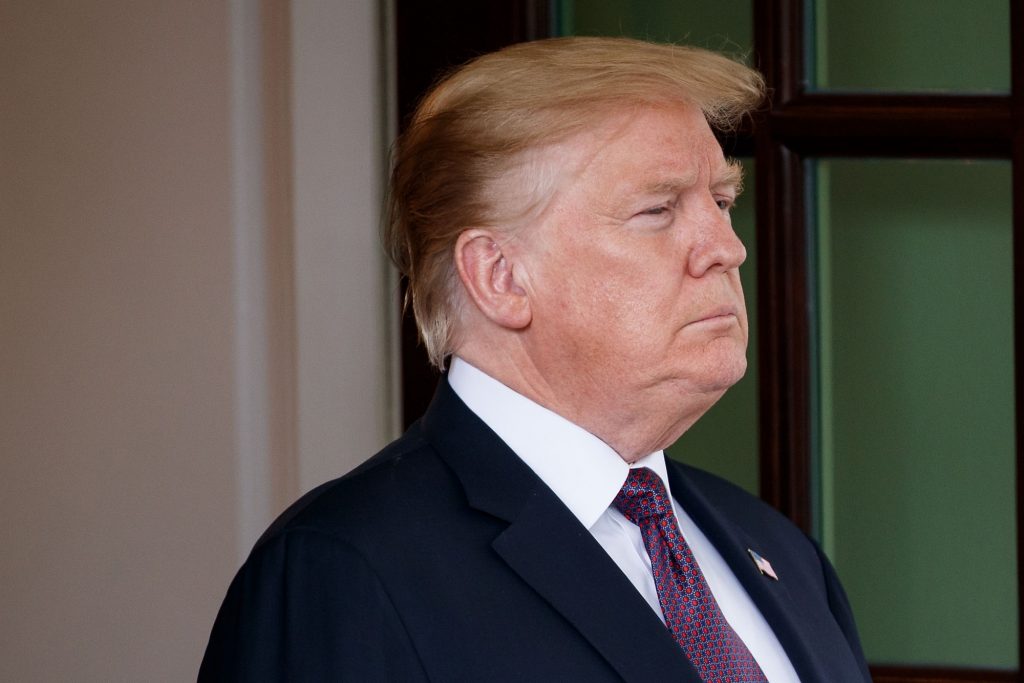 Washington, Oct 8 (IANS) Former US President Donald Trump, who just managed to save his businesses from going into bankruptcy in the civil fraud suit, now faces more serious allegations of having disclosed sensitive information about nuclear submarines to an Australian billionaire at his Florida getaway home Mar-a-Lago, according to US media reports.
Some months after he left the White House, Trump allegedly discussed "potentially sensitive information about US nuclear submarines with a member of his Mar-a-Lago Club — an Australian billionaire who then allegedly shared the information with scores of others", ABC News said in a new news revelation on its network.
The Australian billionaire shared the information with more than a dozen foreign officials, several of his own employees, and a handful of journalists, according to sources familiar with the matter, the network alleged.
The potential disclosure was brought to the attention of special counsel Jack Smith's team investigating Trump's alleged handling of classified documents which he allegedly took home to his Florida residence instead of handing them over to the National Archives which is the normal tradition of all presidents leaving office.
Federal prosecutors and FBI agents have interviewed the Mar-a-Lago member, Anthony Pratt, who runs US-based Pratt Industries, one of the world's largest packaging companies at least twice this year.
In those interviews, Pratt described how while trying to engage Trump in a conversation in April 2021 — he brought up the American submarine fleet, which the two had discussed before, ABC News quoted authoritative sources as saying.
According to Pratt's account, as described by the sources, Pratt told Trump he believed Australia should start buying its submarines from the US, to which an excited Trump — "leaning" toward Pratt as if to be discreet — then told Pratt two pieces of information about US submarines — the supposed exact number of nuclear warheads they routinely carry, and exactly how close they supposedly can get to a Russian submarine without being detected, the reports claimed.
Pratt described Trump's remarks to at least 45 others, including six journalists, 11 of his company's employees, 10 Australian officials, and three former Australian prime ministers, after the Mar A Lago encounter with the former president, the sources said.
Even as Pratt told investigators he couldn't differentiate between Trump's statements on the submarines were genuine or sheer bluster, he was cautioned by the prosecutors not to disclose the numbers that Trump allegedly told him, indicating the information was too sensitive to be relayed any further, ABC News was told.
It's not clear if the information was validated, but the episode was investigated by Smith's team nevertheless, reports said .
Another witness, one of Trump's former employees at Mar-a-Lago, told investigators that, within minutes of Pratt's meeting with Trump, he heard Pratt relaying to someone else some of what Trump had just said. According to the sources, the former Mar-a-Lago employee also told investigators he was "bothered" and "shocked" to hear that the former president had provided such seemingly sensitive information to a non-US citizen.
Pratt told investigators Trump didn't show him any government documents during their April 2021 meeting, nor at any other time they crossed paths at Mar-a-Lago, sources said.
Pratt insisted to investigators that he told others about his meeting with Trump to show them how he was advocating for Australia with the US.
Some of the Australian officials that sources said he told were, as reflected in news reports at the time, involved in the-on-going negotiations with the Biden administration over a deal for Australia to purchase a number of nuclear-powered attack submarines from the US, media reports said.
The deal was sealed ultimately early this year, when Australia agreed to buy at least three Virginia-class nuclear-powered submarines, even as President Joe Biden declared that none of the submarines sold to Australia will be armed with nuclear weapons.
Special counsel Jack Smith did not include any information about Trump's alleged April 2021 conversation with Pratt in his June indictment against Trump, which charged the former president with 40 counts of unlawful retention of national defence information and obstruction-related offences.
Last year, Trump while heckling the Biden administration for its alleged weak response to Russia's war on Ukraine, the former president had said that if he were still president, he would make sure Russia understood that the US is "a greater nuclear power" with "the greatest submarines in the world".
"They are the most powerful machines ever built, and nobody knows where they are," Trump had said on the Fox Business network.
Since the time Trump became president in 2017, Pratt joined Mar-a-Lago as a member and promised to invest $2 billion in American manufacturing jobs. Over the next few years, Pratt visited Mar-a-Lago about 10 times, interacting with Trump on several occasions, once even having dinner with Trump and a US senator at another Trump-owned property nearby.