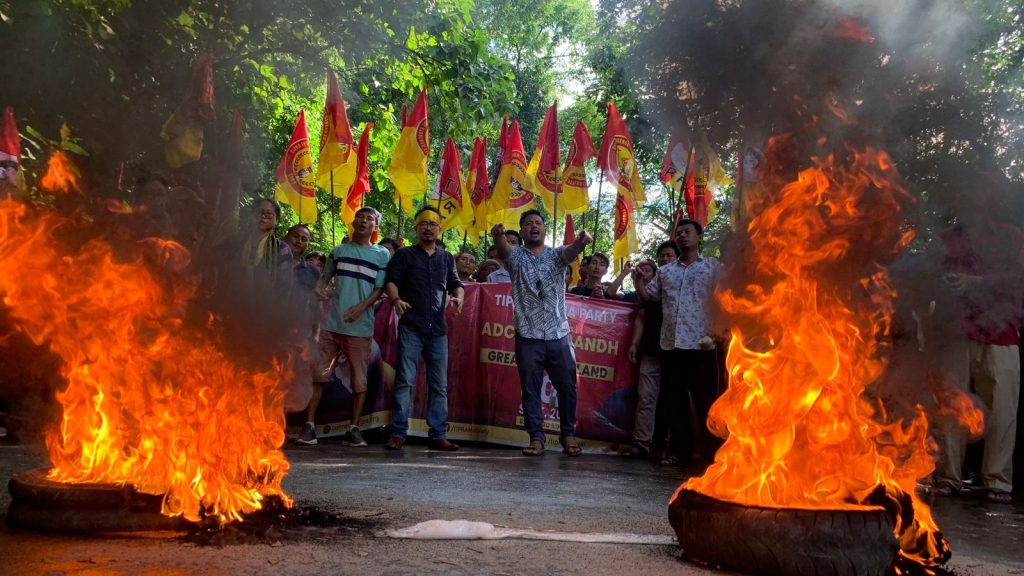 Agartala, Sep 30 (IANS) Normal life was badly affected in Tripura's tribal-inhabited areas on Saturday due to the 12-hour shutdown, called by the opposition Tipra Motha Party (TMP), which has been demanding a 'Greater Tipraland' or a separate state for the tribals.
Police officials said that except two minor incidents, the bandh was peaceful in the Tripura Tribal Areas Autonomous District Council (TTAADC) areas, which has a jurisdiction on over two-thirds of Tripura's 10,491 sq km area and is home to over 12,16,000 people, of which around 84 per cent are tribals.
A small crude bomb was exploded and stones pelted on a vehicle partially damaging the car in west Tripura district. However, none was hurt in the two separate incidents.
Government offices, educational and financial institutions including banks, shops, markets and business establishments were closed due to the dawn to dusk shutdown while all kinds of vehicles except those of security forces went off the roads.
The movement of vehicles along the National Highway-8, the life line of Tripura connecting the state with the rest of the country by road, and the train services were disrupted as most highways and the railway lines pass through the TTAADC areas.
The BJP government issued a circular asking all the offices in the TTAADC areas to function normally and directing all officers and staff to remain present in the offices. The opposition TMP leaders said that the party would continue to fight for its core demand of 'Greater Tipraland' for the tribals, who, according to them, are deprived of basic facilities in education, health and other areas.
TMP supremo Pradyot Bikram Manikya Deb Barman, who is now outside the state, earlier said that the Saturday's TTAADC area shut down was called to convey a clear message to the Central government that the patience of the indigenous people is exhausting, and they are in urgent need to resolve their constitutional demands and concerns.
"We are seeking justice for the survival and existence of our indigenous community, and it is not directed against any particular community," he had said. Throwing a challenge to all the national parties — the BJP, the CPI-M, the Congress and the Trinamool Congress — the TMP, the first tribal-based party in Tripura since 1952, emerged as the principal opposition in the state in the February 16 Assembly polls. It is now the main stakeholder of the vote share of tribals, who always played a vital role in the electoral politics of Tripura.
The TMP has 13 MLAs in the 60-member state Assembly. The TMP, after capturing the politically important TTAADC in April 2021, has been demanding elevation of the areas of the autonomous body by granting a 'Greater Tipraland State' or a separate state status under Articles 2 and 3 of the Constitution.