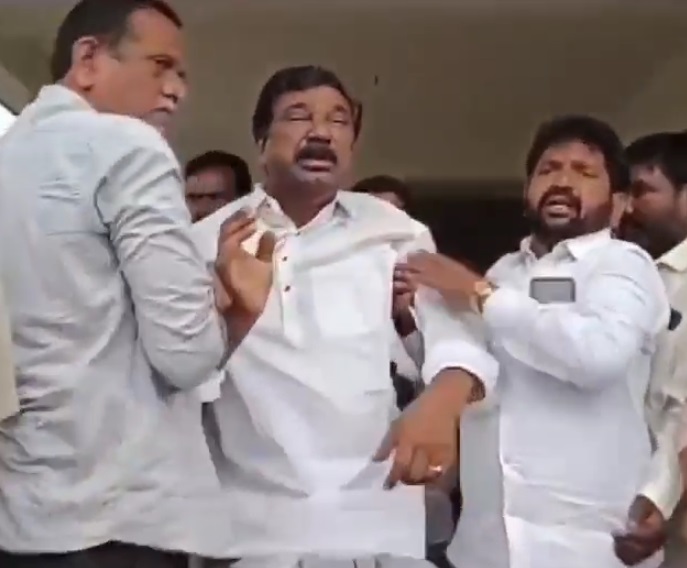 Hyderabad, Aug 22 (IANS) Former Telangana Deputy Chief Minister Thatikonda Rajaiah publicly broke down after Bharat Rashtra Samithi (BRS) denied him ticket for upcoming Assembly elections.
Rajaiah, a sitting MLA from Station Ghanpur, has been denied ticket by the party, which fielded another former Deputy CM and senior leader Kadiyam Srihari.
The BRS leader turned emotional and broke down while kneeling before the statue of Dr B. R. Ambedkar in his constituency on Tuesday.
Addressing his supporters at his office, he said Chief Minister K. Chandrasekhar Rao has promised him a higher position. He said he would obey the direction of the party chief.
Rajaiah had been representing the seat since 2009. After the formation of Telangana in 2014, he became one of two deputies to Chief Minister KCR. He was given the health portfolio.
However, KCR dropped Rajaiah from the Cabinet in 2015 following allegations of corruption in the health department. Since then, Rajaiah was sidelined in the party. However, in 2018 he was given a party ticket from the same constituency and he retained the seat.
This time, he was denied ticket in view of allegations of sexual harassment from a village sarpanch belonging to his own party.
The recent weeks saw a bitter fight in the constituency between the groups of Rajaiah and Srihari. Both the leaders were insisting for the party ticket.
KCR on Monday announced BRS candidates for 115 out of 119 Assembly seats. The party has retained 95 per cent of the sitting MLAs. Assembly elections are slated to be held in November-December.