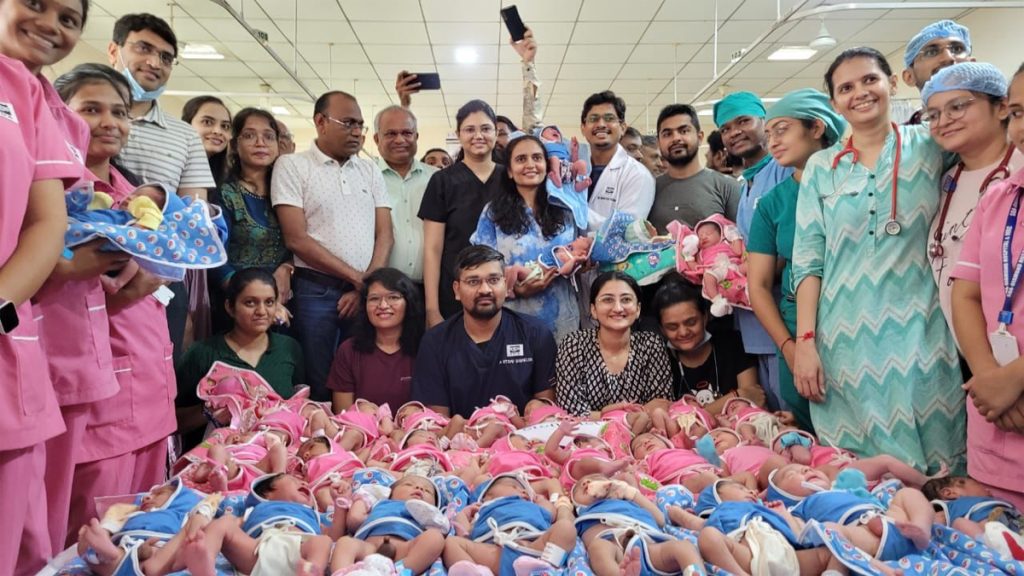 Surat (Gujarat), Aug 20 (IANS) In a historic milestone for Diamond Hospital in Surat, a remarkable record of 31 deliveries in a single day has been achieved, marking a momentous day for both the hospital and the local community.
Amid the joyous celebrations, the hospital resonated with the cries of 17 girls and 14 boys. Renowned for its commitment to promoting gender equality and health, Diamond Hospital has gained prominence for its unique initiative that strikes at the heart of societal norms.
The hospital extends its generosity by refraining from charging parents a single rupee if a daughter is born, thereby challenging conventional notions and fostering a spirit of inclusivity.
Besides, the hospital maintains that its steadfast dedication to maternal and infant well-being remains unwavering. The cost for a normal delivery stands at Rs 1,800 while a cesarean delivery is priced at Rs 5,000, enabling access to quality healthcare for all.
A hospital official said that "a defining aspect of Diamond Hospital's mission lies in its determination to address the issue of gender bias head-on".
For every couple blessed with more than one daughter, the hospital presents a bond of Rs 1 lakh to each daughter, marking a commitment to a future of equal opportunities.
A staggering Rs 20 crore worth of bonds have already been bestowed upon 2,000 daughters, further solidifying the hospital's pledge towards creating a more equitable society.
Dinesh Navadia, the Trustee of Diamond Hospital, expressed his elation at the jubilant atmosphere that enveloped the hospital on this monumental day.
The hospital management said that the birth of these 31 babies, all hale and hearty, stands as a testament to the dedication and hard work of the hospital's medical team. Out of the 31 newborns who graced the world today, 17 are daughters and 14 are sons, underscoring a commendable gender ratio that aligns seamlessly with the 'Beti Bachao' (Save the Daughter) campaign, a hospital official said.